Un vrai plaisir que ce polar avec une confrontation au sommet entre Mitchum, the flic incorruptible, et Robert Ryan, the pourriture de la pègre qui se croit tout permis, ayant un vieux fumier de juge corrompu dans son camp. Les flics, la mafia, les politiques, les hommes de lois, ça fuse dès le départ dans tous les coins et on aurait presque un peu de mal à suivre cet imbroglio : Cromwell nous présente en quelques séquences rondement menées une foultitude de personnages et, si on a parfois un peu de mal à faire le lien entre tous ces hommes, on comprend bien qu'il y a quelque chose de pourri au royaume américain. On est, qui plus est, en période d'élection et un Haut Comité décide de faire le ménage : les pleins pouvoirs sont donnés à la police sous réserve, of course, qu'elle trouve des preuves ; pour l'occase, on sort du placard un type honnête et droit, mon gars Mitchum. Il n'est pas du genre à faire dans la dentelle et il est bien décidé à se faire, une bonne fois pour toutes, l'homme fort de la ville, le gars Ryan. Combat d'homme à homme avec, dans les coulisses, de louches tractations, on se lèche les babines d'avance.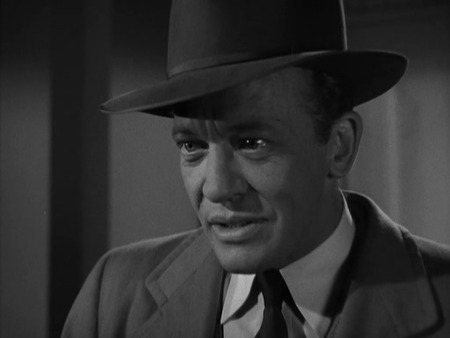 Ambiance très noire au niveau du contraste de l'image qui sied parfaitement à ce sombre récit qui file tambour battant ; les amateurs d'action en ont pour leur argent (fight viril, bombe artisanale, course poursuite et accident de bagnoles, chute de toit et échange nourri de coups de feu...) mais Cromwell n'en n'oublie point pour autant de traiter ses personnages principaux et les multiples seconds couteaux. Mitchum est comme un poisson dans l'eau en flic à qui on ne la fait pas, et qui n'hésite jamais à mettre la main à la pâte ou les pieds dans le plat : sa première rencontre avec Ryan est un véritable duel, chacun mettant ses cojones sur le tapis. Il y a des étincelles dans l'air et quand, dans la foulée, Ryan envoie deux de ses hommes poser une bombe au domicile de Mitchum (on prie pour sa femme), on sent que la guerre est plus que jamais déclarée. Mitchum peut compter dans son équipe sur un jeune flic couillu (belle prestation de William Talman qu'on aurait bien vu dans The Wire) qui n'est pas du genre à tergiverser pour faire respecter la loi. Ryan, de son côté, se la pète au maximum, traitant ses hommes de main comme des croquettes pour hamster, pouvant compter sur une organisation solidement établie et sur des juges corruptibles à loisir... jusqu'à ce que la roue tourne.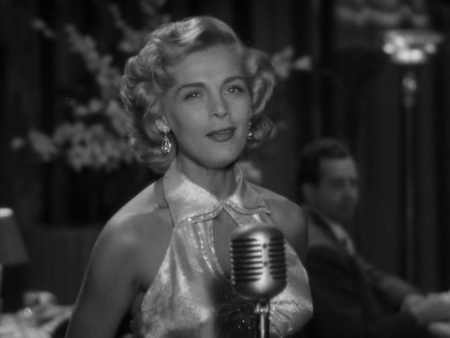 Cromwell trouve le temps au passage de traiter des histoires et des personnages secondaires (Lizbett Scott, la chanteuse de charme obligée dans le film de genre, qui a une histoire avec le frérot de Ryan puis avec un bien tendre journaleux, le sergent Turck (rondouillard William Conrad, parfaite gueule de l'emploi) qui tente de mener judicieusement sa barque des deux côté de la barrière, la femme de Talman qui se fait un sang d'encre pour son mari, les tueurs taillés dans des fûts de bière...) toujours intimement liés à la trame principale. Le final se joue dans le commissariat (l'histoire est adaptée d'une pièce de Bartlett Cormack) avec un Mitchum qui reste volontairement dans l'ombre pour laisser ces crabes se bouffer entre eux. Une intrigue joliment pliée et un vivat pour conclure pour les éternels Mitchum et Ryan - sans oublier le gars Cromwell (Caged, Dead Reckoning...) aidé apparemment sur l'action par Nicholas Ray et Mel Ferrer.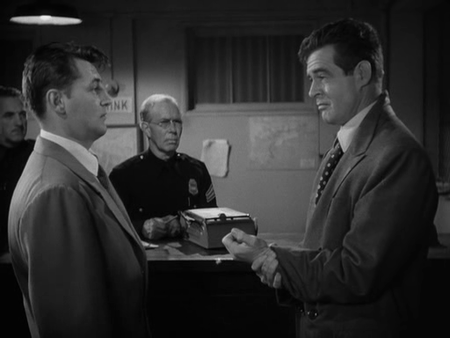 Noir c'est noir, c'est là