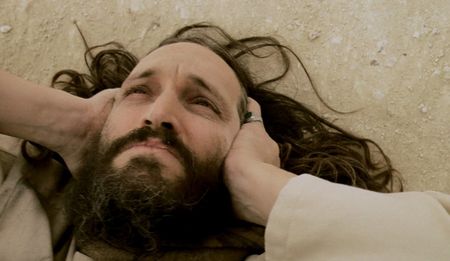 Jerzy Skolimowski, comme le bon vin, semble se bonifier avec l'âge. Après l'excellent et rigoureux Quatre nuits avec Anna, il revient donc avec ce film à la "croisée" des chemins entre film d'action et expérience existentielle. L'accroche anglaise pourrait presque prêter à sourire ("Run to live... Kill to survive") et aurait pu donner lieu à un bon gros nanar si le film était tombé entre les mains de tout autre réalisateur que, justement, le sieur Skolimowski. Essential Killing est avant tout une expérience sensorielle - sublimes prises de vue, incroyable fluidité du montage, travail incroyable sur le son... - capable de jouer avec les codes des films d'action hollywoodiens pour en faire une véritable oeuvre "extatique" - Werner Herzog n'est pas si loin... Le film repose sur les épaules de l'acteur caméléon Vincent Gallo, "islamiste-occidentalisé-à-l'étrange-allure-christique" (entre martyres spirituels il n'y a pas forcément de frontières), qui se fond littéralement dans le paysage - ouais, j'avais préparé à l'avance mon jeu de mot - : beige dans le désert, noir dans la nuit, blanc dans la neige, notre homme fait littéralement corps avec son environnement ; ce retour à un état primaire, de simple survie, est en fait décliné tout du long : Gallo est un personnage mutique, animal (le caméléon se faisant tapir en machouillant des fourmis, ou ours dévorant un poisson cru, voire insecte en se nourrissant d'écorce d'arbre - retour aux racines de l'humanité...), instinctif (il échappe 232 fois, comme par miracle, à la mort, ne tuant ses assaillants qu'en dernier recours), régressif (fallait oser téter le sein de cette mère...) qui va devoir, jusqu'au bout, "porter sa croix" (on soupçonne une certaine ironie dans son habit blanc, tâché de sang, faisant bizarrement écho à l'habit des croisés, petit trait caustique que l'on retrouve d'ailleurs dans l'incident qui va permettre à notre gars de s'échapper du convoi de militaires : il ne doit sa liberté qu'à des... marcassins (po très halal c't'animal) traversant la route). Moins aimé la fin, je dois l'avouer, avec l'apparition de cette femme sourde et muette (décidément) - Emmanuelle Seigner, son meilleur... allons ne soyons point sarcastique pour le plaisir - qui va panser les plaies de notre fuyard (la bonne âme féminine humaniste et salvatrice...) ou cette image finale wajdaïenne en diable - le grand retour du cheval blanc (voir de précédentes chroniques sur l'Andrzej...), la liberté ensanglantée ??? (allons, arrêtons de nous focaliser sur des symboles un peu poussifs...).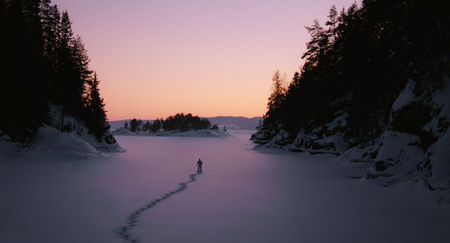 Au delà d'un aspect formel éblouissant, Skolimowski, dans le fond, nous force, certes, un peu la main pour que l'on éprouve de l'empathie pour cette bête traquée qu'est Gallo. Bien difficile en effet de ne point faire montre de compassion pour cet individu se retrouvant sans repères, dans une sorte de "no man's land", où la plupart des hommes qui pénètrent sur ce territoire (à défaut des bûcherons et d'une poignées de fêtards) sont à ses trousses. Comme me disait, il y a bien longtemps, ma prof de français : entre un flic et une personne en fuite, je serais toujours du côté de ce dernier (sages paroles) ; Gallo se retrouve en position d'individu traqué de tous côtés (ces plans aériens à couper le souffle (j'ouvre la parenthèse l'hélico et la poussière n'étant qu'effets numériques (bluffants, je m'incline pour une fois) je ferme la parenthèse), victime d'une chasse à l'homme qui le dépasse... Sa force de résistance est proprement "hallucinante" - et je ne parle point seulement de l'épisode des baies (il bouffe n'importe quoi, aussi, faut dire) -, notre homme "sauvage" semblant n'attendre, finalement, à son égard qu'un geste "gratuit", apaisant, humaniste avant de... mourir - vomissant la violence de ce monde ? Fi des symboles on a dit, bon sang ! Le premier grand film de 2011 ? Allez, osons ! (Shang - 06/04/11)
---
On ne saurait mieux dire que mon affûté confrère, et je suis à 100% d'accord avec lui, que ce soit sur les qualités du film ou sur ses défauts. Qu'ajouter de plus, si ce n'est que l'inspiration poétique dommageable de la dernière bobine se faisait déjà parfois sentir à certains détails du début : pas aimé, par exemple, ce pauvre "gag" sur les soldats qui traquent notre homme et débouchent sur un pauvre chasseur à l'abri dans sa cabane ; ni cette insistance lourde à bien nous expliquer que l'homme que Gallo va tuer vient d'être papa (et de jumeaux, en plus) ; ni cette pointe de mauvais goût attérant dans la scène où il tète le sein d'une passante. Bref, on sent ici ou là que la radicalité du film est menacée, et que Skolimovski s'en sert presque par défaut, sans vraie sincérité. Je suis un peu dur, volontairement, mais les dernières minutes donnent raison à ce doute : on n'est pas ici dans la tenue d'un Bruno Dumont ou d'un Bresson, loin de là. Si la rigueur du film force le respect la plupart du temps, ces brusques inspirations mystico-wajdaïennes (ce cheval blanc sur lequel coule le sang, cette sourde-muette, arrgh) sont effectivement bien pauvrettes.
Mais baste : comme l'a dit mon camarade, tout le reste du machin est remarquable, à moitié grâce au jeu halluciné de Gallo, énorme, à moitié grâce à la mise en scène haletante de Skolimovski. On ne peut qu'applaudir à deux mains devant cette "simplicité" d'exécution, surtout pour ce qui est des premières scènes : tout se déroule avec une fluidité impressionnante, et on est littéralement sur les pas de ce combattant, depuis ses premières luttes dans son pays (filmées judicieusement en caméra subjective, comme pour nous faire sentir à la fois la terreur et l'absurdité de la guerre) jusqu'à cet exil sans issue, en passant par les scènes totalement épurées de torture, de fuite, d'hallucinations dues à la faim, etc. Simplicité, épure, rigueur, mais qui ne sont jamais "que ça", qui prolongent toujours jusqu'à la beauté plastique les épisodes. C'est juste, impressionnant visuellement, très prenant, et à mille lieues de faire du spectacle pour le spectacle : ce retour au primal, qui doit autant à Thoreau qu'à Délivrance, autant à Pasolini qu'à Poe, est avant tout un exercice de style hanté et sensible. Empathie, je ne sais pas, mais tentative de compréhension à coup sûr : le "héros" est placé au sein d'un monde etièrement voué à la Mort et au chaos, et on ressent en plein cette humanité désolée qui émane de lui ; il n'est qu'un homme parmi les hommes, c'est-à-dire un pauvre être harcelé et terrorisé, envoyé dans une nature ennemie et la regardant avec de grands yeux d'enfant apeuré. Un grand film de 2011, je confirme au gars Shang. (Gols - 12/05/11)