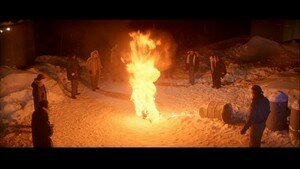 Encore un bon vieux classique que je revois toujours avec bonheur. Je ne crierai jamais assez que Carpenter est un des plus grands cinéastes du monde, qui a choisi l'âpre voie du film fantastique pour développer son univers on ne peut plus personnel, à cheval sur la politique (They Live) et la poésie (Starman), la réflexion esthétique (In the Mouth of Madness) et le pur divertissement (Halloween).
The Thing, quintessence en quelque sorte du cinéma carpenterien, tient à la fois de tous ces genres:
- Poétique, il l'est, grâce à ces créatures impressionnantes, inspirées à coup sûr à la fois des fresques du Moyen-Age (on reconnait Jerome Bosch) et des peintres surréalistes (le chien qui s'ouvre comme une fleur), de Lovecraft et des délires de Burroughs. Dans ce bestiaire infernal, on reconnaît le goût du gars John pour les êtres mutants, avec une mention particulière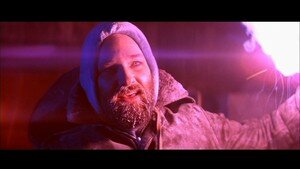 pour ce monstre incroyable, sorte d'homme mal digéré par la bête, et qui du coup possède deux visages, l'un souffrant, l'autre ricanant : ellipse magnifique de la bête qui prend possession de l'humain, ce masque rappelle la comedia dell'arte aussi bien que la traditionnelle panoplie de science fiction des années 20.
- Divertissant, il l'est, puisque c'est un festival de surprises, de suspense, de peur, portés comme toujours avec brio par un Carpenter dopé, qui manie sa mise en scène en maître (caméra subjective, longs travellings souples et fluides, gestion du silence, utilisation à 100% de la musique spartiate et sublime de Morricone, direction d'acteurs impeccable)
- Politique, il pourrait bien l'être, bien que de façon très modeste comme toujours. Qu'est-ce que dit le film,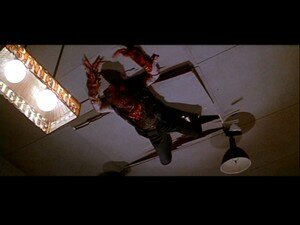 sinon la lente assimilation de l'humanité par un corps étranger (communisme? fascisme?) ? Plus que politique, on pourrait coller l'étiquette de "métaphysique" à cet essai sur la déshumanisation. Dans un décor abstrait par sa blancheur aveuglante, Carpenter raconte la lente dégradation de ce qui fait la nature humaine : les personnages deviennent des bêtes, non seulement physiquement (là encore les effets spéciaux mettent toujours en avant la mutation plus que l'altérité) mais aussi moralement (l'un devient assassin, un autre fou, un troisième collaborateur de l'ennemi...). En ce sens, la scène centrale, chef-d'oeuvre d'intelligence scénaristique, montre des hommes contraints d'exposer leur sang pour prouver qu'ils sont réellement des hommes. Dans cette idée-là se cache tout le sens du film : le combat d'une humanité contre une déshumanisation (la mort, la télévision (!), l'ignorance, la machine...). The Thing est très abstrait, ne montrant souvent que des taches noires sur fond blanc. Le long combat du héros aura pour but d'échapper à cette blancheur, à cette uniformisation. Le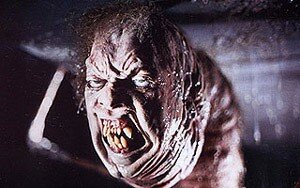 look de Ken Russell est d'ailleurs parfait : crade, trop barbu, les yeux tristes, il représente l'Homme dans toutes ses imperfections et tout son désarroi, et il finira presque aussi blanc que la neige qui l'entoure. D'un tel niveau sur le sujet, je ne vois que Mission Impossible et Bodysnatchers, c'est pas rien.
- Esthétiquement enfin, le film est énorme, imposant un rythme incroyablement lent pour un film d'horreur. Il faudra bien reconnaître un jour que Carpenter a inventé ça, la tranquillité de la mort, et les p'tits jeunes devraient en prendre de la graine. On a deux fois plus peur à ce rythme-là qu'en bondissant toutes les deux secondes sur son fauteuil.
Bref, The Thing n'a pas pris une ride. C'est un film profond, expérimental, ambitieux, poétique, douloureux, émouvant, beau, impressionnant et personnel.
tout Carpenter is bloody here