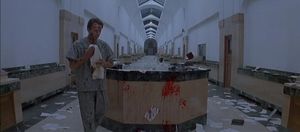 817ème vision, et toujours le même bonheur. In the Mouth of Madness ne cesse jamais de dévoiler des trésors encore enfouis, et chaque nouvelle vision est une redécouverte. Je ne suis pas loin de clamer que voilà le meilleur film de JC (aux côtés de The Thing et de They live, s'il me fallait établir un classement) : il parvient là-dedans à allier toutes les qualités éparses dans ses autres productions : vertigineux dans le fond, brillantissime dans la forme, terrifiant, drôle et furieusement malpoli, on a droit à notre John au top de sa forme.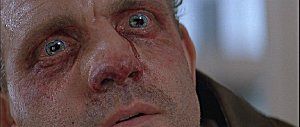 In the Mouth of Madness, c'est Descartes adapté en film de genre. Qu'est-ce que la réalité ? Suis-je vraiment sûr d'exister ou ne suis-je que la projection fantasmée des volontés d'un autre ? La religion est-elle autre chose qu'une chimère partagée par la majorité ? Comment faire la révolution, bouleverser l'ordre du monde, grâce à l'art et à la fiction ? A défaut de changer le monde, peut-on changer de monde grâce à l'imagination ? Toutes ces questions sont là, maquillées sous un vernis de film d'horreur pur jus. Plus le film avance, plus on s'enfonce dans une matière métaphysique, philosophique qui vous renverse d'intelligence. A travers l'histoire d'un auteur de livres d'horreur à succès, genre de mix entre Lovecraft et King (mais qui a aussi plein de
ressemblances avec Carpenter lui-même), le film questionne la puissance de l'auteur, la force de l'Art. Quand un imaginaire est partagé par tous, il devient la réalité : idée simple mais jamais simpliste, qui pose de vraies questions sur l'existence telle qu'elle est conçue majoritairement. Encore une fois, Carpenter crache à la gueule de la religion, et le fait cette fois avec une profondeur et une insolence terribles, multipliant les motifs bibliques pour mieux en pervertir le fond, pour mieux mettre en doute sa puissance.
Car avec ce roman de gare "in progress" fabriqué par cet écrivain, c'est bien de la Bible dont parle le film. Une Bible sacrilège peut-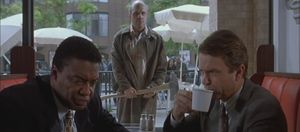 être, mais qui finalement n'est pas loin de ressembler à la vraie. D'où cette terreur importée d'abord par les enfants, d'où cette histoire de messager sensé transmettre le savoir (Sam Neill en Christ barré), d'où ces multiples déviances inspirées des épisodes bibliques (Adam et Eve et leur minéralité dans un tableau horrible qui change au fur et à mesure que le Mal infiltre l'histoire, Sodome et Gomorrhe qu'on retrouve dans cette ville maudite sur laquelle on ne peut se retourner, le sacrifice d'Abraham qu'on perçoit à travers un meurtre rituel à la hâche, et bien sûr l'Eclésiaste qui donne le fil conducteur du film). Prodigieusement construit, le film manie une sorte de sacralisation du Mal, avec beaucoup plus de finesse que dans l'oeuvre alter-ego de Carpenter, Prince of Darkness.
Et pourtant, malgré l'ambition démesurée du projet, In the Mouth of Madness n'oublie jamais d'être avant tout un spectacle, et le plus brillant qui soit. Il y a environ une idée par seconde, la plupart totalement
gratuites, uniquement dédiées à la poésie visuelle si chère à notre JC. Des enfants qui courent derrière un chien, comme ça, parce que c'est beau et étrange ; un cycliste au corps d'ado mais au visage de vieillard croisé en une demie-seconde, une des images les plus marquantes et les plus terrifiantes du cinéma de Carpenter ; des monstres de carton-pâte très émouvants dans leur hommage aux grands films de genre des années 40/50 ; le monde des ténèbres qui s'ouvre derrière une déchirure de page de livre, idée complètement naïve et belle à mourir... Et toujours cette utilisation miraculeuse de la profondeur de champ, jamais aussi bien utilisée depuis Halloween dans cette scène où un psychopathe armé d'une hâche s'approche du héros insouciant, semant la
panique en arrière-plan alors que tout est calme en avant-scène. Toujours cette façon de renouveler la mise en scène pour chaque séquence, tout en gardant une homogénéité formelle totale. Toujours cette profonde compréhension des rouages de la peur, qui fait que le grand-guignol fait son entrée dans les scènes les plus tendues, qui sème le grotesque dans l'horreur. Franchement, je pourrais en parler pendant des heures. Mais j'ai peur de vous lasser, non ?
tout Carpenter is bloody here