"Joe, do you think it really happens people being in love or is it something you just read in books ?"
Anatole Litvak ose faire un remake ricain du Jour se lève de l'ami Carné (dont on n'oublie pas les amis...) et réussit un magnifique film noir sur toute la ligne : une photo signée Sol Polito (Sorry wrong Number signé également par Litvak, Arsenic and old Lace, The petrified Forest...) où les noirs sont sublimissimes, une musique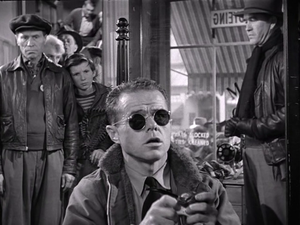 originale de Tiomkin au taquet et une utilisation de la septième symphonie de Beethoven magistrale (elle revient à chaque apparition de Fonda et monte en puissance à mesure que le suspense grandit), une interprétation irréprochable (Henry Fonda en amoureux transi puis en homme blessé, Vincent Price, coiffé à la Cruella (!), en magicien obséquieux affreusement irritant, Barbara Bel Geddes en jeune fille par trop innocente (ce n'est certes pas Arletty mais elle tient ici son rang), Elisha Cook Jr dans un second rôle d'aveugle qui capte l'attention dès la première image...), une séquence finale qui prend aux tripes et qui rend les mains moites... Bref, malgré une intrigue qui ne repose finalement sur pas grand chose - la jalousie aveugle d'un homme pour une jeune femme bien innocente -, cette œuvre savamment montée (en flash back avec en prime un ptit flash-back dans le flash-back qui ne mange pas de pain) tient en haleine jusqu'au bout et fait chauffer constamment le chaud (la relation mignonnette entre nos deux orphelins Fonda et Geddes) et le froid (la confrontation entre le pur Fonda et le mytho enjôleur Price).
On a le cœur tout chaviré lorsque Fonda avec sa grande carcasse et ses yeux de cocker craque pour cette chtite fleuriste : il enlève son scaphandre de travail et semble enfin revenir sur terre lorsqu'il croise pour la première fois le regard de Barbara toute timide derrière sa vitre. Il était loin de se douter que le bonheur était là, à portée de sa main, dans sa ville : il faut le voir traverser ce quartier sombre à peine illuminé par la fumée blanche d'un train et trouver refuge dans l'antre de cette modeste donzelle. Il a tôt fait de faire sa déclaration à sa belle (on va se marier, avoir une flopée de gamins... Mais ouais Henry, faut y croire même s'il sourit lui-même de sa propre envolée) mais on sent que celle-ci est un poil gênée aux entournures ; on ne tarde point à faire connaissance avec l'origine de son trouble : il s'agit d'un magicien, Vincent Price, forcément manipulateur, qui a été le premier à faire rêver la Barbara - oui, il l'a brusquée (terrible scène du premier baiser qui lui donne), oui elle n'aime que son humble scaphandrier... mais voilà, le Vince, avec ses foutus allusions, a foutu le trouble dans l'esprit du Henry et cela va lui dévorer la tronche. Litvak, en fil rouge, nous montre le Henry face à un miroir : une première fois, période idyllique, avec l'ours en peluche de la Barbara et icelle (il se couvre une oreille pour "ressembler à l'ours" qui en a perdu une... si seulement il s'était couvert les deux et n'avait point écouter les discours du Vince...), une seconde fois, après le drame (il descend en scène d'ouverture Vincent) devant un miroir qui vient d'être canardé par la police (son reflet est criblé de balles, comme s'il s'était flingué lui-même) et une dernière fois lorsque, à bout de nerfs, il balance une chaise dans la glace (fi de cette introspection infernale, il est désormais trop tard pour revenir en arrière...).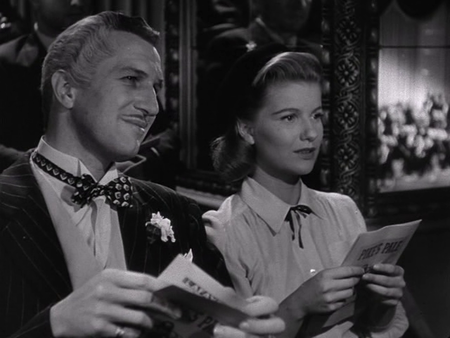 Seul à sa fenêtre, face à la foule qui s'est rassemblée en bas de son immeuble, il lance un dernier cri de rage pour les exhorter à rentrer chez eux ; mais non Joe, t'es po tout seul, il y a tes potes qui te soutiennent et puis il y a surtout cette petite voix, celle de Barbara, qui tente de couvrir celle du flic avec son ignoble porte-voix et de le ramener à la raison... Son amante est à deux doigts de se faire écraser lors d'un mouvement de foule et on imagine forcément le pire : le Henry comme un loup dans sa tanière va finir par se tirer une balle dans sa boîte crânienne et de laisser la Barbara et le spectateur orphelins... Ce putain de jour risque bien de ne jamais se lever et le bout de la nuit de dissoudre le fondant Fonda... Allons, l'Anatole, balance-nous une ptite pointe d'optimiste, par pitié, la guerre est finie... Long is the night, vi, but fucking beautiful is the result (Shang, parolier amateur).