Bon je dois bien reconnaître en préambule que ma copie n'est point parfaite et que dix minutes (genre milieu de dernières bobines) semblent avoir disparu... J'ai d'ailleurs hésité avant d'en dire deux mots en attendant de meilleures conditions, j'y reviendrai à l'occasion...

Cela dit, P.T. Anderson livre un film ample, sans finalement beaucoup de ressorts narratifs, limitant ses dialogues à l'essentiel, ce qui constitue sûrement la plus grande réussite du film; on assiste au combat, comme deux locomotives lancées l'une contre l'autre sur le même rail, entre un homme d'affaires dans le pétrole proprement diabolique (Daniel Day-Lewis, éblouissant) et un homme d'église, véritable show man habité (Paul Dano, l'ado de Little Miss Sunshine, moins convaincant, qui frôle le petit numéro...). Si celui-ci est dévoué pour sa congrégation, celui-là est un homme sans foi ni loi, venu de nulle part, prêt à tout pour défendre ses intérêts financiers; les scènes cruciales où ils se retrouvent face à face - notamment dans l'église et à la fin - sont de véritables morceaux de bravoure où l'on ne sait lequel finira par avoir l'ascendant sur l'autre. Il faut avouer que les deux personnages sont à ce point excessifs qu'on finit par se demander ce qu'ils incarnent vraiment : s'il s'agit d'un combat entre un charlatan et un homme pourri jusqu'à la moelle, le combat est certes spectaculaire mais finalement pas réellement signifiant dans ce qui se voudrait un genre de grande fresque américaine du début du XXème siècle "mettant en scène" deux idéaux contradictoires... On plonge surtout dans une grande noirceur avec des éclats de violence, sur une musique - un peu trop omniprésente - angoissante au possible (certains accords de violons ont dû être piqués à Philip Glass...), en se demandant jusqu'où ira l'infernal personnage interprété par Day-Lewis pour assouvir sa soif de l'or noir : sans attache, prêt à tout sacrifier, ce "self made man" livre un "one man show" proprement époustouflant mais un peu trop radical pour être crédible... C'est d'ailleurs justement là que se situent les limites d'Anderson, pas vraiment connu pour faire toujours dans la dentelle.

A chacun de plonger ou non dans les abysses des puits de pétroles, j'avoue pour ma part, quitte à faire normand, demeurer un poil sceptique en attendant une seconde vision... (Shang - 22/01/08)
---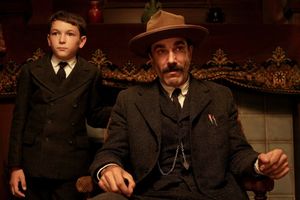 Ah moi, j'ai fonctionné, peut-être parce que j'ai eu une bonne copie. Je ne hurlerai peut-être pas au chef-d'oeuvre comme l'ont fait les critiques, mais je trouve que There will be Blood est doté d'une puissance épique assez formidable, et on n'est pas loin de penser aux grandes fresques du cinéma américain "territorial" (celels de George Stevens ou même de Sergio Leone). Il y a là-dedans un souffle assez indicible, bien que le film soit étonnamment discret dans la plupart de ses composants : dialogues épurés, scénario finalement assez ténu, Anderson joue dans la cour des grands, celle qui arrive à faire exister des personnages énormes au sein d'une fresque énorme, tout en faisant mine de raser les murs.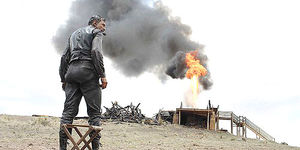 Malgré le sujet historique, There will be Blood est d'une modernité étonnante, notamment grâce à l'immense travail sur la musique (tout à fait d'accord sur les références à Philip Glass) : Brahms ou Pärt (excusez du peu) acquièrent un aspect contemporain bluffant, simplement par leur utilisation hantée, par leur potentiel de frayeur quand ils sont montés sur ces images dantesques : un puits de pétrole qui brûle, un homme qui creuse une tombe. Pas trouvé pour ma part que la musique soit omniprésente : elle participe à la symphonie naturelle qu'est le film, à son caractère presque fantastique. Sans elle, le film serait banal ; avec elle, il est chargé de démons obscurs. Sur ce fond puissant et sombre, Anderson profite de sa reconstitution pour démonter les rouages du rêve économique américain. Les deux complices-ennemis, fric et religion, fondent l'Amérique moderne (d'où mon allusion à Leone et son Once upon a Time in America), et le personnage de Day-Lewis représente l'archétype du self-made-man rêvé par la politique yankee actuelle. Mais Anderson le charge d'une haine pour ses semblables, d'un nihilisme violent, d'une brutalité, qui cassent complètement le mythe : il n'est qu'une brute, et il construit pourtant l'Amérique. La société moderne est batie sur le profit, le meurtre, et la haine du genre humain : on le savait déjà, mais il est toujours bon de le rappeler, surtout dans un film populaire comme celui-ci.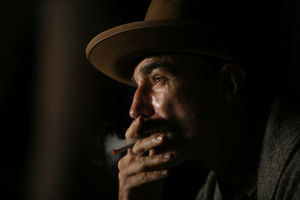 Mais cet aspect ne va jamais à l'encontre d'une sorte de rêve américain parallèle : Anderson aime visiblement son pays, et filme la campagne désertique en grand cinéaste épique. S'il y a du fantastique là-dedans, il y a aussi du western, et l'ampleur des cadres et du montage est digne des meilleurs. Chaque scène va au bout de son but, au bout de son rythme (très lent), en un seul mouvement musical. C'est vraiment très beau à regarder, malgré le jeu il est vrai un peu appuyé des acteurs (Day Lewis en fait assez, quand même, non ?). Au bout des 2h30, on est surpris de constater que le film garde encore sa part de mystère, reste opaque, distillant un charme difficilement cernable. Respect. (Gols - 30/08/08)