Gondry réalise des films de plus en plus intelligents, et il semble bien que cette cuvée 2012 marque une certaine apogée de son parcours. Toujours assez bricolo mais sans application, toujours aussi humaniste mais ayant perdu sa naïveté, The We and the I est un modèle d'écriture, un film passionnant et souvent bouleversant, drôle, mis en scène avec maestria, modeste, dérangeant et en un mot grand.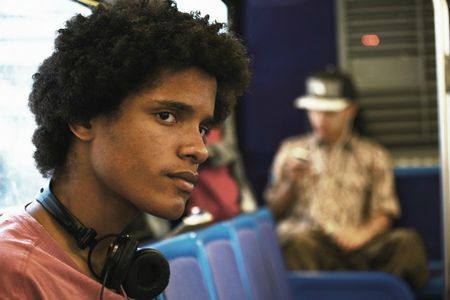 Dans un dispositif radicalement inventif, Gondry renouvelle la règle des trois unités tout en s'inscrivant dans une veine de cinéma hyper-contemporaine. Un seul lieu : un bus ramenant une bande de lycéens surexcités chez eux pour le premier jour des vacances ; un seul temps : celui, réel qui va de la fin d'après-midi à la tombée de la nuit, jusqu'au dernier passager à descendre ; une seule action : ah non, plutôt des dizaines de fictions se croisant et se recroisant, pour n'en faire qu'une seule, celle d'un adolescent renouant avec une petite amie qu'il avait perdue à force de crânerie lourdingue. Ce road-movie, filmé à 90% à l'intérieur du bus, s'inscrit avant tout dans l'Histoire du cinéma ricain, avec son territoire à traverser, avec ce profond ancrage dans un paysage, dans une fiction et dans un langage. Gondry filme d'abord ça : des gens qui parlent en se déplaçant, et on sent littéralement le concept "temps=espace" qui imprègne le film. Il faut aller d'un point à un autre, d'un postulat à un autre, d'un temps à un autre. La jeunesse est elle-même envisagée comme un lieu aux frontières infranchissables, les adultes sont ejectés de ce territoire comme des malpropres, et le "lieu de la jeunesse" obéit à des lois bien définies. Le langage fleuri de cette bande de jeunes, grossier, hilarant, ardu, est riche en soi (malgré la gêne qui prend souvent devant l'irrespect total des gars envers tout), mais Gondry le filme littéralement comme un sport, les paroles s'échangeant par-delà les sièges, une conversation commencée ici pouvant être interrompue là avant de rebondir ailleurs, les sms ne cessant de traverser cet espace confiné comme si il était immense. A chaque arrêt, c'est une possibilité de fiction qui s'éloigne avec les voyageurs qui descendent et s'enfoncent dans les rues, fictions parfois à peine esquissés, parfois très précises, parfois tragiques, parfois drôles.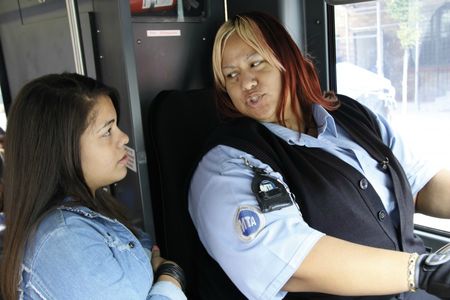 Mais plus que ça, c'est bien sûr le "road-movie moral" qui est intéressant là-dedans. Le bus, en se déplaçant, déplace aussi le scénario. Il s'agit d'aller du collectif (le we) à l'individuel (le I), de la jeunesse folle à la maturité, du puceau à l'homme. Encore une fois, Gondry écrit un éloge de la collectivité (comme dans Be Kind rewind), mais cette fois, il nuance en précisant que le collectif est une somme d'individualités, et que le premier est souvent moins intéressant que les secondes. Au fur et à mesure du film, les cris se calment, on prend le temps de parler, et donc d'avoir mal (le jeune gars qui se prend un vent par un type qu'il admire, les deux homos qui font le point, la jeune nana qui fait le bilan de ses amours), mais aussi de réfléchir. Les scènes "collectives" sont très enlevées et tout aussi intéressantes, notamment par la mise en scène, hyper-dynamique, mais aussi par les acteurs impressionnants de naturel, voire par ces idées fantaisistes de réalisation : une rénovation du concept de split-screen, fait au bricolage ; quelques décrochages extérieurs, fantasmés, filmés de façon bluffante. Mais c'est bien dans les scènes du "I" que le film trouve tout son sens. Profondément en empathie avec ses personnages, aussi crétins et ricanants soient-ils (on pense souvent aux jeunes de Riad Sattouf), il les filme à hauteur d'homme et leur offre le plus beau des cadeaux : le respect de leur identité, la possibilité d'évoluer. Si les films sont des trains roulant dans la nuit, Gondry a prouvé qu'ils peuvent aussi être des bus transportant des gens en évolution, pathétiques et grandioses à la fois. La prodigieuse intelligence de la mise en place, qui a à voir autant avec la tragédie grecque qu'avec le western, le ton hyper-touchant, le sens de la langue, l'absence de compromis quand il s'agit de montrer la jeunesse qui s'éclate : on applaudit à tout rompre Michel Gondry, dernier passager de ce bus et effectivement au sommet de sa maturité.