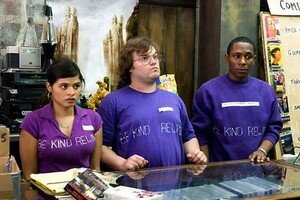 N'étant pas un grand amoureux de Michel Gondry en général (il n'y a que moi pour trouver que Jim Carrey est nul dans Eternal Sunshine ?), c'est un peu en biais que je suis entré dans la salle. Et je dois dire que les 20 premières minutes de Be Kind Rewind n'ont rien fait pour démentir ma médiocre opinion sur le gars : un acteur en sur-régime (Jack Black ferait passer De Funès pour un eunuque mormon) , des gags lourdosses, un rythme assez hystérique, quelques tics de gros malin (Black est "magnétisé" et pollue l'image du film à chaque fois qu'il s'approche de la caméra, mauvaise idée qui empêche de rentrer dans l'histoire), et un couple trop balisé (le fou et le calme, Auguste et le clown blanc), bref, une impression de déjà-vu en moins bien qui fait s'attendre au pire.
Et puis, sans crier gare, dès que Gondry délaisse son "histoire" pour se préoccuper un peu plus de ce qu'il a à raconter, Be Kind Rewind trouve enfin son style, et devient adorable. Le film apparaît subitement comme une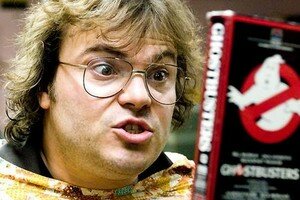 profession de foi pour un cinéma parallèle, bricoleur, libéré des contraintes économiques (même si celles-ci finissent par le rattrapper). C'est peu de dire que Gondry est inventif quand il s'agit de fabriquer du film avec des bouts de ficelle ; ici, il semble bien avoir trouvé le sujet idéal pour déployer ses élucubrations "amateures". A la suite d'un improbable incident, toutes les cassettes d'un vidéo-club sont effacées ; le gérant, aidé par son poteau, va tacher de refaire les films de son catalogue (ça va de Ghostbusters à Carrie, de 2001 à When we were King) : brillante idée qui permet au cinéaste de parler du cinéma qui lui tient à coeur : un cinéma fait par les gens (tous les habitants du quartier mettent leur main à la pâte) et pour les gens (l'audience des films se limitant au quartier), où le peuple se réapproprierait une sorte de culture commune, revendiquant haut et fort sa place dans le système de construction des films. En refilmant des grands succès populaires, Jerry et Mike réinventent sans le savoir non seulement des trucs éternels (on croise Melies ou Chaplin) mais surtout une façon très politique de s'accaparer les oeuvres d'art. "Le passé nous appartient", suggère Mia Farrow, et c'est tout le mérite de ce film que de nous rappeler que la culture appartient à ceux qui la contemplent plus qu'à ceux qui la font. Quiconque est en train de chercher des subventions pour monter son projet artistique ne peut qu'être touché par ce rappel nécessaire des fondements de la création (ceci était une parenthèse personnelle).
Le film devient alors charmant, bouleversant même par endroits. Les moyens trouvés par les deux larrons
pour re-créer les classiques (comment montrer la main de King-Kong qui saisit l'héroïne ? Quoi mettre dans le seau de sang de Carrie ? Comment reproduire le plan "tournant" de 2001 ?...) sont fulgurants d'invention : ça ne marche qu'à moitié, c'est fait dans l'urgence et au mépris de toutes les règles, et pourtant... là se trouve le VRAI cinéma. Peut-être que Gondry ne va pas assez loin dans l'aspect "crasseux" du cinéma bis produit par les personnages : leurs films sont réussis, presque beaux à force de maladresse, et on peut regretter que le scénario ne leur accorde aucune faiblesse, qu'ils ne se heurtent jamais aux limites de leur système. Mais après tout, non : Be Kind Rewind est un film positif, optimiste, et qui séduit justement par cette foi de gamin vis-à-vis de la puissance du cinéma. Les rares personnages de "méchants" sont subtilement écrits pour qu'on reste dans une atmosphère de conte pour enfants : une représentante des firmes hollywoodiennes très dickensienne, ou un promoteur immobilier dépassé par la pression populaire.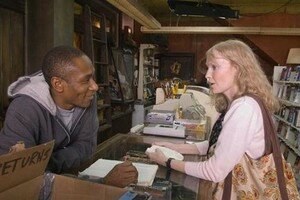 La mise en scène de Gondry, après ce début assez mauvais, acquiert une belle ampleur, avec de nombreux plans-séquences caméra à l'épaule qui se jouent du montage et de la chronologie (on survole une longue période de temps sans aucune coupe) ; on a en plus des acteurs secondaires merveilleusement touchants (Farrow sourit et on pleure, Glover est de mieux en mieux en vieillissant), un final qui assume un sentimentalisme émouvant, et des tout petits gags absolument craquants... On ressort de là avec l'envie de changer le monde, et en plus avec la banane. Grand petit film. (Gols - 22/03/08)
---
Bon c'est la journée, on va dire, où on est pas entièrement d'accord dans notre méga équipe de... deux. Non pas que je renie ce que dit l'ami Gols, je suis d'accord sur le fond et sur le côté bidouilleur assumé (et créatif) de Gondry. Mais si les vingt premières minutes tournent en rond (je dirais même les 40 premières), j'ai eu également toutes les peines du monde (cela réveille mon douloureux souvenir de La Science des rêves) à me laisser emporter ensuite par le délire des deux hurluberlus - peut-être que je plaçais aussi la barre beaucoup plus haut après la lecture de la critique de Gols (c'est ta faute, voilà). Gondry passe un temps dingue à filmer des séquences peu passionnantes et les petites idées bizarroïdes et craquantes des remakes (en dehors de Ghostbusters qui se taille la part du lion) sont montées dans des séquences tellement à la va vite qu'on a souvent du mal à profiter du potentiel comique et créatif du bidule. Belle idée de faire participer tout un quartier à la création d'un film, certes - et on sent que Gondry ne triche pas et implique bien toute la petite communauté de Passaic, cela fait sens et donne même à la fin du film une vraie émotion - mais beaucoup trop de scènes inutiles et lourdes pour se laisser complètement happer dans le film (mais c'est peut-être personnel). Un aspect plus troublant et malheureusement abordé de façon très superficielle, la critique des nouveaux magasins de DVD avec un personnel incapable de renseigner le client (bien rare de trouver de nos jours un Tarantino dans un magasin de location, certes - on se croirait presque à la FNAC, je suis dur). Je m'explique : Gondry parle pour l'essentiel du cinéma ultra populaire et ses petites piques contre l'industrialisation à tout crin du produit cinoche tombent un peu à plat; non seulement il ne s'écarte lui-même que timidement et sur la pointe des pieds des blockbusters (pour un "Chapter One" de Manhattan et un 2001 l'Odyssée de l'Espace, beaucoup de panouilles) mais, s'il se moque dans un sens de ces méga productions en louant l'esprit artisanal du cinoche des débuts, il constate aussi que les gens sont uniquement intéressés par les films à grand spectacle (l'offre s'adapte à la demande, hein ?); on a du coup beaucoup de mal à comprendre la véritable passion des clients pour leur bidouillage, vu les seuls films qu'ils connaissent et aiment - vous me suivez ou vous faites semblant ? D'autant que pour parachever le tout, Gondry s'appuie sur un casting de stars (certains à contre-emploi certes), notamment Jack Black faisant du Jack Black. Bon voilà déçu, mais peut-être simplement du fait que mon attente, mon "a priori", n'était point en phase. (Shang - 14/06/08)