Depuis quelques années, la mode est au méta-langage dans les films d'horreur, c'est-à-dire qu'on s'efforce de démonter les rouages du genre pour mieux en retrouver la sève, les meilleurs d'entre eux (Wes Craven ou Neil Marshall) parvenant à nous faire peur tout en nous montrant comment ils font. The Cabin in the Woods apparaît comme un sommet dans cet effort de mise en abîme : le scénario est bougrement intelligent, et fustige le spectateur tout en lui donnant exactement ce dont il a envie. C'est audacieux, ambigu et fin, autant d'adjectifs qu'on emploie de moins en moins dans le monde du film d'horreur.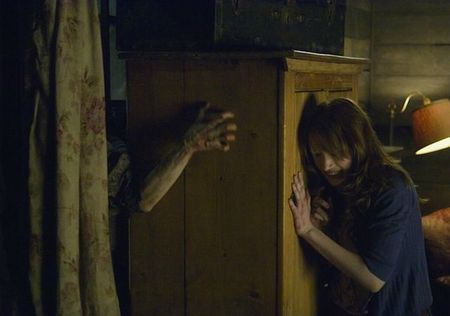 5 ados partent en week-end dans une baraque isolée au fond des bois. Peu à peu ils se feront décimer un par un par des zombies... Ca, c'est la première heure, absolument sans intérêt si on était venu chercher l'originalité ou le frisson. Histoire sur-balisée, motifs esthétiques vus 40000 fois ailleurs (l'indigène torve à l'orée de la forêt, les livres chelou dans la cave, les photos en noir et blanc ouvrant la piste d'une malédiction familiale, la caméra subjective à la Evil Dead, tout est cliché, dans un catalogue tous azimuth des machins-qui-font-trop-peur), personnages éternels... on est attéré par ce style plagiaire, en se disant que ça doit bien cacher quelque chose. Même l'éternel fond judéo-chrétien du genre est là : la jeune fille vierge est l'héroïne du film, alors que les bimbos nymphos, les drogués et les blonds pleins de bière sont les premières victimes. On se dit qu'on est soit devant une parodie (mais il n'y a pas d'humour là-dedans), soit devant le film le plus inutile de la chrétienté. Seul indice intrigant : la présence de caméras un peu partout, et ces "scientifiques" qui observent le film se dérouler par écrans interposés, faisant la fête dès qu'un jeune se fait trancher la tête ou pariant sur les prochains monstres qui vont surgir.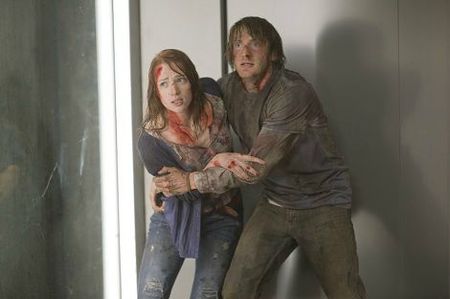 Dans la dernière demi-heure, alors qu'on commence à être assez agacé par l'absence totale de frissons dans cette histoire usée jusqu'à la corde, le film renverse la vapeur et dévoile son jeu. Il serait cruel de vous révéler la chose ici, mais disons qu'il est question tout à coup de nous, spectateurs, face au genre : qu'attend-on d'un film de zombies ? qu'est-ce qui nous pousse vers ça ? et n'a-t-on pas besoin, finalement, de revoir toujours les mêmes motifs, les mêmes sacrifices, les mêmes détails de scénario ? La dernière partie du film est impressionnante, et au niveau du scénario et au niveau du spectacle : on y assiste à la libération de TOUS les monstres possibles du cinéma : morts-vivants anthropopages, fillettes japonaises aux longs cheveux noirs, aliens, débiles à tronçonneuses, anacondas géants, monstres à exorciser, loups-garous londoniens, clowns ricanants, scientifiques psychopathes... Toute l'histoire du cinéma de genre est passée en revue dans une débauche visuelle parfaitement réussie, et au service d'une idée vraiment futée : être spectateur de film d'horreur, c'est simplement assister à un éternel sacrifice interchangeable, histoire de nous apaiser quelques temps avant que notre appétit de sang ne se réveille à nouveau. A cheval entre une religion moderne et un exercice de style ludique sur le genre, le film explique en quelques minutes le pourquoi de ses deux premiers tiers consternants, acceptant le risque d'avoir perdu son spectateur depuis longtemps. Si vous savez attendre, vous assisterez à un final éclatant qui vous plongera dans de bien intéressantes réflexions. On aurait sûrement souhaité que le film fasse plus peur, qu'il soit un peu moins lisse dans sa mise en scène et son déroulement ; mais on sait gré à Drew Goddard de réaliser un film d'horreur intelligent et contemporain.