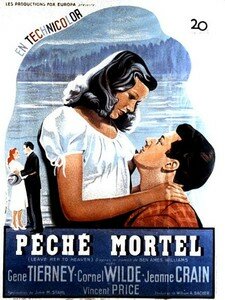 J'ai déjà avoué l'extase dans laquelle me plongeait chaque apparition de Gene Tierney mais il faut reconnaître que dans Leave her to Heaven, où rarement images en technicolor ont été aussi belles, elle me met carrément en transe... Des yeux bleus de lagon, une bouche rouge de dragon, une blancheur du visage de lapon (mes profs ont toujours déchiré mes poésies, alors que franchement...). Sa première apparition dans le train, lorsqu'elle abaisse doucement un livre et fixe la personne en face d'elle, ferait passer Jessica Rabbit pour un civet de lièvre. J'en suis resté bouche bée, à la grande surprise de ma femme qui s'est pourtant habituée à tous mes côtés veules. Gene Tierney reste une créature sidérante tombée d'une autre planète ou d'une autre lune. Et pourtant, dans le film, elle joue bien la parfaite des salopes.
Rôle très ambigu pour cette déesse totalement rongée par la jalousie, dévorée par ses instincts possessifs. Depuis L'Enfer de Chabrol, j'avais rarement vu une telle intensité dans cette véritable maladie de l'âme. Derrière ce visage poupon, derrière ce sourire d'ange innocent, se cachent une noirceur aux accents de tragédie, une folie presque schizophrénique dans cette capacité à ruiner, à détruire ce que l'on aime. La Gene est quand même coupable, plus ou moins directement, de 3 morts. C'est d'ailleurs ce qui est particulièrement remarquable dans le film: derrière ces décors sublimes de bords de lac ou de New Mexico, derrière cette végétation luxuriante et ces couleurs primaires, se dissimule l'un des scénarios les plus sombres d'Hollywood - on est en 1945 et le temps des gentilles fleurettes est derrière soi - comme si tout d'un coup, cette entreprise à rêves accédait à une certaine maturité. Si le rythme du film est assez lent, c'est qu'on se laisse engluer par ce personnage joué par la Tierney: on pensait pouvoir tout lui pardonner mais, tout comme son mari, on se rend compte progressivement qu'il s'agit d'un monstre froid, d'un égoïsme sans fond.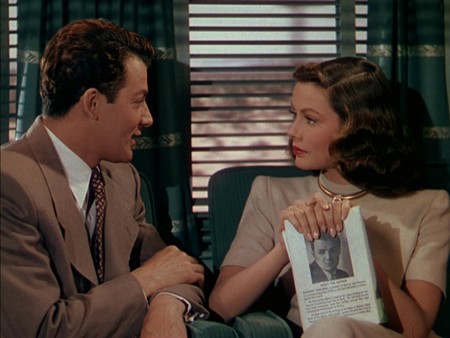 A noter à ses côtés tout de même la présence de la sublime Jeanne Crain dont les yeux olive et la douceur de caractère authentique sont de parfaits contrepoints au jusqu'au boutisme destructeur de la belle (se suicider pour faire de la vie de sa soeur (adoptive), accusée du crime, un enfer, franchement je vois pas plus machiavélique comme plan...)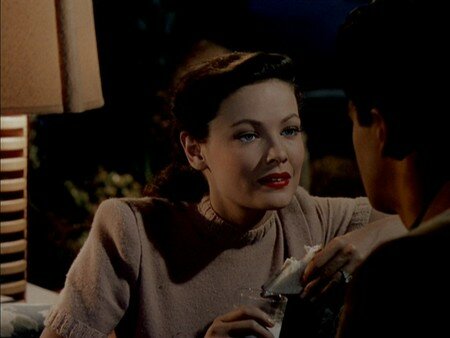 Puisque l'on parle d'aspects diaboliques, la séquence de la barque, lorsque, cachée derrière ses lunettes noires, une Gene Tierney impassible laisse se noyer un enfant (qui plus est handicapé) est d'une froideur qui ferait passer la fin de Buffet froid pour une tartine de beurre. Tous les muscles du visage de la Gene sont tendus comme une corde de pendu mais pas un soupçon d'hésitation ne vient trahir cette décision meurtrière. Il fallait une certaine dose de courage pour oser, avec un tel cynisme et de très joulies couleurs, mettre en scène une telle séquence. L'être humain est capable des pires horreurs pour trouver sa propre satisfaction, et Leave her to Heaven nous fait clairement comprendre que l'enfer est avant tout sur terre, niché quelque part en nous.