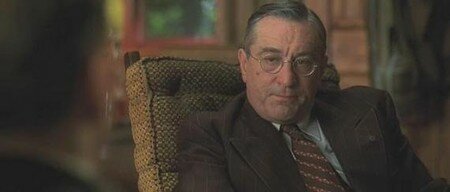 Grand fan d'A Bronx Tale, je m'attendais à un peu plus de De Niro sur cette vision des services secrets américains (période 1931-1961): certes le Bob brasse de grands thèmes, "la famille ou le taff, il faut choisir", "peut-on faire confiance à qui que ce soit, surtout qu'on est dans l'espionnage et le contre-espionnage"..., réalise un film feutré qui colle bien à son sujet (entre secret d'Etat et secret d'alcôve), mais malheureusement embrouille un peu trop les pistes pour le fun (c'est bien beau de faire son Sergio Leone et de passer son temps à faire des flash-back... encore faut-il que cela serve au film, la confusion n'étant point synonyme de profondeur), et Matt Damon, en effet ami Bastien, est la plus grosse erreur de casting depuis... The Departed (je l'aime le jeunot, le problème c'est qu'il n'a aucune étoffe).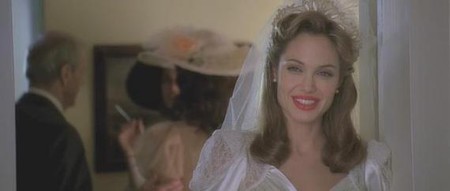 Je ferais bien un résumé pour mon gars Bibice qui, tel que je le connais, décrochera volontairement au bout de 15 minutes devant ces va-et-viens incessants dans l'histoire (1961-1931-61-33-61-39-61-40-61-45....), d'autant qu'au bout d'une heure, on a autant d'informations qu'en deux phrases: Damon, marié malgré lui à l'Angelina Jolie à qui il a fait un gosse, tout en aimant une autre jeune fille sourde, s'engage dans les services secrets en 39; parallélement, le débarquement dans la Baie des cochons en 61 a été un fiasco car une info a filtré: à partir d'une photo et d'un message enregistré, les services secrets tentent de trouver la taupe. Je m'arrête-là pour po tout péter le suspens, mais au final, il n'y a rien d'extraordinaire, rien qui ne justifie en tout cas ces 2h45 de film. Oh dame, ça se suit, mais sans réelle passion, sans jamais que le film ne s'emballe vraiment. Feutré mais terne. Dommage, car De Niro installe un certain climat de suspicion général (qui surveille qui, qui trompe qui, qui doit faire confiance à qui?) sans que cela ne crée jamais de vrais climax - si ce n'est peut-être dans l'interrogatoire que fait Turturro d'un éventuel espion qu'il soupçonne de se faire passer pour quelqu'un d'autre, mais cela doit surtout à la performance du John toujours sous pression; là où le bât blesse c'est bien dans le casting: De Niro est impressionnant de charisme dans un petit rôle, Joe Pesci fait un retour méconnaissable, William Hurt , bon, fait du Hurt... mais le pauvre Damon censé porter le film sur ses épaules est totalement dépassé: passons le fait qu'à 20 ans ou à 55 ans il reste exactement pareil (ils ont dû juste changer les lunettes...) ce qui ajoute parfois un certain trouble dans la compréhension du film; mais surtout sa prestation est... invisible: certes, il doit jouer un personnage monolithique qui ne laisse rien transparaître de ses sentiments, gardant tout en lui... mais mon Dieu c'est pas pour autant qu'il ne peut se permettre de bouger un sourcil (ou juste un, comme sur la photo où il est à son max...)!!! Du coup le film perd en aspérité, en relief, quand il y avait matière à faire une fresque beaucoup plus tourmentée et passionnée.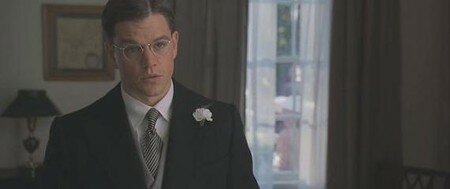 Le film sort en France en Juillet, pas non plus de quoi ronger son frein... (Shang - 27/03/07)
Tout à fait d'accord dans l'ensemble avec mon camarade pour trouver ce The Good Shepherd terne et compassé, je ne peux que m'insurger violemment et sans appel contre lui (et le radical Bastien, visiblement) pour ce qui concerne Matt Damon : il est là-dedans, comme très souvent, absolument sublime. Bien sûr que son jeu est très peu expressif, bien sûr que cet acteur-là a peu de lien de parenté avec Jim Carrey ; mais en jouant ce spectre indifférent, cet homme sans caractère, il montre une de ses meilleures prestations, infléchissant légèrement son jeu au fur et à mesure des épreuves qu'il subit, traversant l'écran dans sa petite figure d'homme ordinaire, donnant à chaque scène une tristesse sans éclat qui illumine tout le film. C'est d'autant plus remarquable qu'il est sûrement la seule vraie qualité de cette fresque privée d'émotion et de pics. En tout cas, côté distribution, on ne voit que lui... et Turturro, certes, impeccable dans la seule scène un peu tendue. Que dire, par contre, de la misérable Angelina Jolie, que De Niro envisagerait bien comme une seconde Sharon Stone dans ce rôle de femme brisée par sa mise à l'écart de ce monde d'hommes ? Trop mannequin, définitivement, trop parfaite plastiquement pour pouvoir donner quoi que ce soit d'humain à un personnage, elle pose pour la galerie, et ruine toute la partie alcôve de l'intrigue. Les autres acteurs semblent être là comme stars-copains-de-Bob : Pesci ou Hurt sont invisibles.
Pour le reste, on est d'accord : les grands modèles (Leone et Scorsese) sont désespérément évoqués, mais
jamais De Niro n'arrive à trouver ne serait-ce qu'un instant leur puissance d'émotion dans cette fresque pourtant relativement ambitieuse à la base. Tant pis si l'intrigue est parfois confuse, à cause d'un montage douteux, qui ne fonctionne jamais. Le fait est qu'elle surtout hyper-attendue, et qu'on la voit venir de loin. Aucune surprise là-dedans, ni dans les trahisons des uns et des autres, ni dans les rapports de Damon avec son fils, ni dans les crises du couple, ni dans les scènes de sexe qui semblent dater des années 70, ni dans cette musique illustrative et mièvre qui ne quitte jamais les images. Tout ça se regarde sans réel ennui, mais on n'arrive pas non plus à évoquer la modestie ou l'artisanat dans The Good Shepherd, qui se veut trop vaste pour être honnête. Ce n'est pas en tentant de recopier la structure et la photo de Once Upon a Time in America qu'on atteint sa grandeur. Il y faut une autre maîtrise de la mise en scène. (Gols - 29/07/07)