Jewison a toujours fait des films taillés dans le bois dont on fait les planches en bois, et The Cincinnati Kid ne déroge pas à la règle : solide, carré, pro. J'avais adoré ce film dans ma jeunesse folle, et j'avais bien raison : il y a là-dedans tout ce qu'on attend du divertissement grand crin, suspense, glamour, personnages bien tracés, musique aux petits oignons et dialogues finauds.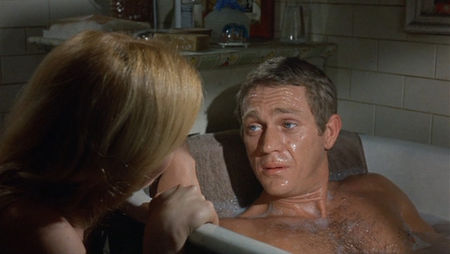 Le suspense, il est dans cette implacable construction simplissime, sans une once de gras, qui ne s'embarrasse de rien d'autre que ce qui doit être raconté. Le Kid est un as local du poker, qui doit rencontrer la star du pays lors d'un match dantesque ; qui va gagner, du jeune loup plein de fougue ou du vieux briscard rompu à toutes les formes de bluff ? L'action est entièrement contenue dans ces heures passées à fouailler le regard de l'autre pour y déceler la tension ou le découragement, et Jewison se contente de ça, faisant pleinement confiance à la photogénie du poker pour transformer l'austérité en spectacle. Sa mise en scène, à la fois modeste et très variée, sait toujours faire monter la sauce dans les moments-clé, mais sait aussi filmer les creux, les attentes et les tunnels de la partie. C'est presque dommage que le scénario cherche parfois d'autres voies (une amourette difficile entre le héros et une blondinette, un joueur intègre contraint à la tricherie), on aurait aimé qu'il en reste à cette règle des trois unités qui suffisait à notre bonheur. On sent bien d'ailleurs que ces scènes annexes intéressent peu Jewison, qui préfère mille fois filmer la goutte de sueur qui coule le long de la joue du Kid plutôt que ses dialogues avec la partie féminine de la distribution.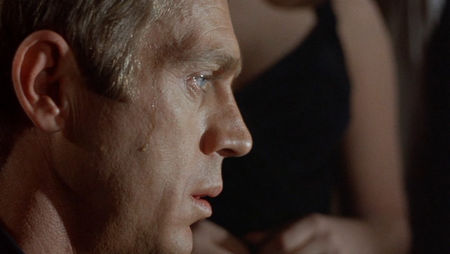 Le glamour vient des personnages, en premier lieu de Steve McQueen of course, qui livre ici une partition vieille comme le monde mais toujours aussi efficace : le jeune gars beau comme un coeur mais légèrement désabusé, petit génie qui fait passer son art avant ses femmes. McQueen use et abuse des petits rictus qui ont fait sa gloire, c'est certes limité et fastoche, mais ma foi il le fait bien, un peu comme le Bébel des grands jours, et on ne lui demande que ça. Face à lui, de la vieille souche : Karl Malden dans son éternel rôle de pleutre gentil et honnête, qu'il fait très bien également, et ce bon vieux Edward G.Robinson en joueur madré revenu de tout. Il y a même Cab Calloway dans un petit rôle, c'est parfait. Les nanas sont moins convaincantes, mais elles sont jolies comme des coeurs, ce qui, dans ce film ouvertement viril (jusqu'à une légère mysoginie) est bien suffisant. On est entre gonzes, dans la fumée des cigarettes, et les femmes sont décoratives. Bien aimé pourtant ce caractère de salope profonde, infidèle et tricheuse même quand elle fait un puzzle (elle retaille les pièces pour que ça rentre, excellent).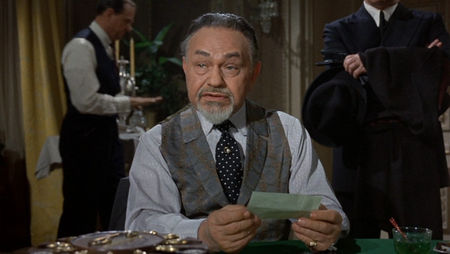 La musique de Schifrin, l'arrière-plan très marqué (la Nouvelle-Orléans, son jazz, ses blacks, ses moeurs exotiques) et la tronche toute torve des méchants ajoutent encore au plaisir sans tâche de ce divertissement. Du beau boulot, sans fioritures, simple et net.