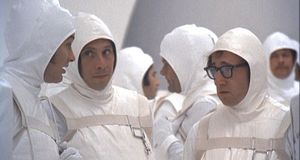 Encore une tentative de comédie visuelle de la part de Woody, mais dans laquelle il paufine un peu son style intello qui remportera le match quelques années plus tard. Le gars se permet tout simplement de citer Shakespeare tout en parlant de sodomie de brebis, de parodier Norman Mailer tout en endossant le rôle d'un spermatozoïde, ou de fouiller dans la filmographie d'Antonioni tout en parlant d'orgasme féminin. C'était risqué, et il faut bien le reconnaître, c'est assez foutraque. Les sketches qui constituent ce film bancal et hétérogène sont souvent assez mauvais, et la seule chose vraiment intéressante qu'on peut trouver là-dedans, outre quelques répliques quand même très drôles, c'est ce travail sur les genres cinématographiques auquel se livre Woody.
On passe d'une reconstitution médiévale à un pastiche d'émission de télé, d'un hommage aux films d'épouvante de la Warner à un film de science-fiction pur jus, d'une partie très psychologique à un remake de Blow Up. De tout cela on ne voit bien sûr que la surface, le but premier de Everything You Always Wanted to Know About Sex But Were Afraid to Ask étant de faire rire sans trop se prendre la tête. Il n'empêche que Woody réussit ça et là quelques cadres vraiment intéressants, dans la partie antonionnienne surtout. A l'époque, la mise en scène semblait être le cadet de ses soucis (il n'avait réalisé que Take the Money et Bananas, qui ne sont pas des chefs-d'oeuvre formels), mais on sent qu'il commence à chercher d'autres façons de raconter, un style qui lui serait propre. C'est raté pour cette fois, mais l'intention est bonne. A part ça, pas grand-chose, on a droit à un humour limite salle de garde, frôlant la consternation totale (le sein géant qui se promène dans la nature ou
le rabin priapique), qui ne déborde jamais malgré le sujet. Sur le sketch de la brebis pourtant, parfaitement joué par un Gene Wilder très sobre, on touche à quelque chose d'interdit, et ça fait vraiment rire : le sujet (la zoophilie) est attaqué frontalement, dans le décor bourgeois habituel à Woody, et dérange quand même pas mal. C'est le seul moment vraiment sur la brêche, le reste étant au mieux rigolo, au pire affligeant. Voilà un film qui pourrait constituer la seule participation de Woody au mouvement hippie, avec ce que ça comporte d'émancipation sexuelle et de provocation anti-bourgeoise ; intérêt historique, donc.
Tout sur Woody sans oser le demander : clique