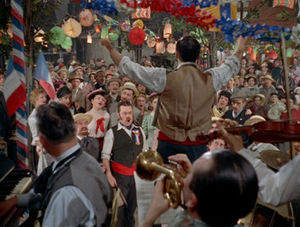 J'avais un mauvais souvenir de ce film vu dans ma jeunesse folle, souvenir que je révise à la hausse. Elena et les Hommes est un peu passé, très léger voire superficiel, manque franchement d'ambition, mais si on le replace dans l'oeuvre du roi Jean, il est absolument charmant. En tout cas dans sa première heure : une sorte de compilation de la "joie renoirienne", un summum de son style festif, si proche du peuple et si humaniste. Il y a d'abord une fête du 14 juillet qui explose littéralement de couleurs et de bruits, de danses et de figurants. Jamais encore Renoir n'avait rendu un si vibrant hommage au style de son papa, et on assiste béatement à une mise en mouvement éffrénée de tableaux colorés et joyeux. L'écran est littéralement saturé de bonheur de vivre, appuyé par des chansons qui s'incrustent les unes dans les autres, de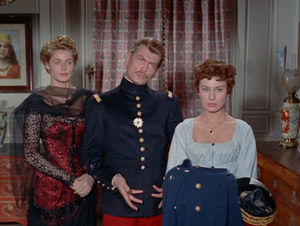 figurants qui ont tous une petite chose mignonne à faire (je porte une ombrelle, je reçois un baiser en passant, je danse avec une bonne, je brandis mon bébé, etc.), de petits drapeaux de toutes les couleurs, de cris de joie. On reconnaît bien là le goût pour la fête populaire déjà bien en place dans The Diary of a Chambermaid ou Madame Bovary. La mise en scène y est bluffante, toute en mouvements, enregistrant chaque détail avec une perfection obsessionnelle : la scène est longue, tenue au summum de l'hystérie, et tient miraculeusement de bout en bout. On suit un personnage, on en croise un autre, on le suit à son tour, puis on retrouve par magie le premier après 1000 petites "aventures" sans conséquences, le tout en 30 secondes et dans un seul mouvement. Le rythme est impeccable, et cette scène vous colle une banane qui rappelle celle des grandes comédies musicales américaines. C'est juste le plaisir de se laisser aller à la joie.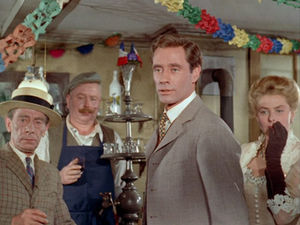 Ensuite, deuxième longue séquence, on assiste à un dîner de fiançailles dans une demeure bourgeoise. Là, c'est le Renoir de La Règle du Jeu qui intervient, celui qui mèle grands sentiments aristocratiques et secrets d'alcôve dans les cuisines, qui fait se côtoyer amourette et promesses éternelles. Encore une fois, la mise en scène est tourbillonante, qui suit des courses-poursuites entre valets libidineux, tactiques politiciennes, duels à l'épée et chansons avec le même appétit, dans un même rythme. On sent bien que l'intrigue principale (une femme fatale doit user de ses charmes pour influencer la politique d'un général) intéresse beaucoup moins Renoir que ces flirts d'anti-chambres ou ces personnages clownesques. On est dans l'énorme gag, ça se prend les pieds dans le tapis, ça grimace comme c'est pas permis (la palme à Jean Richard), ça se rentre dedans et s'emmêle dans son sabre, mais c'est encore une fois une joie totale. L'humour, même gros, est constant, on se marre comme des baleines devant ces acteurs tout contents d'être là.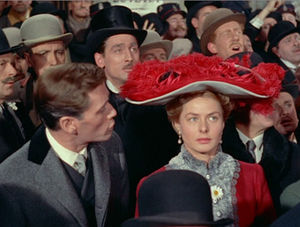 Dommage que tout ça ne tienne pas dans la dernière demi-heure, plus maladroite, moins rigoureuse dans le montage, et qui se reconcentre sur l'intrigue "bourgeoise" en oubliant les petites choses. Il y a une bande de gitans (Juliette Greco en tête) un peu sacrifiée par Renoir, qui ne lui laisse que quelques inserts laborieux pour prendre sa place ; il y a un essoufflement certain au niveau des gags, qui deviennent répétitifs. Tans pis : on se concentre sur le jeu mutin d'Ingrid Bergman (très à l'aise malgré son français, qu'elle manie d'ailleurs avec élégance, et qui porte son costume rouge vif avec une désinvolture réjouissante) et de Mel Ferrer, bellâtre bronzé assez convaincant, et on rigole devant le peu de moralité de la fin, où chacun tombe amoureux par dépit mais avec une belle résignation. Une petite chanson de la Greco sur fond de figurants qui s'embrassent, et emballé c'est pesé, on termine avec la sensation d'un bien joli film. Léger comme une bulle, ça je ne vous le cache pas, loin du chef-d'oeuvre, mais touchant comme tout.
Renoir est tout entier ici