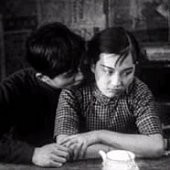 Voilà par exemple un excellent film des années trente, une histoire d'amour d'une légèreté surprenante (sauf la fin où l'on tombe comme d'hab dans le mélodrame avec morale à la clé, mais on commence d'avoir l'habitude), on se croirait parfois dans Mauvais Sang (Faut bien que j'exagère un peu sinon tout le monde s'en fout): Chen Xiaoping, une bille de clown, Denis Lavant quoi, joue de la trompette et habite sous les toits juste en face de l'espiègle Xiao Hong: il fait des tours de magie à deux balles ("Tu connais le coup de la pomme?"), elle chante des chansons d'amour barbeliviennes ("Tu es l'aiguille, je suis le fil, nous nous portons bien ensemble" (jeu de mots littéral, si vous voulez corriger, vous gênez pas), ils se content fleurette, font beaucoup de grimaces (ce n'est pas un film muet mais les micros devaient couter cher - ah ben ouais, on est au début du parlant), bref c'est léger tout plein, les mouvements de caméra sont fluides, c'est vraiment le pied...
Et pis bon, forcément, comme la famille de Xiao Hong est pauvre (sa grande soeur qui est super vilaine doit se prostituer dans le bar de ses parents - c'est ce que dit le résumé, je suis un peu passé à travers) les parents décident de la vendre petit à petit au gros caïd du coin, Gu (il a pas l'air méchant pourtant, mais il est gros indéniablement). Il y alors une scène qui est sûrement la plus violente et la plus érotique de tout le cinéma chinois à travers les âges: Gu en sortant de chez les parents de Xiao Hong lance à celle-ci un vieux regard concupiscent, en effleurant puis en écrasant littéralement une rose entre ses mains - je veux pas voir de la symbolique partout mais là ça m'a laissé la gorge toute sèche.
Du coup, Xiaoping, son frère et sa bande de potes réfléchissent pendant des heures pour trouver une solution (leur baraquement est couvert de papiers journaux dans lesquels ils puisent leur inspiration) et après un plan foireux - aller chez un avocat pour porter plainte contre le Gu, mais ils ont pas de thunes, ridicule - ils ont l'idée de génie du siècle: cacher Xiao Hong chez eux. Et ça marche; très rapidement elle est rejointe par sa soeur (Xiao Yun) qui est gentille maintenant et qui tombe amoureuse du frère d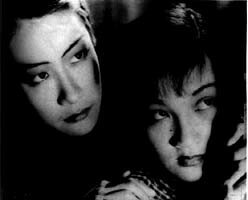 e Xiaoping (Old Wang... c'est pire que dans Dostoïevski les noms chinois)... Malheureusement, un jour, le père des deux soeurs, avec Gu et un comparse, tombe sur elle: elle lance un couteau qui se plante à 2 millimètres du père et celui-ci assez rancunier lui renvoie le couteau en plein coeur... Pas sympa, c'est clair. Elle sera récupérée par la bande de potes de sa soeur mais pendant qu'Old Wang va chercher le docteur, elle lâche son dernier râle; ça tombe plutôt bien parce qu'Old Wang revient tout seul, il avait pas d'argent pour payer le docteur - et on nous balance la fin de façon un peu abrupte mais malgré tout on garde en tête ce couple ultra-moderne formé par Xiaoping et Xiao Hong qui mérite de faire date dans le cinéma chinois vis-à-vis de l'évolution des moeurs (Au début du film, on assiste à une parade: il s'agit d'un mariage traditionnel; quand Xiaoping jette un oeil dans le palanquin fermé, il découvre une Chinoise toute laide qui louche.. à mon avis, il y un message là-dedans!). Yuan Muzhi avait déjà écrit l'excellent Plunder of Peach and Plum (Tao Li Jie) que vous pouvez retrouver dans ces colonnes!