Effectivement pas vraiment un film pour John Ford, qui en abandonnât le tournage avant qu'il fut confié à Archie Mayo : c'est une épopée en costumes, un film de cape et d'épée très classique, et les thèmes de Ford n'y sont pas. Bel ouvrage glamour, certes, mais qui manque franchement de personnalité à tous les postes, malgré, ici ou là, quelques jolies petites scènes pour tromper l'ennui. Ca commence par le voyage jusqu'en Chine de Marco, expédié en trois minutes chrono : une tempête, une traversée du désert, deux-trois soucis, ce n'est pas ça qui intéresse les réalisateurs qui sacrifient ces séquences pourtant prometteuses en spectacle au profit des agissements concrets de Marco sur le terrain : arrivé à Pékin, voilà notre gars qui rentre dans les petits papiers du Khan et surtout de sa fille. Heureusement, à cette époque, tous les Chinois semblent parler un anglais courant, ça aide bien à la communication. Une oeillade par ci, une révérence par là, et notre Marco devient plus chinois que chinois, découvrant les brillantes inventions de ce peuple et en imaginant les répercussions possibles (le charbon, la poudre pour les pétards, et même les spaghettis).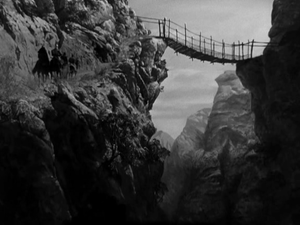 Ensuite, c'est le lot habituel de ce type de production : de la romance, de l'humour, de l'action, des beaux jeunes gens qui s'embrassent et des immondes fêlons qui fêlonnent. A ce petit jeu, ce ne sont pas les héros qui s'en sortent le mieux : Gary Cooper pose nettement pour la galerie en dispatchant métronomiquement ses sourires charmeurs tout au long du film, et peine à faire autre chose que le joli mannequin ; mais surtout, la très palotte Sigrid Gurie est transparente comme c'est pas permis, tentant de nous faire croire à son personnage de Chinoise pure souche alors que son jeu est américanissime en diable. Du coup, la romance entre les deux tombe à l'eau, malgré la jolie scène où Cooper enseigne l'art du baiser à sa belle : ou comment renouveler le passage obligé en lui insufflant une sorte de deuxième naissance érotique. Les lumières de studio, beaucoup trop artificielles, font leur effet en terme de focale sur les regards pamés et sur les sourires ravageurs, mais le couple n'est pas crédible, trop niais, trop fade. En face, les méchants sont beaucoup plus réussis : des sbires du fêlon très crétins, un rebelle ridicule, et surtout le méchant principal, joué comme dans 90% des cas à cette époque par le suave Basil Rathbone, et qui a droit aux meilleurs détails : il collectionne carrément les vautours et les lions, pas très sain, le bonhomme. Il est laid et odieux et le fait très très bien.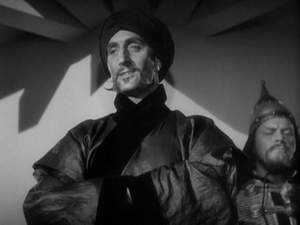 Assez mal rythmé (l'action n'arrive vraiment qu'à la toute fin), souvent baclé (les décors vides et plats, les dialogues sans sel, le scénario très balisé), The Adventures of Marco Polo remporte quelques points par des petites scènes parfois sympathiques, qu'on met avec une mauvaise foi totale sur le compte de Ford plutôt que sur celui du fade Mayo : beaucoup aimé, par exemple, ce mariage plein de suspense, où la promise égrène toute l'histoire de sa famille avant de prononcer le "oui" fatal, dans l'espoir que Marco Polo va venir la sauver avant qu'elle ne le prononce. Savoureux aussi, ce bras-droit du héros (Ernest Truex), le Bourvil américain qui a quelques occasions de nous faire poiler ; enfin, il y a une princesse nympho très collante qui est beaucoup plus attachante que l'héroïne, et qui met un peu d'impureté dans ce film calibré et inconsistant. Pour le reste, pas le plus grand film d'aventures du siècle, pas de doute.