"You got into a racket like this to get something at the point of a gun, you have to be ready to kill before you start a job. (...) We go together Laurie. I don't know why. Maybe like guns and ammunition go together."
Toujours un plaisir de revoir Gun Crazy avec la petite bombe Peggy Cummins (Annie) et la face joviale du juvénile et rare John Dall (Barton) (The Rope, The Man who cheated himself). Bien sûr difficile de ne pas penser au plus tardif Bonnie and Clyde même si la violence est beaucoup moins au rendez-vous dans cette primitive virée d'amants hors-la-loi. Pas grand chose à jeter sinon dans ce magnifique noir de Lewis, de la séquence d'ouverture (ce vol de l'arme du jeune Barton sous une pluie torrentielle, arme qui échoue, après une glissade, aux pieds du shérif : un plaisir coupable vite puni), en passant par l'enfance de Barton (la mort d'un poussin qui l'a à jamais dissuadé de se servir d'une arme pour tuer) et ces multiples hold-up aux côtés d'Annie, jusqu'à cet incontournable final dans une brume qui respire la mort... Dès qu'on voit la tête que tire Dall quand il croise le regard d'Annie (alors simple petite attraction dans une foire), on sent qu'il est prêt à la suivre n'importe où, à faire n'importe quoi pour elle. On sent rapidement que la chtite le mène par le bout du nez et lui force la main en l'entraînant dans un premier braquage ; la belle idée, c'est que plus le récit avance, plus cela renforce leur complicité et leur amour (la séquence où ils se montrent incapables de se séparer après un gros coup) : une véritable "fuite en avant" amoureuse... Nombreuses sont les scènes les montrant côte-à-côte dans une voiture, changeant d'aspect au fil des étapes et des hold-up pour ne pas se faire démasquer ; le surplace semble impossible aux deux amants, en particulier à Annie : c'est elle le véritable moteur du couple, elle qui pousse Barton a toujours aller "plus loin" dans l'illégalité ; Barton semble finalement n'aspirer qu'à se poser avec elle (son envie de vivre dans un ranch au Mexique...) mais on sent bien dès le départ que tout stop dans leur collaboration criminelle sonnera comme un arrêt de mort. Ils sont destinés à foncer ensemble (la scène sur la montagne russe, comme un écho aux scènes dans la voiture), à aller de plus en plus vite, la passion des armes et la vitesse enivrent leur amour (lyrisme, ouais...).
Un film qui va à fond mais dont la forme est également loin d'être dégueulasse, mes petits amours : Lewis se plaît notamment à faire de subtils travelling avant pour aller au plus proche des personnages, capter un détail (l'oreille de Barton qui entend la sentence...), comme pour "simuler" de brusques accélérations dans le récit, forcément toujours "en avant". L'une des plus belles séquences est peut-être celle où l'on filme les deux personnages à l'avant de la voiture par derrière : il va s'agir pour eux de réaliser leur plus gros coup (braquer une banque), ils n'ont pour l'instant réalisé que de petits braquages de caissiers ; Barton pénètre dans la banque (hold-up en hors-champ) et Annie sort de la voiture pour aller capter l'attention d'un flic dont l'arrivée n'était pas prévue ; Barton sort de la banque, Annie assomme le flic, ils remontent dans la voiture et le plan reprend avec nos deux compères filmés de dos ; ce braquage va comme sceller une bonne fois pour toute leur "association criminelle" et leur amour (ils se savent inséparables, pour le crime et le meilleur) : ils seront par la suite toujours filmés de face, comme si dorénavant tout était dit, était clair, comme s'il s'agissait de ne plus se cacher la face. Le dernier gros coup est forcément le plus élaboré mais aussi le plus dangereux (cette scène de poursuite dans cette salle où sont pendus à des crochets des carcasses de bœuf : ça sent le sapin...) : ils parviennent malgré tout à s'en sortir, Laurie laissant deux cadavres en route ; le numéro des billets va malheureusement les trahir et ils vont à nouveau se retrouver sans le sou sur la route ; Dall rentre la queue entre les jambes chez sa sœur, ses deux potes (journaliste et shérif) viennent le supplier une dernière fois de se rendre mais Dall sait depuis longtemps quel destin l'attend : il ne peut vivre sans Laurie, il ne peut que mourir avec... Dernière chasse à l'homme dans les marécages avec nos deux lièvres qui continuent d'avancer coûte que coûte pour retarder l'arrestation... La brume se lève, pour dissimuler une ultime fois leur fuite ou pour leur servir de linceul ? L'œuvre la plus aboutie de Lewis même si The Big Combo, réalisé cinq ans plus tard, est également une vraie perle en son genre. Crazy of Peggy itou... (Shang - 30/04/12)
---
"La forme est également loin d'être dégueulasse", remarque euphémiquement mon camarade ci-dessus. Je dirais pour ma part que voilà une pure tuerie de style. Il y a du Orson Welles chez ce Joseph H. Lewis, m'est avis, et voilà bien longtemps que je n'avais pas été à ce point saisi par la mise en scène d'un film hollywoodien classique. Hyper original et surprenant, Lewis nous montre une école de mise en scène, depuis les plans répétitifs de dos et de face dans les voitures, déjà mentionnés par mon compère, à ce plan séquence incroyable : en filmant le braquage depuis le siège arrière, sans coupe, de manière presque naturaliste, le réalisateur nous indique bien son truc : la caméra, autrement dit nous, va être le troisième larron de ce couple infernal. Du début à la fin, on est au plus près des deux personnages, partageant leur intimité et les doutes de chacun d'entre eux. A priori, c'est d'ailleurs plus du côté du garçon qu'on se trouve : comme lui, on regarde le personnage opaque et complexe d'Annie avec un mélange de fascination et de terreur.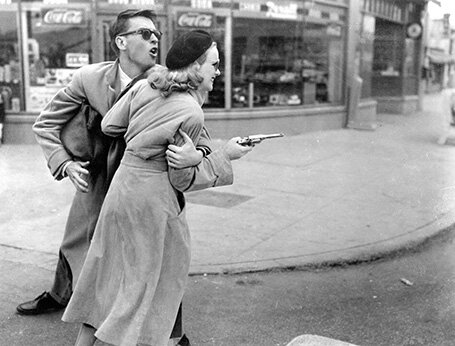 La belle est un des personnages les plus originaux qui soient : sa figure de petite fille cache quelque chose d'effrayant, une part de folie qui fait de brusques apparitions (son incapacité à s'empêcher de tuer, et cette réplique incroyablement violente pour un personnage sensé être l'héroïne du film, à la fin : "prenons le bébé avec nous, les flics oseront pas tirer"). Ambivalente jusqu'à la schyzophrénie, Annie est portée à merveille par Peggy Cummins, qui en fait à la fois une enfant, un monstre de froideur et une bombasse hyper-sexuelle : obeservez son visage quand elle va recevoir le baiser de son amant (cette ombre qui s'approche doucement sur elle) au moment où elle comprend qu'il va la suivre dans son monde de violence : elle semble avoir un orgasme, tout simplement. Le personnage est d'ailleurs toujours sexuel, depuis la fabuleuse scène muette de tir à la foire jusqu'aux derniers instants, avec ce côté sauvage qui ressort dans la nature. Du coup, le garçon, lui aussi très ambigu, devient d'une grande richesse : il revêt ce qui, dans tous les autres films de genre de l'époque, est habituellement attribué aux femmes : peur, refus de tuer, romantisme, passion amoureuse. C'est peut-être ce qui est le plus beau : le film est très moderne, et inverse les rôles masculin/féminin. C'est clairement lui qui aime le plus, qui est fasciné par la violence de l'autre, qui calme le jeu ; clairement elle qui pousse à l'action, qui décide de la destinée du couple.
La mise en scène est également bluffante dans son utilisation des profondeurs de champs ou dans le montage. Adoré notamment cette façon d'inscrire en amorce un geste a priori innocent (une main qui se crispe) pour donner une nouvelle lecture de l'ensemble du plan : la main se trouve devant le visage de la fille, et devant la braguette du mec : déduisez-en ce que vous voulez, mais sachez que cette scène est coupée cut et collée à un plan où on voit une boîte de bonbons exploser. La caméra, très mobile, adore mettre en rapport des éléments a priori sans rapports, rendant en quelque sorte l'univers chaotique de ce couple cohérent, par un système de correspondances. Lewis manie avec virtuosité les échelles de plans, et je serais prêt à parier qu'un gars comme Godard a dû mater ce film en se frottant les mains. C'est un festival visuel, dopé en plus par ce noir et blanc très expressif et cette passion pour les contrastes de lumière, par cette musique hanté et par cette écriture de dialogues parfaite (Dalton Trumbo au stylo, y a pas de secret). Pour le reste, le gars Shang vous a raconté tout le film (jusqu'à la fin, le bougre !), je finirais donc en disant : faites-nous confiance, ruez-vous sur ce chef-d'oeuvre. (Gols - 02/03/14)