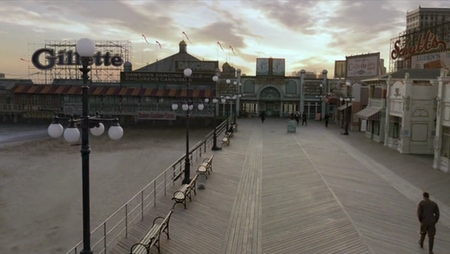 Sont forts, tout de même, ces Ricains, pour nous sortir, tous les quatre matins, des petites séries historiques aussi bien fagotées. En attendant la sortie en France de "Brest, les Années 20 humides" avec les stars Clovis Cornillac en marin et Frank Dubosc en baigneur (j'ai pourtant encore rien fumé ce matin, je vous promets), on devra donc se contenter de ce récit mettant en scène cette folle ville d'Atlantic City (je connaissais jusqu'à maintenant que la chanson de Springsteen, je pourrais maintenant faire un cours d'histoire de douze heures) à l'heure de la Prohibition, avec quelques petits détours ici ou là à Chicago et à New York. Dès qu'on fait connaissance avec ce magnifique bord de mer de la ville reconstituée "à l'échelle" (sans grimacer en remarquant les effets numériques : les belles façades sentent plus le bon vieux carton pâte de l'ancien temps que les ternes reconstitutions par ordinateur - mais mon oeil peut avoir des faiblesses), on se dit que les producteurs n'ont pas vraiment pinaillé au niveau des moyens et on se régale d'avance devant la précision et le soin apportés aux costumes, aux accessoires, aux décors intérieurs... Bon vous allez me dire, cela ne fait pas tout. Non, bien sûr, mais au niveau de l'intrigue et des personnages, il y a également de bien belles choses, même si on peut être, je l'avoue, un peu déçu par le premier épisode signé Scorsese qui n'a rien de franchement "extraordinaire" en soi (beaucoup aimé cela dit ces montages en parallèle de deux séquences différentes joliment mises en musique, où l'on sent, quelque part, la patte du Martin... Mais je peux me tromper): les défenseurs du maître peuvent toujours dire qu'il parvient à donner parfaitement le ton de la série, les autres pourront remarquer que d'un épisode l'autre le choix du réalisateur n'a que peu d'impact finalement sur le style général de chaque épisode - toujours le fameux débat devant ces "monstres de production", ces machines de guerre ricaines : où est passé l'auteur...?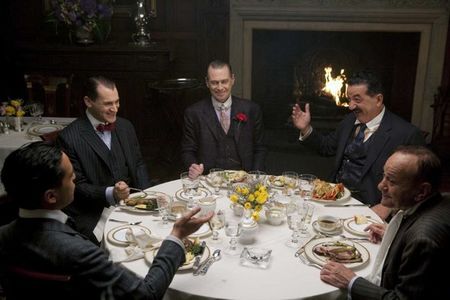 Mais revenons à l'Histoire (les thématiques évoquées) et aux petites histoires (la personnalité des personnages principaux): c'est donc le début de la Prohibition et sans grande surprise le récit va se concentrer sur les petits arrangements en coulisses des responsables politiques pour rester au pouvoir et sur les multiples guerres des gangs (ou plus précisément guerre intercommunautaires - les Irlandais, les Ritals, les Blacks, les Grecs, les Polacks - oublions les Francais ("The terrible Frog Gang"... nan, cela fait pas de toute façon, no regret): il n'y en a qu'une, une bourgeoise imbuvable qui est dans la couture : hip hip hip, vive la France !) qui font rage dans chaque ville pour se tailler la plus grosse part du gâteau. C'est certes pas d'une originalité folle, quand on y pense (certains règlements de compte sont terriblement sanglants, cela dit ; pas vraiment tout public, sans faire ma chochotte) mais on sent un réel désir de la part de Terence Winter, le créateur de la série, de coller au plus près à la réalité de l'époque et de nous faire toucher du doigt cette atmosphère particulière - le petit monde politique (déjà) corrompu jusqu'à la moelle, l'ambiance délétère dans les bordels, les fumeries d'opium ou les salles de spectacle, la violence indubitable de cette société, l'émancipation (progressive) des femmes - du lobbying contre l'alcool à l'action des suffragettes -, (...), le tout bénéficiant de petits airs de musique vintage qui donnent forcément du cachet.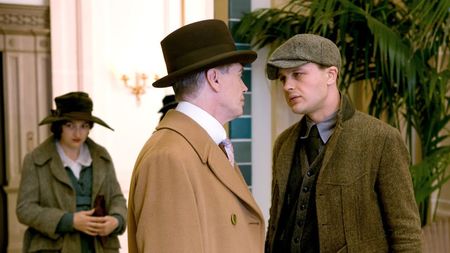 Mais c'est surtout au niveau de la galerie des personnages que réside sans doute le plus grand intérêt de Boardwalk Empire ; Steve Buscemi (Nucky Thompson) est dans tous les sens du terme "royal" : avec son petit air de ne pas y toucher, il sait manipuler tout un chacun avec art, tenant toujours une liasse de pognon dans une main pour que les gens viennent lui manger dans l'autre. Si physiquement il est loin du fort-à-bras, intellectuellement, il s'impose comme le grand marionnettiste de la série, celui qui sait toujours comment s'en sortir sans trop avoir à se mouiller personnellement. A ses côtés, on retrouve la charmante et opportuniste Kelly Macdonald (Mrs Schroeder) (je suis un grand fan de sa diction, si je peux me permettre une remarque au passage) qui incarne apparemment un certain état d'esprit féminin de l'époque : malgré sa volonté évidente de se battre contre cette société mâle (l'interdiction de l'alcool, le droit de vote), il est encore bien difficile de mener ce genre de combat sans soutien... financier et masculin ; sa relation avec Nucky Thompson est en cela à double tranchant : tout en condamnant le bonhomme, elle est prête à faire un énorme compromis pour rester avec lui et profiter de ses largesses ; difficile situation que la sienne où il faut savoir parfois jongler avec ses principes pour survivre...
Parmi les "hommes de main" de Nucky, notons la présence du toujours excellent Michael K. Williams (le Omar de The Wire bienheureusement ressuscité) en chef du gang black qui rigole po et du dicaprionien Michael Pitt qui revient tout jeune de la guerre (celle de 14-18 en France, of course) en ayant déjà perdu nombre de ses illusions en route. Les Ricains aiment ce genre de personnages blessés et inadaptés (ce qui est bien dans leur Histoire c'est qu'il y a toujours une guerre qui vient d'avoir lieu...) et Pitt forme une terrible équipe avec un compagnon croisé par hasard en cours de route, une véritable gueule cassée sans foi ni loi (beau moment touchant de "poésie", cela dit, avec la référence au personnage du Magicien d'Oz qui permet de donner à ce caractère, au visage double, sa petite dose d'humanisme - derrière ses airs de "bons soldats"). Ajoutons à ce casting l'impressionnant Michael Shannon (l'agent Van Halden), membre de la police fédérale qui a fort à faire : puritain, rigoriste, sado-masochiste, diabolique... bien qu'il se positionne en grand "régleur de tort", il semble contenir en lui toutes les plaies de cette Amérique schizophrénique : il y a les beaux discours pleins de grandeur et d'idéaux, et il y a les faits où s'expriment les envies les plus primaires et destructrices. Censé représenter la loi, on se demande au final si ce n'est pas le personnage le plus dangereux de la série, faisant presque passer Al Capone (j'adore la première fois qu'il se présente) pour un bon ptit gros juste un peu sanguin (hum...)... On attend donc vaillamment la saison deux, plutôt confiant.