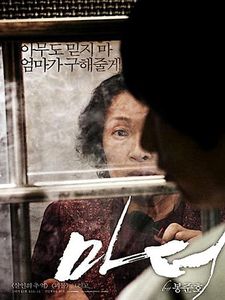 Très joli retour à l'intimisme pour le talentueux Bong Joon-Ho : après The Host, il aurait pu rester sur cette vague de succès en renchérissant dans le même genre. Il préfère revenir à ses premières amours, le polar, et livre une sorte de prolongation au grand Memories of a Murder, mais en lui adjoignant quelques portraits psychologiques vraiment beaux. Beaucoup plus modeste, et beaucoup plus touchant que quand il sort ses gros monstres, il nous offre un petit bijou de finesse et d'originalité, en retrait sûrement, mais toujours aussi impeccable à tous les postes.
On retrouve les éléments de Memories of a Murder : goût pour la campagne, dérision envers la police, sens de la trame et du suspense, belle construction de récit. Mais cette fois, c'est moins la résolution du crime qui importe à Bong que la vérité des personnages. Tous sont parfaits, de la petite frappe ambigüe au flic tortionnaire, du couple de lycéennes aux figurants, en allant bien sûr jusqu'aux deux principaux : un jeune gars un peu attardé accusé d'un meurtre, et qui doit fouiller dans sa mémoire défaillante pour découvrir s'il l'a vraiment commis ; et surtout sa mère, grandiose Pieta douloureuse en même temps que femme-Saturne et foldingue obsessionnelle, en même temps que furie et matrice ultime. Persuadée que son enfant ne peut qu'être innocent, puisque c'est son enfant, elle va mener l'enquête elle-même... et, dirais-je, jusqu'au bout, sans vouloir dévoiler aucun des rebondissements de l'intrigue. Bong excelle à pousser le bouchon de la dévotion maternelle le plus loin possible : il faut voir cette pauvre femme observer son grand fiston en train de pisser tout en lui administrant son remède (le long regard sur le sexe de son fils, suivi d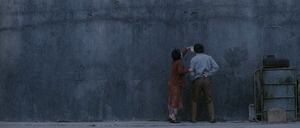 e ce plan incroyable qui relie la soupe absorbée à la flaque d'urine) ; il faut la voir cavaler comme une diablesse derrière les gens qui veulent du mal à son fils ; il faut voir aussi comment Bong pratique une ambiguité subtile sur leurs vrais rapports (inceste ou pas ?) lors de cette scène magnifique où fils et mère partagent le même lit : l'épure de leurs gestes, l'immense tendresse qui émane de cette image, vont de paire avec une frontalité très audacieuse. La résolution de cette énigme sur leurs rapports se conclue dans ce plan par un fondu-enchaîné qui laisse toutes les pistes ouvertes, parfait.
Comme toujours, Bong a le sens de la surprise, pas tant ici dans l'intrigue policière (moins convaincante que dans Memories) que dans la mise en scène, dans la construction de son récit. On est sans cesse confonté à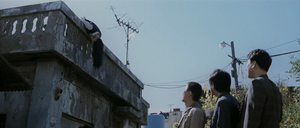 des scènes "étrangement" filmées, comme cette scène d'ouverture qui montre la mère danser doucement dans un champ de blé, ou comme ces brusques insertions de flashs-back dans le récit, sans coupure, ou encore comme ces beaux "hiatus" de raccords qui font passer d'une ambiance à une autre en une fraction de seconde. Le film flirte avec plein de style (comédie, polar, mélodrame), et trouve le sien propre par ce ton inimitable que Bong développe de film en film. Il semblerait bien que le bougre soit en train de construire une oeuvre vraiment intéressante. (Gols - 17/01/10)
---
L'ami Gols et le lapidaire commentaire de Xavier m'avaient mis l'eau à la bouche, et faut reconnaître que Bong fait encore preuve d'une maîtrise formelle absolue (il nous happe dès la scène d'ouverture - la mère fait preuve d'un sens du timing absolu -, sait distiller ses séquences d'action avec virtuosité, parvient à nous faire croire corps et âmes à ses personnages). Rarement les relations entre une mère et un fils, cet amour maternel indestructible, n'ont été évoquées avec autant de finesse : même si le fils vit "dans son monde", qu'il est difficile pour cette mère de communiquer avec lui (la multiplication des séquences où ils se retrouvent "séparés" - par une route, une vitre, la foule...), son attachement est indéfectible et la pousse à commettre les actes les plus incroyables : ses face-à-face avec cette étudiante - l'amie de la fille assassinée - , la mère de celle-ci, ce vieil homme clodo, l'ami de son fils (somptueuse séquence de la flaque d'eau en effet), ou encore les deux étudiants dans cette scène inoubliable entre terre et ciel, sont toujours merveilleusement construits et totalement imprévisibles. C'est à ce niveau-là que Bong nous cueille le plus, jouant du mystère tout en prenant soin d'éclaircir l'air de rien (la présence de la fille sur le toit...) les dessous de son intrigue. Comme il sait tout autant doser l'humour malgré un récit au fond macabre, et ces ambiances pluvieuses et oppressantes de véritables déluges qui s'abattent, notamment, sur ce fabuleux personnage de mère pugnace, difficile de ne pas louer son indéniable talent de cinéaste loin des sentiers battus. Un vrai satisfecit en ce début d'année. (Shang - 01/02/10)