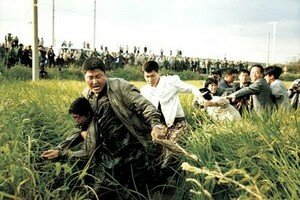 Avant le sympathique The Host, Bong nous livrait un magnifique polar dans la très grande tradition du genre. Impeccable, hyper-pro, haletant, passionnant, Memories of Murder renoue avec une histoire du cinéma décidément très attachante : celle de la bonne vieille trame policière à l'ancienne ; une histoire, une enquête, des personnages bien dessinés, et ça suffit. Le scénario est simplissime : un serial-killer officie dans l'arrière-pays de Séoul, une poignée de flics sont placés sur l'affaire. Point barre. Fausses pistes, indices retors, intuitions, hasards : tout y est pour faire un suspense qui se suit les yeux grands ouverts. Un peu comme le récent Zodiac de Fincher, on est dans la modestie des effets, dans la linéarité la plus simple, dans le savoir-faire de vieux briscard (alors que Memories of Murder est un premier film réalisé par un mec de 34 ans).
Pourtant, Bong sait parsemer sa mise en scène de petites choses décalées qui font déjà la marque de son style : personnages souvent minables virant au grotesque, humour amené par petites touches, nombreuses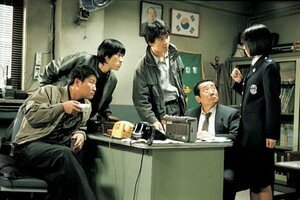 surprises, et utilisation de procédés inattendus (des ralentis, une musique planante, des ambiances nocturnes très "studio", une vision de la nature personnelle et inhabituelle dans le cinéma coréen). Les personnages ne sont jamais d'un bloc, sont toujours épaissis par des tares, ou des revirements qu'on n'attendait pas. Au départ, c'est le simple conflit entre les flics du cru, aux méthodes discutables (prêts à tout pour trouver un coupable, ils torturent les suspects et tordent la réalité) et le gars de la ville rompu aux nouvelles méthodes d'investigation (intuition, psychologie). Les premiers sont prêts à demander l'aide d'une chamane pour résoudre l'enquête, le second s'appuie sur les sciences, sur les faits. Mais bientôt, cette dualité se trouble, surtout parce que, comme on nous le rappelle très souvent, on est en Corée, pas aux Etats-Unis, et qu'on n'a pas les moyens de jouer au FBI. De même que les méthodes policières semblent évoluer (le commissaire condamne les tortures), Bong enregistre également les écarts qui existent entre la police locale et les nouvelles méthodes d'investigation.
Du coup, l'enquête avance à la va-comme-je-te-pousse, entre amateurisme total (les bagnoles tombent en panne), coups de bol et coups de bluff. C'est cet amateurisme qui rend les personnages si crédibles, si proches, un peu comme si on menait l'enquête en même temps qu'eux. On suit tout ça bouche bée, en prenant note quand même de l'audace de certaines scènes : on parle de sperme et de perversion avec une belle liberté, on aime aussi montrer que les "bons" sont souvent les plus sombres (un des flics devient de plus en plus violent au cours du film). Et puis, coup de génie ultime, la "résolution" de l'énigme est absolument inattendue, d'un courage total, une affirmation artistique qu'aucun cinéaste américain n'aurait osé. Scénario, filmage, photo, acteurs, tout est impeccable dans Memories of Murder, chapeau bas.
ci-dessous l'affiche coréenne, pour que le gars Shang puisse trouver le DVD dans les bacs :