J'avoue ne pas partager l'enthousiasme général vis-à-vis de Gigi, que j'ai trouvé pour ma part un peu tristoune et manquant gravement de tout ce qu'il faut pour réussir une vraie comédie musicale. Non qu'on passe un mauvais moment, certainement pas, c'est quand même du Minnelli, ça serait dommage. Mais il y a là-dedans une fatigue, un manque d'entrain, une absence de vraie passion, qui font passer Gigi dans le simple exercice hyper-professionnel et propre plutôt que dans le chef-d'oeuvre.
La faute sûrement aux comédiens, d'abord : comme l'a déjà remarqué mon collègue, Maurice Chevallier n'est quand même pas l'acteur
le plus complet de la chrétienté. Une fois encore, il ne sait utiliser que deux expressions : le sourire Colgate ou la surprise bon enfant. Il joue comme au caf'conc', pour un public placé au dernier rang du Moulin Rouge, sans conscience de ce qu'est un jeu de cinéma. C'est sûrement pour ça que Minnelli le filme toujours en plan large, perdu dans son décor multicolore ; en gros plan, il serait insupportable. Certes, l'accent parigot fait toujours son petit quelque chose, mais, vieillissant et un peu crétin, Chevallier n'a aucune étincelle. L'autre protagoniste masculin, Louis Jourdan, est un peu mieux, mais vraiment figé, sans fantaisie dans les passages chantés (sa "chorégraphie" devant les grands monuments parisiens est essoufflée et clicheteuse). Il s'en sort mieux dans les moments de confrontation avec Gigi, bons rythmes et un "sur-jeu" assez marrant. Quant à l'héroïne, Leslie Caron, elle n'a de photogénique que les robes barriolées qu'on lui fait porter : pas de présence, pas de grâce, d'autant que son personnage de petite fille nature balancée au milieu des mondanités est finalement très archétypal.
Sans acteurs, Minnelli tente de s'accrocher à d'autres choses. Mais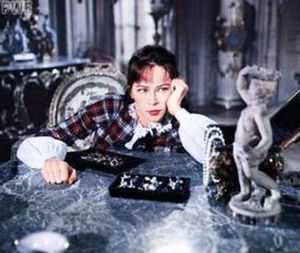 les autres postes laissent aussi à désirer : scénario qui tiendrait sur un timbre-poste, musique décharnée (malgré de jolis textes taquins), absence de fantaisie la plupart du temps, et des éléments mélodramatiques qui ne décollent pas, c'est un peu poussif et ennuyeux dans sa plus grande partie. Il reste heureusement à Minnelli son génie visuel, qui fait son effet ici : écran saturé de couleurs, reconstitution fantasmée du Paris de la Belle Epoque, des millions de petits détails de costumes ou de décors tout à fait désuets mais charmants... c'est le bon vieux temps des films de studio, où on arrivait à reconstituer une plage de Trouville en plein Hollywood, où on habillait des pieds à la tête des centaines de figurants. Minnelli sait diriger les foules et dresser des tableaux vivants avec majesté. Ses quelques idées de mise en scène sont très jolies, comme cette foule qui se fige à l'entrée du couple d'amoureux ou comme cette utilisation délicieuse du narrateur (Chevallier) dans l'histoire. C'est un moment agréable, voilà, mais ça n'atteint jamais les moments bouleversants de Singin' in the Rain ou de The Band Wagon.