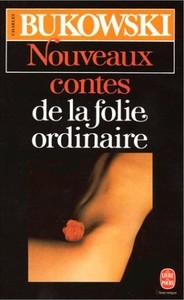 Enième relecture de ce bouquin improbable, et qui m'a encore donné l'impression que les plus grands génies littéraires sont aussi les plus malpolis. Bon, le titre original de Nouveaux Contes de la Folie ordinaire, c'est "Erections, Ejaculations, Exhibitions and general Tales of ordinary Madness", ce qui, reconnaissons-le, annonce bien la couleur (mieux, en tout cas). Ces contes sont comme de bien entendu des crachats verdâtres adressés à la face du monde, ne respectent rien, ni la littérature, ni les femmes enceintes, ni le travail, ni l'auteur lui-même, sont écrits très visiblement dans un état proche du coma complet, se mettent la grammaire dans le caleçon pas net, insultent, haïssent, ricanent, grincent, révulsent... et pourtant, les seuls sentiments qui restent à la sortie de cette descente aux enfers d'une impureté totale, c'est la tendresse, l'humour, et (allons-y carrément), une certaine forme de romantisme.
Buk a beau envoyer aux chiottes tout ce qui est respectable, on s'attendrit devant ses pauses mutines à la vue de jambes de femmes, devant ses calculs savants et voués à l'échec sur les champs de course, devant ses déclarations d'amour à la solitude et à Mahler, devant ses fulgurantes formules sur la littérature et la poésie, et surtout devant cette inadaptation chronique et revendiquée face aux valeurs américaines (et mondiales). Les potes du gars vomissent dans les soirées mondaines, violent des cadavres ou des petites filles (boum, 2 mots-clés en plus sur Google), éventrent des chiens, mais il y a dans cette façon de les regarder, dans cette écriture frontale et faussement simple, une humanité que n'obtiennent jamais nos grands savants du langage.
Alors bien, sûr, il y a à boire et à manger dans ce gros recueil (surtout à boire) : certaines nouvelles sont un peu trop bâclées pour être convaincantes, et on a parfois du mal à suivre la direction d'ensemble recherchée par les éditeurs de la chose (on passe d'un récit de science-fiction à un essai sur les chevaux, de notes autobiographiques à des pures fictions). Mais la force de Buk est là, indéniablement, si bien qu'on finit par comprendre les gars qui frappent sans arrêt à sa porte pour le rencontrer (sa hantise, s'ils n'emmènent pas au moins 6 packs avec eux). Malgré une traduction absolument immonde de Léon Mercadet (qui fait dire au personnage "j'ai les glandes" quand il voit une jolie fille, ou qui lui fait fumer "de la merde"...), j'adresse une révérence profonde au grand gars, qui à l'heure qu'il est, se tape sûrement une diablesse en enfer. Respect.