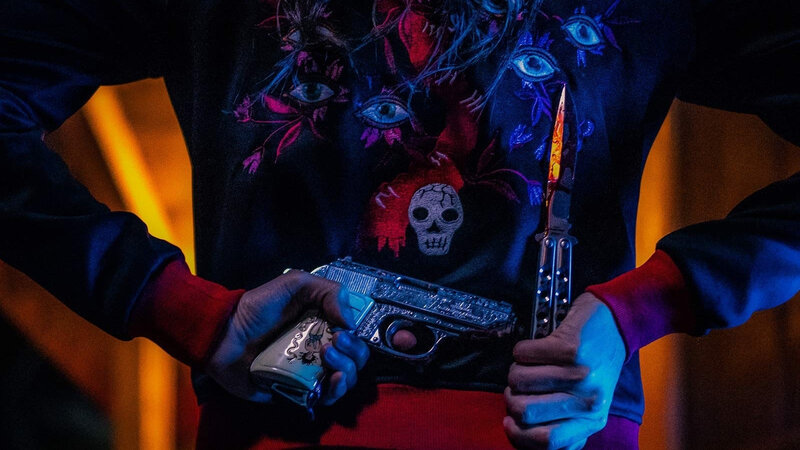 Voilà une de ces séries dont on sent bien qu'elles vont quelque part marquer le genre, laisser une trace dans l'histoire de la télé, un peu comme Twin Peaks (dont elle s'inspire plus souvent qu'à son tour) ; une de ces séries dont on sent dès le départ qu'elle se démarque de ses petites camarades car elle recèle une ambition artistique, un style, un ton qui n'a que peu à voir avec les considérations d'audimat de ses soeurs ; une de celles qui méritent à peine le nom de série tant on sent qu'elle n'est en fait qu'un long film de 15 heures découpé en épisodes parce qu'il faut bien placer la pub et trouver son public ; mais si on avait écouté NWR, à mon avis, Too Old to Die Young aurait été diffusé en une seule fois dans une salle qui aurait aimé le challenge de tester les limites hypnotiques du cinéma. Bref, une série extraordinaire qui m'a cueilli comme une fleur, et dont l'ambition à elle seule suffit à notre réconciliation avec le genre humain.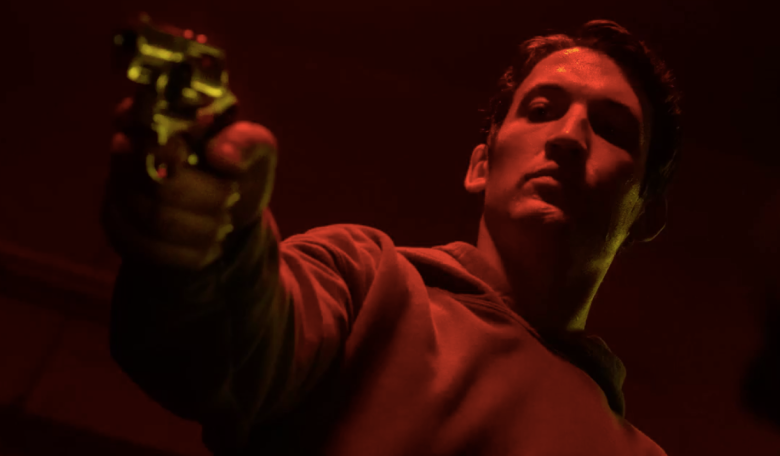 Peu de choses pourtant séparent cette série du fatigant The Neon Demon du même auteur : c'est la même infinie lenteur, le même univers dénervé et très mode, le même mystère dans ce qui est raconté. Mais Winding Refn, cette fois, utilise son sur-style pour quelque chose : chaque scène de Too Old to Die Young semble justifiée dans son rythme, dans ce côté coolissime des dialogues, qui peut s'apparenter à un jazz, dans cet étirement jusqu'au bout du bout du nerf du spectateur qui donne ensuite une de ces scènes d'hyper-violence dont il a le secret. Pour que celle-ci éclate enfin, libérant ainsi les endorphines et les nerfs du public, il faut que ce qui précède soit intenable dans son rythme. Ça donne donc des épisodes faisant facilement leurs 90 minutes, et ne présentant que quelques événements épars, souvent pas fondamentaux ; en gros 10 épisodes de cette série équivalent à 10 minutes de 24. Entre ces événements, on assiste à des scènes exsangues, des dialogues minimalistes grognés par des acteurs statiques, plus filmés comme des statues tragiques que comme des personnages, disposés dans un univers urbain clinquant, plein de lumières et de couleurs primaires. Depuis quelques films, le bon maître a plongé son univers dans un urbanisme onirique assez psychédélique ; c'est dans cette série qu'il a trouvé l'achèvement de cette tendance, ainsi que sa maîtrise totale du tempo : voilà de ce point de vue son meilleur film depuis Le Guerrier silencieux, parce qu'il nous force à accepter la lenteur extrême, et même nous la fait ressentir concrètement comme normale et allant de soi (alors que si on réfléchit deux minutes, inutile de mettre 90 secondes entre "Got a cigarette ?" et "Yeah"). Elle devient même, curieusement, un ressort comique de la série (qui est souvent drôle), une manière de plonger cette histoire dans la ouate ou dans l'hébétude droguée complète, de déréaliser ce qui se passe, d'envisager tout sous l'angle de la sensation, du rêve, comme Lynch par exemple.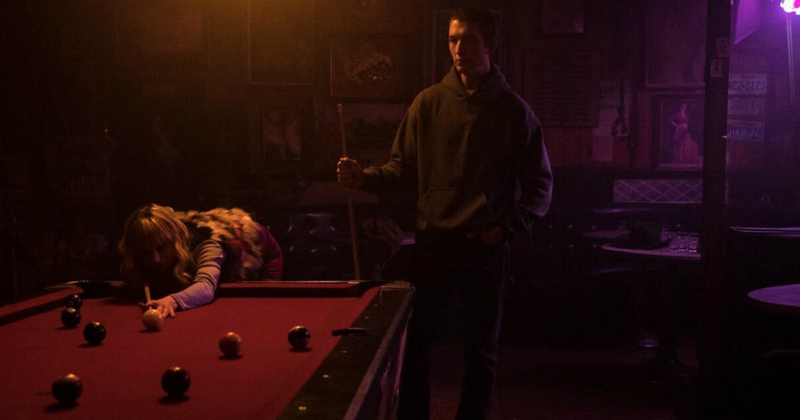 Martin est flic dans l'Amérique d'aujourd'hui. Entendez dans un univers vérolé jusqu'au trognon par la violence, la corruption, les malversations, le crime, dans lesquels d'ailleurs Martin trempe mollement, sans en faire trop. Quand son acolyte se fait buter par un petit mec de la mafia mexicaine, son monde vrille : il plonge alors dans un deuil sans affect, devient tueur professionnel puis exécutant dans une entreprise de meurtres de pédophiles, traversant la ville comme un fantôme, flinguant de temps en temps des gusses un peu plus pourris que lui, obéissant aux ordres. Mais il est suivi de loin par l'assassin de son collègue, Jesus, qui dans l'ombre grandit, devient chef de gang, et qui veut se venger du meurtre de sa mère. La rencontre met 8 épisodes à se produire, mais je peux vous dire que quand elle se produit, ça charcle sévère. Avant cela, les épisodes font la part belle soit à l'un soit à l'autre, montrant l'ascension des deux tueurs, l'un d'un côté du Mal et de l'ambition, l'autre du côté du "Bien" et de la rédemption, en parrallèle, comme si peu importait le pourquoi des bains de sang qu'ils versent. NWR densifie ses deux personnages en leur donnant des sortes de déviances sexuelles : Martin est amoureux d'une adolescente (d'ailleurs dotée d'un père twinpeaksien), Jesus est dans la mémoire des rapports incestueux avec sa mère, qu'il tente de retrouver avec sa jeune épouse (énorme personnage de femme vengeresse, dominatrice et dangereuse, le sosie de PJ Harvey en passant). S'ajoutent à cet étrange carré deux personnages beaucoup plus abstraits, un ami de Martin, tueur lui aussi, et la commanditaire des meurtres de pédophiles, jouée par une Jena Malone en apesanteur. D'un réalisme poétique que n'aurait peut-être pas renié un Cocteau débarqué au XXIème siècle, la série bascule très lentement dans un mysticisme contemporain très étrange (les deux derniers épisodes, qui décrochent subitement de la trame principale). Ni tout noirs ni tout blancs, les personnages ne sont qu'abandonnés à la violence intrinsèque de l'époque et du pays (et vlan sur la gueule de Trump lors d'une séance aberrante de pot de départ au commissariat), obéissant à des pulsions extérieures, à des ordres ou à une injonction personnelle ; seule Cristina Rodlo, dans ses meurtres de masse au service des femmes maltraitées, saura trouver finalement sa morale à elle, et devenir plus grande que la société qui l'a fait naître.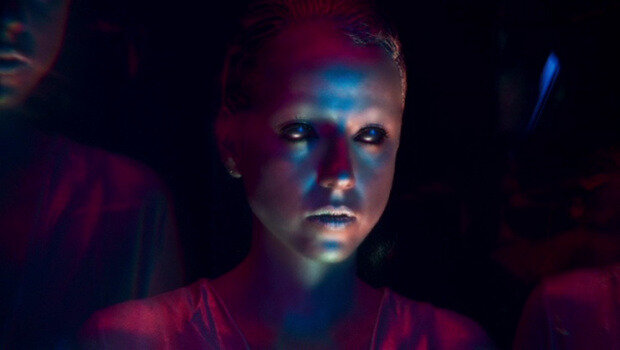 C'est peu de dire que la mise en scène de Winding Refn est spectaculaire : c'est un festival pour les yeux. Parce que, toujours dans ce souci de mysticisme, il transforme ses acteurs en icônes, proposant des tableaux figés qui mettent de longues minutes à rentrer dans l'oeil. Le travelling avant et arrière sont les figures de style récurrentes, mais les travellings latéraux dans ces grands espaces vides (bodegas mexicaines, entrepots, fermes perdues dans la campagne) renforcés par l'utilisation du plan long (parfois même plan-séquence) sont visuellement inoubliables. La musique parfaite de Cliff Martinez ajoute encore à l'effet de lente stupéfaction qu'on éprouve à découvrir cette série exigeante mais captivante. Un chef d'oeuvre, assurément.