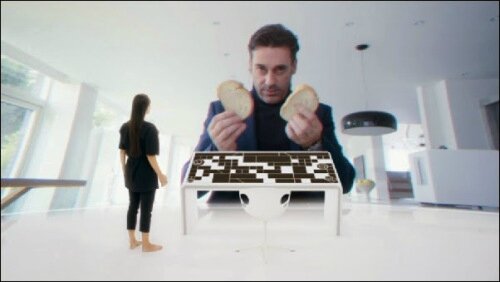 Petit cadeau de Noël, un épisode long de Black Mirror, la formidable série anglaise entamée l'an passé. On retrouve avec plaisir les ambiances futuristes et fantastiques qui font la marque de ces films, cette façon de montrer un monde légèrement inventé mais très réaliste pour autant, cette façon de pousser loin le bouchon des technologies telles que nous les connaissons pour essayer de voir ce qu'elles peuvent devenir dans le futur, et en quoi elles peuvent devenir dangereuses. Cette fois, les ingénieux auteurs imaginent les méfaits du "coaching mental" : on dédouble les gens pour leur adjoindre un coach virtuel, petite boîte qui gère le quotidien de son maître. Une idée assez fine, et qui permet au réalisateur de jongler avec la virtualité et le réel, dans un ballet qui se veut vertigineux et troublant pour le spectateur. A cette histoire vient s'en méler deux ou trois autres, celle d'un détective cherchant à confondre un suspect, celle d'un conseiller en drague qui suit son élève à distance, celle d'une invention consistant à "flouter" les personnes qui nous sont indésirables (une sorte d'équivalent au blocage sur Facebook, mais dans la vie réelle), celle d'un mystérieux couple de gars perdus le soir de Noël dans une cabane et qui font un bilan de leur vie... Plusieurs histoires que les gars tentent d'entremêler pour faire un quasi long métrage autour de la vérité, la fiction et la subjectivité.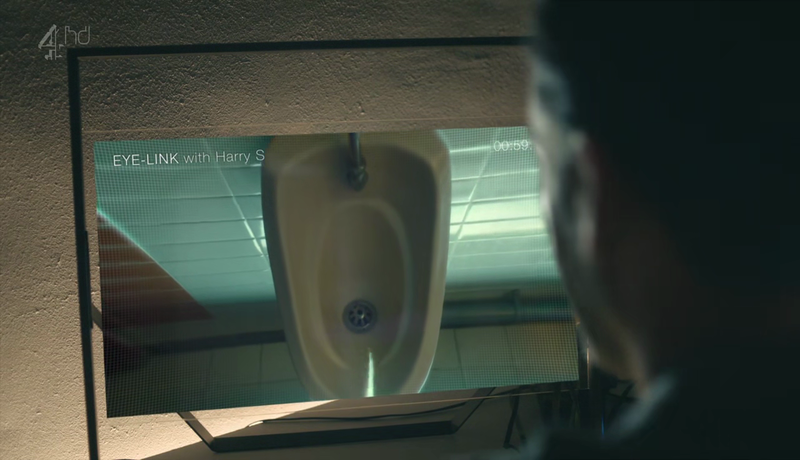 C'est toujours un bonheur de plonger dans cette série, très pro, dotée de moyens à la hauteur de ses ambitions, bien jouée, et à l'imagination débordante. On tique pourtant souvent devant cet épisode "hors-série" ; peut-être parce que les épisodes, trop hétéroclites, ont du mal à s'accrocher les uns aux autres ; peut-être parce que le bouchon est poussé un peu loin dans l'uchronie qui est la marque de l'ensemble et qu'on a du mal à croire à la possibilité de ces inventions infernales ; peut-être parce que pour cette fois, les effets spéciaux et la mise en scène paraissent légèrement ringards et cheap. On ne sait pas vraiment, mais ça ne fonctionne pas vraiment, surtout à cause de l'acteur principal, Jon Hamm, qui en fait beaucoup dans son imitation du flegme britannique. Ses interventions comme instructeur, toasts en main qu'il déguste avec cynisme, sont très mal mises en scène, on voit les écrand verts et on a du mal à croire à cet univers clinique mis en place. Pareil pour les personnages "bloqués" : ils sont filmés dans une sorte de brouillard fantomatique qui leur donne l'aspect d'un spectre, ça manque de crédibilité et on se dit qu'il y avait sûrement d'autres idées visuelles à trouver pour montrer ça.
Malgré ça, reconnaissons que la série est toujours aussi fun et ambitieuse. On est épaté par les idées, sinon de mise en scène, en tout cas de scénario, qui nous malmène de twists en rebondissements, et on est franchement scotché à l'écran en attendant de voir quelle surprise on nous réserve. Ça suffit à notre plaisir, allez, même si on préfère le format court, mieux adapté à cette série complexe. On attend la suite avec impatience. (Gols 22/04/15)
---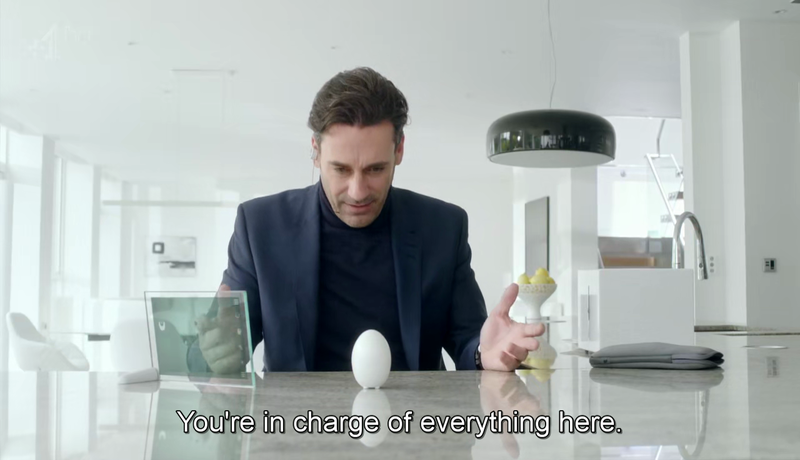 Après cette petite mise en bouche que constituait cet épisode intitulée White Christmas (qui fermait la saison 2... ou annonçait la saison 3, on va pas ergoter), c'est un vrai plaisir de retrouver une nouvelle saison constituée de 6 épisodes faisant toujours la part belle aux "soi-disant" avancées technologiques (à grands coups de greffe dans le système nerveux ou au niveau des globes oculaires) et au développement exponentiel des réseaux sociaux. Revenons tout d'abord juste quelques minutes sur cette histoire mettant en scène le héros de Mad Men, Jon Hamm (un peu en free-lance, je le reconnais, avec son petit sourire diabolique dont il abuse) : il est en effet bien dommage d'avoir voulu faire du "3 en 1" avec un récit composé de trois parties principales (la drague assistée, la gestion de ces "petites voix" qui viennent se "greffer" sur des individus et se révèlent parfaits pour gérer la domotique et enfin la confession d'un homme au lourd passé). C'est certes assez ambitieux de vouloir mêler ces trois récits avec comme fil conducteur Jon Hamm, en parfait manipulateur, et ce pauvre type taiseux mais aux agissements douteux, seulement les transitions entre les trois parties, pour ne pas dire les trois univers, semblent parfois bien superficielles pour que la mayonnaise prenne. Les effets spéciaux, comme le soulignait mon camarade, sont qui plus est un peu kitschs (dans la deuxième partie) et même si ces "esprits électroniques" prenant la forme d'homoncules (je ne pensais pas un jour écrire ce genre de phrase) sont des gadgets assez rigolos, avouons que cette parenthèse dans l'histoire est un peu longuette... L'épisode tente, un peu comme d'habitude me direz-vous et comme le souligne plaisamment le générique de fin, de jouer de la mise en abyme dans la mise en abyme (...) mais l'on sent que la logique de l'ensemble et la fluidité entre les différentes composantes du récit sont un peu tirée par les cheveux. Bien.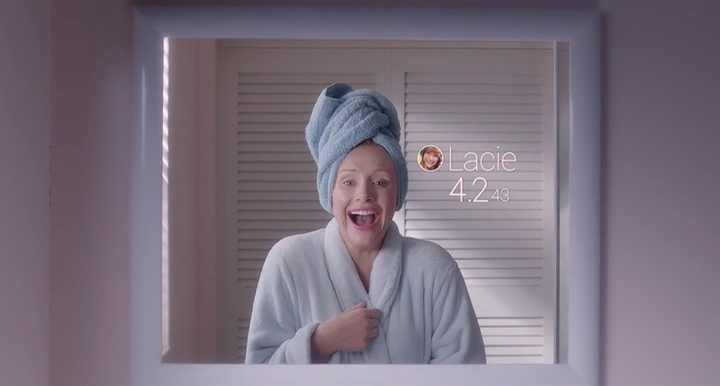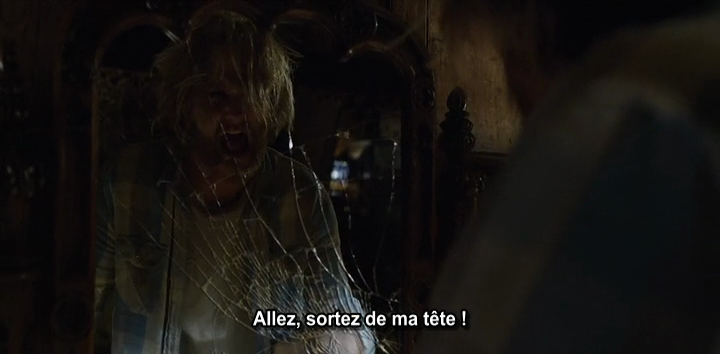 Revenons donc à cette toute nouvelle saison avec un premier épisode (Nosedive) qui traite plaisamment de l'abus des réseaux sociaux (quand la personne virtuelle prend le pas sur la personne réelle... un classique), un deuxième (Playtest) qui nous fait pénétrer dans l'antre de la peur (virtuelle, là encore... l'abus de jeu vidéo pouvant se révéler éminemment dangereux pour la santé), un troisième (Shut up and dance) qui met en garde, notamment, contre les dangers de la masturbation devant son écran (un épisode assez "fun" au niveau de l'action avec ce terrible maître chanteur mais un final beaucoup plus glauque et sérieux), un quatrième (San Junipero) qui devrait plaire aux fans de romances mâtinées eighties (les années 80 décidément très à la mode sur le petit écran) (quand la virtualité ouvre la possibilité à une vie amoureuse (?) éternelle), un cinquième (Men against fire) qui démontre à quel point le monde virtuel peut augmenter l'agressivité de nos chers combattants (en les manipulant, forcément, mais c'est de bonne guerre...) et un dernier (Hated in the Nation) qui mêle sur 90 minutes (Je rejoins mon camarade, une heure sied mieux à chaque épisode) des abeilles électroniques devenant aussi menaçantes que des oiseaux hitchcockiens (reste à savoir si celles-là sont "téléguidées"), l'aspect une fois encore effrayant de la puissance des réseaux sociaux et une jolie réflexion sur le fait d'avoir à assumer la responsabilité de chacun de nos actes (rien moins que cela). La série, bien sûr, se fait toujours un plaisir de distiller les petits twists, attendant souvent les cinq dernières minutes pour livrer toutes les ficelles de la chose. On s'amuse parfois de ces rebondissements des plus surprenants (épisode 2 et 3) mais on finit aussi un peu, à l'usure, par deviner à l'avance certains retournements (épisode 5 et 6).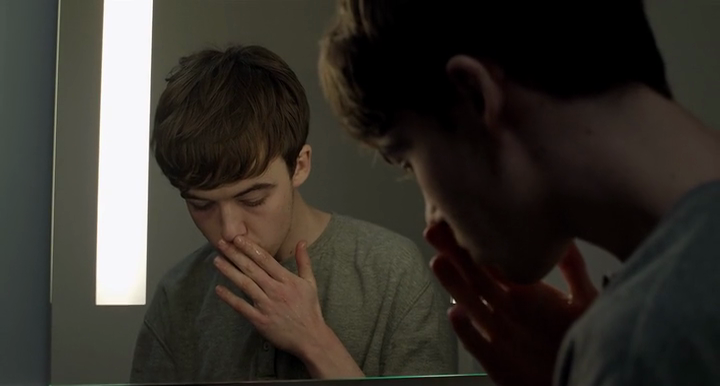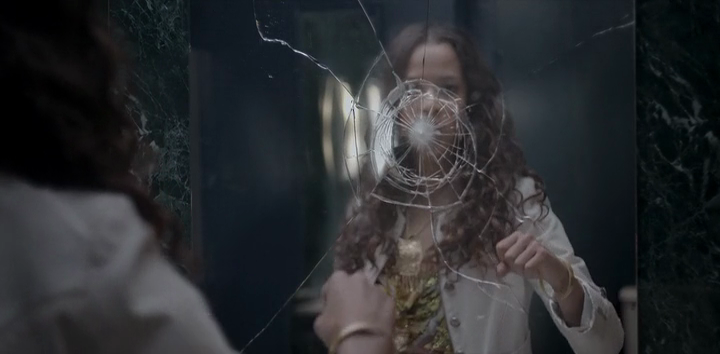 J'ai bien aimé pour ma part l'indéniable légèreté, au niveau du traitement de l'histoire, du premier et du quatrième épisode même s'il y a quelques facilités (la routarde à la coule, l'abus de coucher de soleil…) et une « morale gentillette ». L'héroïne de Nosedive, totalement obsédée par son système de notation via le réseau social, se révèle finalement aussi cruche que touchante. Quant au couple de San Junipero, il possède clairement son petit pouvoir d'attraction – avec en prime, des seaux de tubes vintage qui devrait plaire à mon comparse, ex king des dance floors en Auvergne. Playtest est assez malin (dommage là encore que certains effets spéciaux semble avoir été réalisés sur un Atari première génération) avec tous ces twists infernaux qui s'enchaînent sur la fin (un petit côté Inception pas si déplaisant) ; Shut up and dance reste, disons-le franchement, sans doute le plus speed et le plus jouissif de la série (on regretterait presque ce final, moralisateur à fond). Le cinquième épisode repose sur une seule (et belle) idée visant, disais-je, la maline manipulation de nos gars de l'armée (moins ils ont à réfléchir, plus ils sont efficaces, je l'ai toujours dit) mais reste un peu court en bouche sur une heure. Le dernier épisode a enfin également son lot de bonnes idées (quand se cacher derrière son écran pour cracher sa haine finit par se retourner contre soi ; l'idée, également, de cet état, qui sous-couvert de "principes écologiques" se fait bigbrotherique - pour le bien de tout le monde, of course) mais laisse traîner des ficelles un peu grosses pour effectuer sa petite démonstration morale. Une série qui se joue de notre monde de plus en plus virtuel avec des scénarii toujours aussi retors et même si l'on finit parfois par deviner les "petits gimmicks" de Charlie Brooker (créateur et scénariste de la série), on prend tout de même un vrai plaisir à se plonger à chaque fois « les yeux fermés et l'esprit ouvert » dans ces univers intrigants où tout peut advenir. (Shang 25/10/16)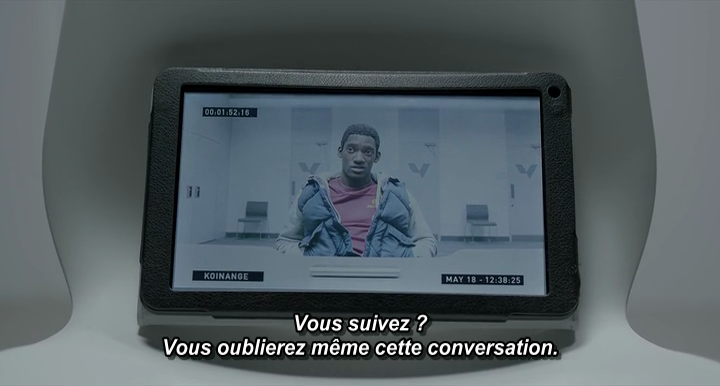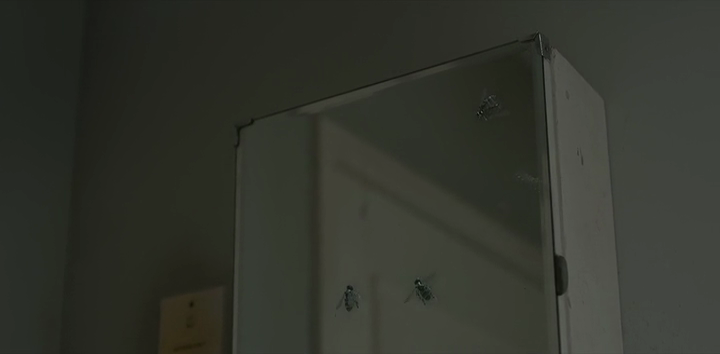 ---
Je dirais que cette série tend méchamment à prendre la grosse tête. Après les épisodes ciselés des premières saisons, qui avaient le mérite de durer exactement le temps qu'il fallait qu'ils durent, voici les épisodes mile fois trop longs, trop friqués et pas assez travaillés de la saison 3. Certes, les postulats de départ sont intéressants, quoi que tournant toujours autour des mêmes sujets : Facebook c'est pas beau, la virtualité c'est mal. Mais on apprécie, en général, le corps de chaque épisode, la thématique qu'il propose, depuis la quête du "like" à tout prix à la vision toute subjective du migrant, depuis la dangerosité des jeux vidéo jusqu'aux... abeilles tueuses. Les gars ont de bonnes idées de base, rien à dire, et savent trouver la petite histoire qui saura le mieux ilustrer leur propos. Ainsi, le milieu de chaque film est intéressant, mis à part l'épisode clicheteux et niais du retour dans le passé, qui ne dit rien, ne tente rien, et se contente de copier l'esthétique de Retour vers le futur.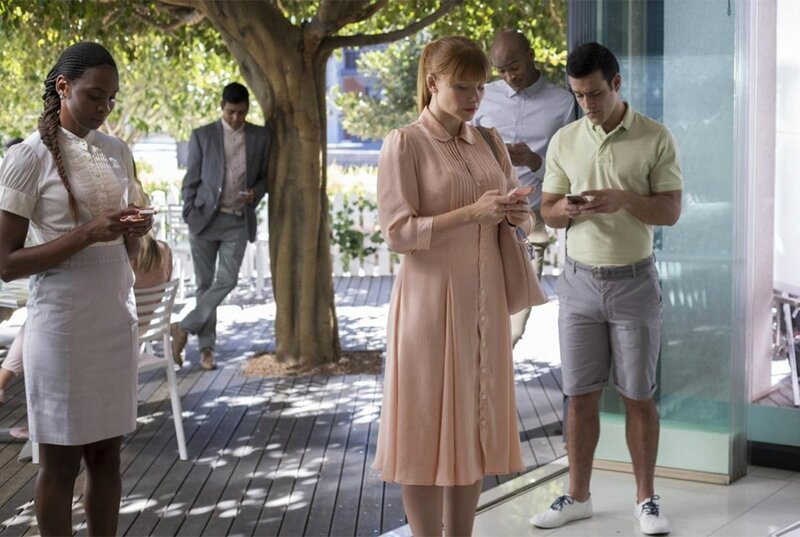 Mais, je ne sais pas, est-ce que les auteurs sont victimes du succès, est-ce que leurs envies de cinéma leur montent à la tête, ... ? Pourquoi faire des épisodes d'une heure quand le sujet nécessite une demi-heure ? L'épisode 2, par exemple, est longuissime, avec ses 20, premières minutes complètement inutiles et son dénouement laborieux. Pareil pour le meilleur épisode, celui sur les migrants, qu'ii n'arrive pas à conclure, qui s'étire jusqu'à plus soif. Le troisième n'en finit plus, et on se lasse très vite de ces coups de théâtre enchâssés les uns dans les autres. Seul le dernier semble avoir sa bonne durée (1h30 pourtant). Les auteurs se cherchent beaucoup au niveau du ton également, comédie, film d'horreur, anticipation, romance. Je sais bien que le principe de la série est d'être hétéroclite, mais le premier épisode aurait été beaucoup plus efficace s'il avait pris le risque d'être sérieux, et ce ton ironique, cette actrice de boulevard, amoindrissent le propos. En gros, on ne trouve jamais la bonne distance, trop sérieux ou trop distancé (l'épisode très bancal des jeux vidéo). Convaincus de leur bon droit, les créateurs du bazar tapent tous azimuts, et échouent à rendre la série audacieuse et glaçante, comme elle l'a été jadis (souvenir effaré de l'épisode 1, et du cochon qu'on encule..). Ils préfèrent craquer leurs thunes dans des effets spéciaux (pas terribles) plutôt que de se pencher sur le sérieux de l'écriture, sur le ton, plutôt que de devenir une série adulte. Black Mirror a vécu, dirais-je, et c'est dommage de voir tant d'imagination gachée par l'ambition de ses créateurs. On aurait pas dû leur dire que c'était bon. (Gols - 26/11/16)