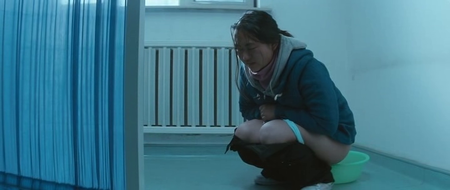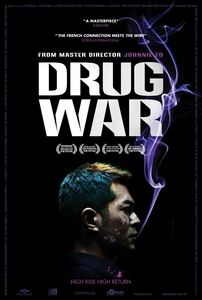 Johnnie To continue de faire des films à la chaîne mais on ne peut pas non plus lui reprocher de ne pas avoir un vrai savoir-faire au niveau de l'efficacité (oui, cela fait beaucoup de négation pour tenter d'être positif, je vous l'accorde). Point d'ambiance urbaine et nocturne ici (on traverse des villes chinoises enfouies dans la brumes qui n'ont pas plus de caractère, au niveau de l'architecture, les unes que les autres : des villes chinoises du centre quoi...) ni de round d'observation entre gangs de mafieux, To nous balance pendant 100 minutes de l'action comme s'il s'agissait d'enquiller deux épisodes de 24 heures en Chine : les flics poursuivent des trafiquants de drogue, voilà le pitch. Ceux-là ont autant d'humour que des réverbères éteints - les flics font la gueule de bout en bout : faut dire qu'ils dorment peu -, ceux-ci sont armés jusqu'aux dents et flinguent dans le gras dès qu'ils sentent venir l'arnaque. Filatures et poursuites de bagnoles, descentes dans des entrepôts ou dans des ports, infiltrations, tuerie générale shakespearienne sur la fin - (y a-t-il encore quelqu'un de vivant sur scène ? Nan ? On peut nettoyer les gars), To nous fait la totale pour qu'on soit tout le temps en alerte. Le montage est bougrement speed, la plupart des moyens de prises de vue modernes sont convoqués (des caméras de surveillance du trafic - comme il y en a quelques milliards en Chine, ça le fait - aux mini-caméras de la police que l'on peut dissimuler dans un dé à coudre) et l'ensemble est dopé par du gros son d'ascenseur qui bourre. To ne va pas chercher midi à quatorze heures au niveau de la réflexion et se permet à peine quelques écarts au niveau des idées originales : bien aimé tout de même l'équipe de sourds et muets qui bossent dans la drogue - ils parlent po mais ils savent tirer les enfoirés - ainsi que ce flic qui copie à la virgule près un des truands (le fameux Haha bien connu pour son rire forcé) pour se faire passer auprès d'un boss pour ce truand haut en couleur - les flics sont, au besoin, des acteurs, prêts à tout (même à sniffer de la coke dis donc) pour faire tomber les méchants... Eh oui, c'est une vocation, c'est ça. Moins aimé quand To veut se la jouer hyper-réaliste et nous montre des quidams sur leur pot pour chier leurs petits sacs de drogue : la réalité n'est pas glamour, je veux bien le reconnaître mais était-ce bien utile de faire des plans aussi classes ?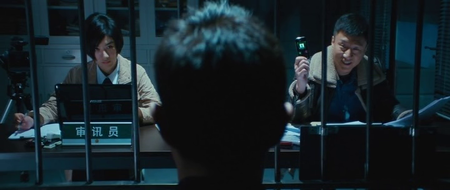 On se dit que la gars To en rajoute un peu au niveau de la mise en branle des forces policières (ils sont 3000 à la moindre alerte et sur chaque opération, disposent d'un bus d'ingénieurs qui passent leur vie devant leur P.C...) et on se dit que c'est limite propagande - même pour un Hongkongais... On se dit ça... jusqu'à ce qu'ils commencent à se prendre une méga branlée dans le dernier quart d'heure : 15 millions de balles, 250 pots de peinture rouge, 34 bagnoles défoncées, ah ça non, on ne s'ennuie pas une seconde, une grosse partie du casting finissant par manger le bitume les dents du fond baignant dans l'hémoglobine... Morfle vegra, la police... Ah ça me change de mes petits films mignons des années 30 en noir et blanc, je dis pas... To sacrifie les ambiances troubles et chafouinement nocturnes pour le pur divertissement qui charcle : on pourrait faire la fine bouche mais reconnaissons, beau joueur, qu'on en a pour son argent, dans le genre. Tu veux la guerrrre, putain ? Ouais, vas-y, viens. (Shang - 09/08/13)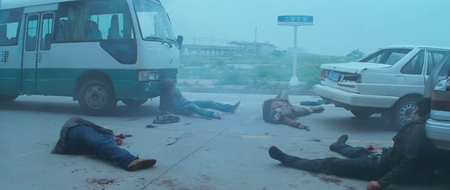 ---
D'accord avec Shang, c'est plutôt pas mal, même si je n'ai pas eu la même impression au niveau de l'action pour ma part : le film est plutôt lent et privilégie les moments d'attente aux moments de speed, j'ai trouvé. Non pas que ce soit mal : ça permet de montrer de façon réaliste les petits actes quotidiens de la police, dans une sorte de mix entre l'hyper-réalisme et le baroque façon Hong-Kong. Certes, on ne croit pas une seconde que la police du pays soit aussi efficace et polyvalente, capable de jouer la comédie, de tirer avec une précision diabolique et de se livrer à des déductions impeccables tout à la fois ; on ne les voit jamais dormir, jamais échouer, et effectivement on sent la propagande pure et simple. Mais tout de même : le film a une vraie volonté d'être crédible dans le côté presque sobre (adjectif qu'on n'aurait jamais cru pouvoir accoler au nom de Johnnie To) de cette description. On n'est pas dans The wrong Man d'Hitchcock, c'est sûr, mais quand même dans un honorable effort de mêler film de suspense et observation réaliste des actions de la police d'aujourd'hui.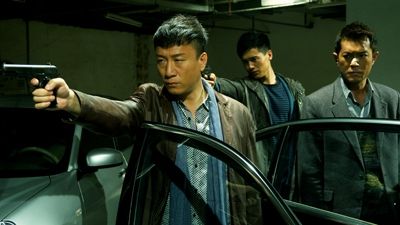 Ce rythme assez lent est parfois dommageable au film, qui est souvent un peu chiant et répétitif. On a aimé les mêmes scènes avec mon camarade (les sourds-muets, très bien), mais entre elles on se perd dans une attente un peu morne, faite de scène surjouées et pas très tenues qui repoussent sans arrêt le climax attendu, comme si To gonflait un court-métrage en long. Heureusement il y a la fusillade finale, vraiment géniale, très claire : ça faisait longtemps que je n'avais pas vu une scène de baston aussi lisible, montée aussi lentement, avec cette somme de lignes très nettes entre les protagonistes, une vraie logique d'espace, un peu comme ce que John Woo savait faire à une époque, mais sans les chorégraphies ringardes. Rien que pour ce quart d'heure-là, complètement épuré, le film est attachant. Pour le reste, ça s'oublie assez vite. (Gols - 23/08/13)