Le titre français peut paraître un poil ridicule (d'autant que c'est l'un des films "noirs" (avec tout de même les guillemets d'usage) les plus drôles qu'il me soit arrivé de voir... et ouais, j'en ai vu quand même po mal) et l'intrigue de ce film (produit par Howard Hugues par sa vedette Jane Russell) bien mince (un homme, mais quel homme puisqu'il s'agit de Robert Mitchum, est censé être utilisé - entendez par là "supprimé" - pour permettre l'entrée sur le territoire américain d'un mafieux (El Raymond Burr), exilé par le gouvernement, qui doit prendre son identité après une ptite opération de chirurgie esthétique (y'a du taff quand même...)) mais ces deux heures passent absolument comme un charme grâce à des acteurs fidèles à leur réputation (le charsime de Mitchum qui s'arrange toujours pour être torse nue dans le dernier tiers du film, le sex appeal de la Russell avec ses robes taillées sur elle et puis, mention spéciale, Vincent Price en "totale roue libre" qui est proprement hilarant) et à des dialogues joliment ciselés où chaque réparti de notre couple phare a des allures de cracking jokes. On sent que Farrow fait durer le plaisir (une multitudes de situations qui ne font en rien évoluer l'intrigue, un final qui devrait durait cinq minutes qui en fait facilement dix fois plus - notamment une simple petite saynète de fusillade dans la jungle qui dure aussi longtemps que The most dangerous Game...) et pour peu qu'on soit dans un bon jour et qu'on ait le temps - un dimanche aprème tout gris et pis vu qu'on m'a tiré mon scotter et que j'ai du mou dans le genou (mais je vous raconte peut-être ma vie), que faire d'autre, c'est ça... -, on aimerait presque que le bazar dure deux petites heures supplémentaires...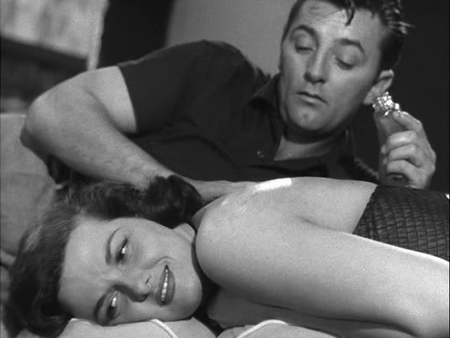 Après une petite intro juste histoire de dire qu'on a réfléchi un poil sur la construction de la trame, on retrouve toute une pléiade d'individus disparates dans un resort mexicain : un petit couple en lune de miel qui semble avoir quelques problèmes d'argent, un étrange joueur d'échecs solitaire aux allures de Cocteau, un pilote d'avion qui joue à l'alcoolo et qui prétend être de la police, un acteur de cinoche entre deux femmes qui aimerait bien tirer (sens premier) avec de vraies balles (Price), le directeur du resort qui fait son cachottier, des hommes achement louches qui surveille de près le Mitchum, un Mitchum, donc, joueur de son état mais sans le sous, et une Russell, chanteuse à ses heures qui traque une meilleure fortune... On voit bien que tout ce petit monde est dans l'attente - que quelque chose se passe enfin pour qu'il puisse quitter cette prison dorée ! - et Farrow de se faire un plaisir de faire patienter son spectateur en multipliant les micro-intrigues : on sait pertinemment que le couple Mitchum/Russell va finir dans les bras l'un de l'autre mais on ne se lasse point de leur petite passe d'arme pour le plaisir de flirter, on sort parfois des flingues longs comme mon bras et on se rudoie un peu mais juste pour jouer avec quelques codes du film noir, on construit des mini-séquences uniquement pour montrer à quel point Mitchum est malin et intègre (il sort de la panade le ptit couple de jeune en s'accordant une unique partie de poker), Russell divine (et une chansonnette pour la route dans une robe de diamants) et Price tordant (jouer dix minutes avec un canard déplumés dans la main entre sa femme et sa maîtresse, il faut le voir pour le croire) ou encore on se lance dans de vachardes scènes dialoguées juste pour le plaisir des mots puisque ce sera toujours Mitchum ou Russell qui auront la réplique la plus spirituelle (Ah si Hollywood pouvait nous rendre ces scénaristes d'antan, snifff).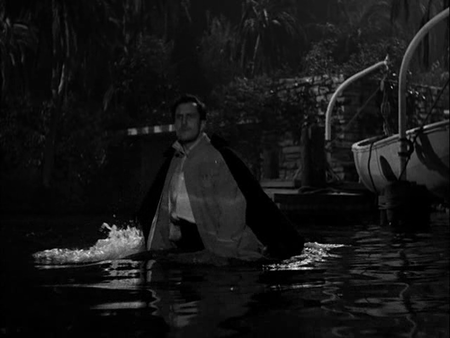 Au bout de plus d'une heure, rien a évolué et on s'en fout comme d'une vieille chaussette dépareillée. Quand on passe enfin à l'action, la vraie (Mitchum embarqué par trois hommes armés), c'est en fait, encore une fois, juste pour le fun : Price, après une éternelle fusillade, va littéralement péter un plomb et jouer au (véritable...) héros comme dans ses films ridicules de cape et d'épée (il enquille les répliques shakespeariennes, dirige les policiers mexicains avec grandiloquence et fougue, se retrouve dans des situations absolument absurdes et bouffonnes (en proue d'un navire chargé de flics qui coule un mètre plus loin)) et Mitchum qui aurait vingt-cinq fois l'occasion de se faire descendre de se prendre pour Jack Bauer (jamais mort ni battu) tout en faisant admirer sa plastique... C'est cousu de fil blanc (admettons) mais l'ensemble est tellement bien ficelé et écrit - les dialogues, of course - qu'on ne va point bouder son plaisir. Les grands amateurs de noir grinceront peut-être un peu des dents mais ceux en quête d'un petit plaisir gourmand polaro-comico-romantico en auront pour leur argent. Yeah, this kind of movie...