"I don't care who you were, what you've done. I love you, don't you understand ? I love you (...) As far as I'm concerned you were born the day I met you. What happened before doesn't even exist. The name the girl I love is Patrice. She has no other name."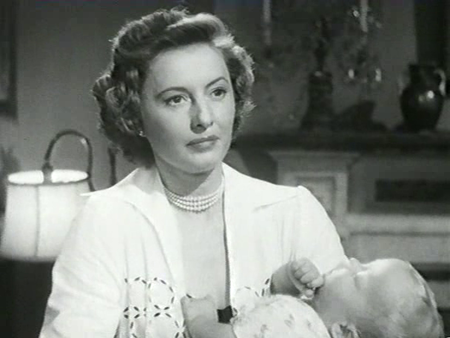 Si le nom de Mitchell Leisen est loin de venir sonner une ptite cloche dans notre cerveau (une filmo fournie pourtant...), celui de William Irish au générique - une adaptation de l'un de ses romans - met d'entrée de jeu plus en confiance. Bon, et puis il y a également Barbara Stanwyck qui semble, de toute façon, s'être glissée à l'époque dans un film noir sur deux, la coquine... Et alors au bout du compte ? Eh ben pas mal du tout ce petit Leisen ! L'ouverture n'est pas sans rappeler, anachroniquement, celle de Blue Velvet avec cette caméra qui s'aventure dans l'allée ultra tranquille d'une zone pavillonnaire : "Tout est calme, tout est fait pour être heureux dans cette petite ville ricaine sans problème mais... à quelques mètres de là, dans une grande et belle maison bourgeoise, un couple est au supplice..." Oh, oh, pourtant à voir la gentille Barbara portant un bébé dans ses bras et son mari à la fine moustache, cela n'a po l'air d'être bien violent. Détrompez-vous, braves gens, il y a eu un meurtre et la police ne va pas tarder à venir arrêter les coupables : pasque ouais, les coupables, ils sont bien là, juste sous vos yeux. Pas possible !?? Si, si. Flash-back... On découvre une Barbara toute pauvrette (cela est intriguant, tiens, tiens...), enceinte jusqu'aux dents, qui se fait salement rembarrer par son amant... Elle pleurniche devant sa porte alors que l'enfoiré est avec une blondasse ; tout ce qu'elle finit par obtenir c'est un billet de train New-York-San Francisco. Allez, barre-toi.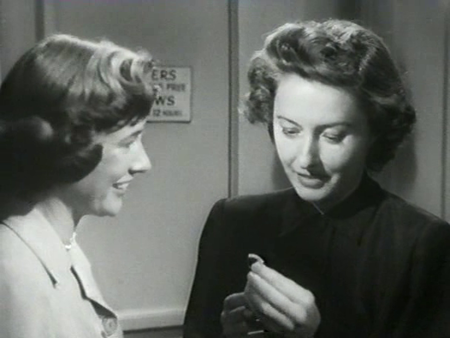 Barbara, l'âme en peine, se retrouve dans un train bondé - c'est la fête nationale, forcément - mais elle a la chance de faire la connaissance d'un bien gentil couple qui va non seulement lui offrir un siège (la femme est également enceinte et joue la carte de la solidarité féminine...) mais aussi l'inviter à manger. Barbara est toute gênée mais accepte de bonne grâce cette aubaine. On se dit tiens, ce sera ptêtre un film de train en fait et cela ne nous déplaît point. La femme lui explique qu'elle va enfin faire la connaissance de sa belle famille et qu'elle est un peu stressée... bien, bien, et si on allait faire pipi sinon ? Les deux femmes se rendent dans les toilettes, la femme vraiment pas bégueule fait essayer sa nouvelle bague à une Barbara qui ose à peine la mettre parce que cela porte malheur et... oh putain, c'est la catastrophe ferroviaire qui nous cueille un peu à froid... Vous voyez venir la suite ?... Mais si, Barbara, sa nouvelle bague au doigt, est prise pour la jeune femme (le couple étant mort dans l'accident, personne ne va prouver le contraire) : au début elle dit, eh oh, y'a erreur puis elle se dit que pour son fils (elle a accouché après l'accident), cela représente une sacrée opportunité ; il va avoir un nom, de l'argent, que demander de plus ? C'est pas qu'elle soit vénale, c'est Barbara quand même, une chic fille, mais pourquoi après tout se priver de ce ptit coup du destin ?...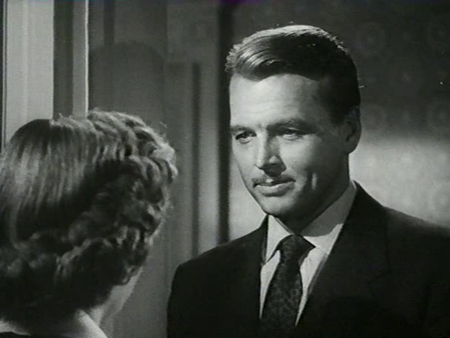 Ouais mon intro est sacrément longue, pardon... Elle est accueillie royalement par la belle-famille, son beau-frère lui fait les yeux doux... Tout irait pour le mieux, si la culpabilité ne commençait pas à la ronger. Elle fait en plus deux trois bourdes idiotes qui pourraient trahir le subterfuge, mais la famille particulièrement bienveillante met cela sur le dos de l'accident - mais ouais, ta mémoire a des ratés, normal, le choc... Le beau-frère est tout de même de moins en moins dupe, mais comme il est fou amoureux d'elle, il lui fait bien comprendre qu'il est prêt à fermer les yeux sur son passé - la petite tirade ci-dessus, en incipit, vaut son pesant de cachuètes, n'est-il pas ? Mais ça se complique terriblement pour la Barbara quand elle croise son ex qui flaire tout de suite le bon coup et qui s'improvise maître-chanteur... On a beau connaître la recette et voir les ficelles de loin, on marche à fond dans ce récit concocté par Irish. La Barbara est forcément à la torture de se retrouver dans une telle situation fraudeleuse (fouette-toi ma fille, fouette-toi) mais comment faire du tort à cette belle famille si gentille et prévenante (ses beaux-parents sont dégoulinants à souhait)? En plus, si elle est profiteuse, son ex (Lyle Bettger, excellent, automatiquement détestable...) est un tel beau salaud qu'elle finirait par passer pour un ange (un ange de la mort, un aigle noir (...) ? Hum hum, le flingue lui va bien en tout cas...). Des personnages un peu caricaturaux, certes, mais une intrigue bien balancée qui fait son petit effet jusqu'au bout. Vraie bonne petite surprise.