Il y a bien western et western, et là on est franchement dans du pur plaisir intégral. Il y a un brin de nostalgie (Crawford et Hayden qui ne se sont pas vus depuis 5 ans, une histoire d'amour avortée digne de Casablanca), une forte dose de tragédie (Carradine impérial, Borgnine en salop royal et un duel de gonzesses infernal), un soupçon de chasse aux sorcières (écho ou non du maccarthisme, cette foule d'hommes en noir qui se fait mener par le bout du nez pour exclure "l'étrangère" vaut son pesant d'acharnement), des couleurs aussi tranchées que le regard bleu acier de la Joan et une action explosive comme ces rocs qui, dès le générique, volent en éclats. Bref quand Jean-Luc Godard dit que "Ray, c'est le cinéma", on veut bien le croire les yeux fermés.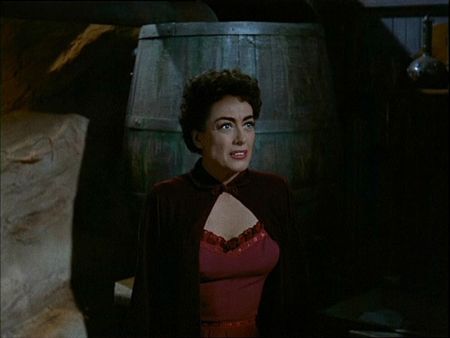 On assiste au départ à un véritable huis-clos tendu comme un ceinturon : un type à la coule avec sa guitouse, une Joan Crawford qui ne desserre point les dents, une foule d'autochtones déchaînée et quatre petites frappes qui jouent les innocents. On s'accuse les uns les autres, il y a de la vengeance dans l'air, des amours mis de côté et des actes manqués (entre le quatuor Crawford (Vienna), Hayden (Johnny), McCambridge (Emma) et Brady (Dancin' kid)). On se demande si d'entrée de jeu cela ne va point tourner au pugilat mais le Johnny Guitar détend plus ou moins tout son monde; on aura juste droit à une bonne baston entre ce dernier et le Borgnine qui finit à moitié borne. Vienna que tout le monde abhorre pour son opportunisme - elle est venue s'installer dans le coin en attendant l'arrivée du chemin de fer - a 24 heures pour fermer son saloon-casino et les quatre branle-manette, sauf l'Ernest, s'en sortent avec un avertissement (ils sont malgré tout lourdement soupçonnés d'avoir tué le frère de l'Emma). Tant qu'à faire, ils décident d'enfoncer le clou dès le lendemain en braquant la banque du coin, alors même que la Joan venait retirer ses petites économies... Mise dans le même sac que les fuyards, une chasse à l'homme s'organise.
Si la Joan paraît au départ sèche comme un coup de trique, il faut la voir peu à peu lâcher du mou pour finir dans les bras du Hayden après une discussion d'anthologie... Cinq ans ont passé, chacun tente de faire le malin, mais l'attraction est fatale; cette petite accalmie sera de courte durée, la Joan décidant de plaquer là le Johnny pour revenir dans ses meubles... Heureusement le bougre veille. La séquence où l'on retrouve la Joan dans sa sublime robe blanche en tulle (hein?, oui bon, je sais po, mais ça sonne bien) jouant du piano dans cette grande salle déserte alors que la foule tout en noir débarque est un régal; Emma remonte chacun des hommes comme des pendules pour lyncher la Joan alors que cette dernière plus têtue qu'une mule corse décide de ne pas lâcher un pouce. Bon cette fois-ci cela va dégénérer, l'Emma foutant rageusement le feu au troquet. Celle-ci est possédée, un vrai démon, exhortant les pauvres mâles tout pantois à en finir avec elle... Mais le Johnny qui a d'autres cordes à sa guitare empêche le lynchage in extremis. L'assaut final est digne de Duel au soleil même si la toute fin est plus hollywoodienne qu'Hollywood lui-même.
Si la direction d'acteurs et le scénar sont au taquet, dès le huis-clos d'ouverture, c'est un bonheur de voir les trente mille changements d'angles de prise de vue et la précision du montage. Rares sont les westerns où chaque plan est autant calibré et les scènes d'action pleines de bruits (des explosions un peu pour le fun, mais on sent que la colère, comme la montagne, gronde) et de furie (Mercedes Mc Cambridge est à deux doigts de la camisole de force...). C'en serait presque parfois presque too much mais on savoure l'ensemble avec un méchant petit sourire de plaisir jusqu'au The End, qui tombe après une ultime chtite chanson envoutante. A Ray in the sun.