Je ne l'apprends à personne, j'imagine : The Night of the Hunter est un pur chef-d'oeuvre sans défaut (ou presque), un de ces joyaux uniques qui fabriquent une cinéphilie, un de ces films dont on ne revient jamais complètement. Il y a un avant The Night et un après The Night, et pis c'est tout. C'est sûrement l'oeuvre qui se rapproche le plus de ce que c'est que le monde de l'enfance, avec ses épouvantes et ses amours, avec sa complexité psychologique, sa naïveté, son sérieux et sa grande douleur. Laughton reste toujours à hauteur d'enfant, plongeant son univers dans une sorte d'onirisme hypnotique : les mômes du film affrontent la vie et les vices des adultes sans trop les comprendre, palliant leurs désillusions par le rêve et l'imaginaire.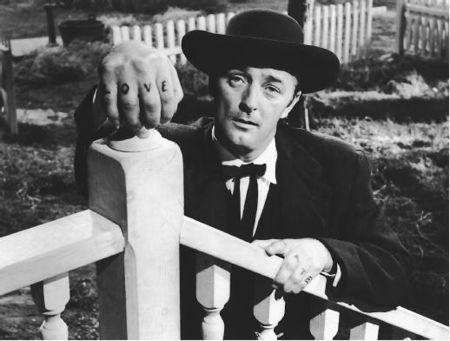 Le film est un conte dans la grande tradition de celui-ci : pas mièvre, pas idyllique ; âpre et rude, initiatique mais sans illusion. Il y l'ogre (Mitchum, génial dans son jeu farcesque et effrayant), il y a la vieille dame gentille, il y a la rivière et la forêt comme symbole du passage initiatique, et même les jolis animaux, lapins, chouettes, renards, tortues, moutons, crapaud. Le temps, thème principal du film, ne cesse d'agir contre les êtres, et Laughton est d'une grande justesse quand il affirme avec violence que la vieillissement corrompt les hommes. Pas un adulte en effet pour sauver l'autre là-dedans : tous sont violents, démissionnaires devant la douleur des enfants, indifférents au mieux, sanguinaires au pire. Le personnage du garçon, déjà à moitié adulte face à la somme d'apreuves qu'il doit endurer, a déjà un pied dans la déchéance de l'âge mûr. Laughton crie sa colère devant la perte de l'innocence imposée par les grands aux petits, par les puissants aux faibles. Tout est horreur autour de ces enfants, et leur seul moment de calme résidera dans la solitude et la fuite (sublimes scènes sur la rivière, apaisées, lentes, proches du merveilleux).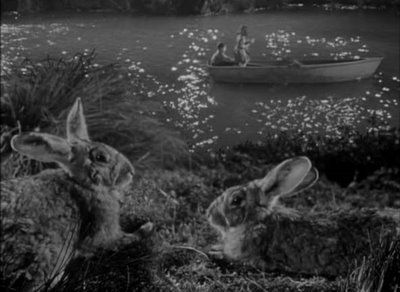 La mise en scène est exemplaire, jouant sans cesse sur la dualité. De nombreux plans sont coupés en deux par le milieu, opposant entre la droite et la gauche deux entités ennemies, à l'image des fameuses mains tatouées de Mitchum (Love et Hate). Le plus beau plan, une femme guettant le monstre dans l'ombre au premier plan à gauche, lui-même attendant son heure à droite, les deux réunis par un cantique macabre qu'ils chantent à l'unisson, mérite certainement le titre de plus beau plan de l'Histoire (dit-il en s'emballant un chouille). Mais cette dualité n'exclut pas une grande subtilité psychologique de la part de Laughton, qui montre la somme de fascination exercée par le Mal qu'incarne Mitchum (la jeune fille qui tombe amoureuse de lui, la fillette qui ne peut s'empêcher de tomber dans ses bras alors qu'il a essayé de la tuer). Rien n'est noir ou blanc, tout est subtilement écrit pour nous plonger dans l'ambiguité de chaque personnage. Les contrastes incroyables de l'image sont les seules touches tranchées de l'histoire, s'appuyant sur une esthétique expressionniste pour mieux en fusiller les principes manichéens.
Pour mettre un tout petit bémol, il est dommage que Laughton ait conservé les scènes sans les enfants, un peu privées de style parce qu'elles ne sont plus "subjectives", ne passent plus par leur regard épouvanté. Même si celle de l'assassinat de la mère est sublime (découpage génial, décor à la Murnau qui multiplie les angles de lumière expressifs), même si le fameux plan sur le cadavre dont la chevelure épouse les mouvements des algues est bluffant, les autres sont assez ternes comparés à l'ensemble. Mais ces quelques minutes-là n'enlèvent rien à la prodigieuse inspiration de The Night of the Hunter, film magnifique visuellement, d'une profondeur vertigineuse, et d'une audace totale (la religion en prend pour son grade, le monde idyllique construit par les adultes pour les enfants aussi). A revoir toute sa vie.