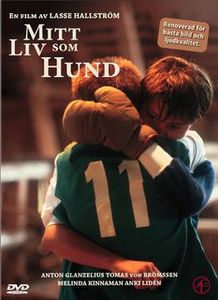 Bon alors là attention : je sais pertinemment que je m'attaque à un film qui, dans l'imaginaire parfois déviant de mon éminent camarade Shang, représente quelque chose comme un mythe fondateur, une pierre de touche, une formule mystérieuse, un sine qua non. Loin de moi, donc, tout sarcasme : on a tous nos amours cachées (pour ma part c'est Mission to Mars, c'est vous dire), c'est ça qui fait la beauté du cinéma, c'est des histoires de rencontres entre une émotion E au moment T, et je ne reprocherai jamais à mon copain shanghaien de vouer un culte personnel à Ma Vie de Chien...
Simplement, je ne comprends pas. C'est un petit film tout mignon, gentiment doux-amer, rigolo de temps en temps, tout triste quand il faut, où on croise des toutous affectueux, des tontons bienveillants et des petites filles mutines. Mais pour moi, ça ne va pas plus loin que ça, pas plus loin que la masse de films traitant de l'enfance avec une larme nostalgique au coin de l'oeil. Comme d'habitude, l'enfance est sur-
sacralisée au nom d'une innocence perdue ; comme d'habitude, on apprend que la vie est parfois dure, mais qu'on s'en sort quand même vaille que vaille. Comme d'habitude, on a droit aux premiers émois sexuels, aux confrontations têtues avec le monde des adultes, à ces personnages légèrement fêlés et attachants à partir du moment où ils rentrent bien dans le moule pré-établi des "personnages pleins de fantaisie" (ici, un vieux qui retape son toit ou une bimbo de petite vertu), et surtout à ce gamin craquant sur lequel on fait peser toute les ch'tites misères de cette chienne d'existence. Ingemar n'a pas de chance : maman est malade, on lui vole son chien, et son frère est pas cool ; mais au cours de vacances, il découvre tout un monde merveilleux fait de parties de foot, de rigolades avec le tonton fantasque et de matches de boxe pour rire avec le garçon manqué.
Vision angélique d'une enfance banale, que Hallström tente de doper en parsemant son histoire de drames attendus (la mort de maman) ou de pensées philosophiques du fiston (il faut relativiser, y a pire dans la vie, par exemple le gars qui s'est pris un javelot dans la tête alors qu'il faisait son footing). Bon. Je ne peux pas m'empêcher d'avoir des envies un peu plus ambitieuses quand je vais au cinéma, mais je reconnais que Ma Vie de Chien ne mange pas de pain, ne fait pas de mal non plus. C'est juste inconséquent, quasi-inexistant et pastel à mort. Pas vraiment mis en scène, tout juste écrit, dirigé au plus court, ça passe le temps, et puis voilà. On ressort de là ni joyeux, ni en colère, ni intrigué, ni révolté, ni dynamique, ni ému, ni heureux ; on ressort de là. Désolé, camarade, mais cette nouvelle vision n'a pas éclairci le pourquoi de ton culte. Mystère des émotions cinéphiles... (Gols 03/07/08)
---
Je relis la chronique de mon camarade et j'avoue que c'est comme un direct au foie (qui n'en a pas besoin, le bougre). Ma Vie de Chien est tout sauf mièvre ou pastel (putain, pastel...) : c'est un film qui pète la santé, la joie, les douces embellies sur un fond certes, sometimes, un tantinet dramatique (non seulement le père est absent mais en plus la mère, toute crachotante, est à l'article de la mort). Certes, pour aller dans le sens de l'ami Gols, Lasse Hallström a rapidement montré ses limites dès lors qu'il entama sa carrière américaine. Nonobstant, ici, on assiste à un concentré de tout ce qui fait le charme de l'enfance, Hallström mêlant trois mille petites anecdotes aigres-douces pour nous faire un portrait des plus vivants et des plus drolatiques de cette petite bourgade suédoise, paisible et délicieusement excentrique. Je ne vais pas aller jusqu'à dire que le film est un chef d'œuvre sur l'enfance ni que je le mettrai dans mon top 10 de tous les temps (rof, quoique, par nostalgie...) mais il garde encore aujourd'hui toute sa saveur : le chtit gars Ingemar va au cours d'un été et d'un hiver devoir se frotter à la sexualité et cet éveil va prendre moult formes ; des lectures d'un catalogue de gaines pour un vieux alité à son "flirt" avec la bombasse du coin qu'il essaie de mâter en catimini en montant sur toit, en passant of course par sa rencontre avec la chtite Saga (qui a beaucoup moins froid aux yeux que notre Ingemar - plus porté à jouer au chien fou qu'au docteur...), notre jeune héros tout juste sorti de l'enfance va faire ses premières armes sur le terrain féminin.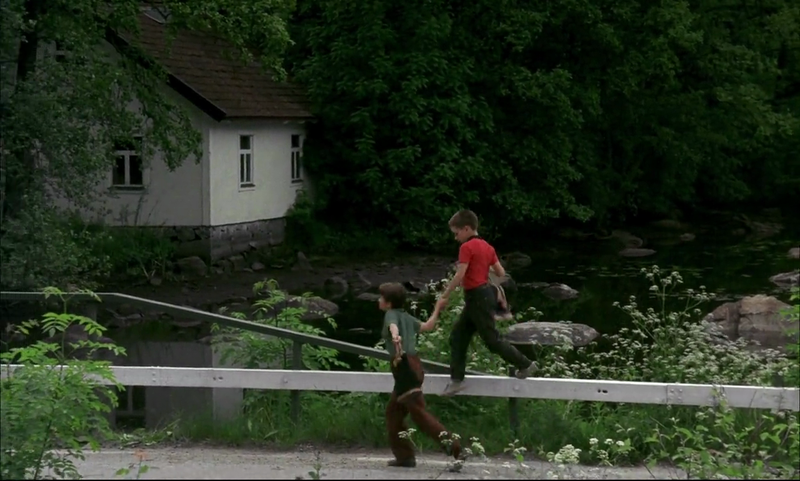 C'est encore très gauche, forcément, mais notre ami à peine sorti du cocon se révèle vite capable de trouver quelques marques d'affectivité en dehors du giron familial. Cet éveil "affectif" voit donc le jour dans cette petite ville qui réserve son lot de surprise. C'est vrai qu'à la douzième vision, on est un peu moins surpris par la chose, mais on continue de se marrer devant ce sculpteur à deux balles, cette bimbo malgré elle ou encore ce plongeur forcené ; le côté très pataud de "l'oncle" qui accueille Ingemar apporte aussi sa petite touche de charme, comme s'il s'agissait d'un double, en adulte, de notre héros. Un Ingemar, revenons-y, qui fait certes preuve d'une certaine timidité dans son comportement mais qui a su mettre en place au niveau de sa propre "philosophie" des moyens d'auto-défense assez avancés et relativement judicieux (à chaque fois qu'il est question de Laïka, mon esprit se fend en deux). Après, oui, il y a des passages plutôt dramatiques par la force des choses mais Hallström trouve toujours la bonne distance pour évoquer ces instants difficiles, ne cherche à aucun moment à s'appesantir dessus pour éviter tout côté tire-larme ; l'Ingemar ne part pas avec un noyau familial ultra-fort mais il va faire son petit bonhomme de chemin pour se trouver d'autres références, d'autres points d'ancrage. Hallström a toujours la petite pointe d'humour qui fait mouche quelle que soit la situation (j'adore littéralement la scène de la boum sur la fin : on dirait du Lynch pour enfants...). Bref, je suis peut-être un peu moins fougueux dans cette chronique que je l'eus été il y a de cela vingt ans, mais je continue d'avoir un très très gros pincement au cœur pour cette œuvre délicieusement sensible et piquante (pastel, putain, je vais repeindre ta caisse en pastel, tiens, non mais). (Shang 12/03/17)