Accompagnant lors de ses voyages le photographe Edward Burtynsky connu notamment pour ces paysages de mines dans le Nord du continent américain, Jennifer Baichwal filme surtout la Chine - et un poil du Bangladesh - dans ces transformations à la vitesse de la lumière (à l'heure que je vous parle, je me demande même s'ils ne sont pas en train de déplacer mon immeuble - mon quartier shanghaien, Hongkou, ressemble de plus en plus à Kaboul, période dure, vivement 2010!!!!).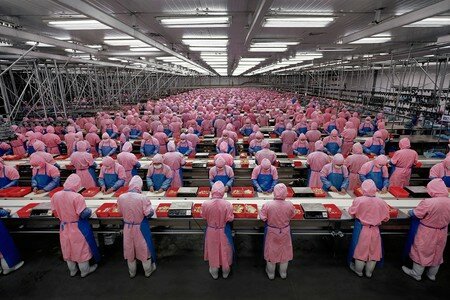 Après un travelling de plusieurs kilomètres sur une usine de transformation (3000 chaînes de montage à la suite, et j'ai dû m'endormir), baptisé modestement "The factory of the world", la caméra de Baichwal s'attarde dans ces villes mortifères chinoises où l'on recycle tous les composants électroniques d'ordinateurs qui échouent ici. On a droit à des photos à la Jackson Pollock ou encore à un portrait d'une femme qui a bien 300 ans et qui est passé de Mao et son grand bon en avant dans la poussière à ce magnifique travail de petites mains qui consiste à récupérer des trucs invisibles à l'oeil nu... Elle devait être loin de se douter en 1949 de son destin, la mère.
Après un passage sur les chantiers navals du Bangladesh donc et un petit tour gratuit dans les champs pétrolifères et les mines de charbon (discussion hallucinante de Burtynsky avec les autorités chinoises en charge du site, très méfiantes: il finit par les persuader qu'il va faire de très joulies photos de ce paysage lunaire...), on plonge dans le chantier gigantesque des Trois Gorges (1994-2009) avec en souvenir récent le film de Jia Zhang Ke: proprement terrible et vraiment du jamais vu que d'assister à la destruction "volontaire" d'une ville par ses propres habitants, pierre par pierre, brique par brique, quelques semaines avant l'inondation totale de la zone et cela uniquement pour faciliter le passage des bateaux: allez taillez moi encore 50 mètres de hauteur et on sera d'accord... On comprend alors mieux tout le sens et la portée du mot "auto-destruction"...
On finit dans la joie et la bonne humeur par Shanghai, même si on ne peut pas dire que Baichwal creuse vraiment son sujet: juxtaposant quartiers pauvres et appart de riches, boites de nuit de jeunes et construction moderne, on a un peu trop l'impression de rester à l'aspect "superficiel" des changements; on a beau entendre un vieux qui dit que son voisin s'est fait casser deux trois os pour le forcer à déménager (on devrait leur filer le maire d'Argenteuil , il a l'air bien ce type, pratique, ah oui UMP, tiens), on n'assiste point à ces déménagements forcés pratiquement du jour ou lendemain (des gens continuent de vivre dans la maison alors que la moitié est détruite...) ou à des images de bulldozers qui rasent un paté de maison en une nuit. Dommage tant ces scènes sont aujourd'hui devenues terriblement quotidiennes. Ruines modernes qui se transformeront en merveilleuses orchidées de ciment en quelques mois. Viva China.