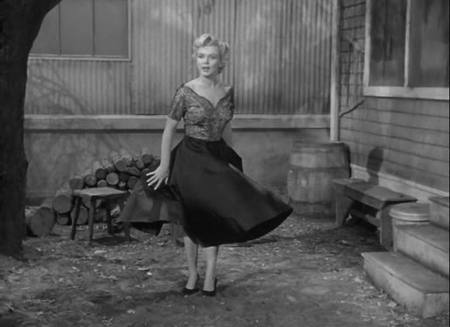 Belle triplette d'acteurs (Barbara Stanwyck, Paul Douglas et Robert Ryan - et en prime quelques apparitions de Marilyn Monroe) au service d'un scénario somme toute classique - un triangle amoureux - remarquablement mis en scène par Lang qui dynamite ou dynamise, c'est selon, cette adaptation d'une pièce de Clifford Odets. Tout ce qui fait la force de cette oeuvre est à puiser en grande partie dans la psychologie des personnages, Stanwick en premier chef qui semble presque se débattre contre elle-même; après dix ans sans donner de nouvelle à son frère, la Barbara retourne chez lui dans le port de Monterey : si ces dix ans ne semblent pas avoir été une véritable partie de plaisir (un amour pour un homme marié, mort sans qu'elle puisse avoir droit à quoi que ce soit), notre héroïne a apparemment gardé sa forte personnalité - et son charme (ah la voix de la Barbara). Elle ne va pas point tarder à faire la connaissance de deux hommes, un pêcheur plutôt pépère, masse musculaire et rondouillarde (Paul Douglas) et un fort en gueule qui se donne des allures de dragueur macho, le Robert, tout aussi imposant physiquement. A première vue, comme ça, on ne donne guère de chance, à l'un comme à l'autre, pour gagner le coeur de la belle et celle-ci ne se gène d'ailleurs point pour rabrouer les deux hommes. Douglas a l'air beaucoup trop tendre pour passionner notre Barbara et Ryan beaucoup trop brut pour l'attendrir... Encore que la belle ne semble pas vraiment savoir exactement ce qu'elle recherche, tiraillée entre l'envie de se sentir protégée et la peur de devenir une mémère trop tranquille au foyer. A la réflexion, les deux ont sûrement leur chance...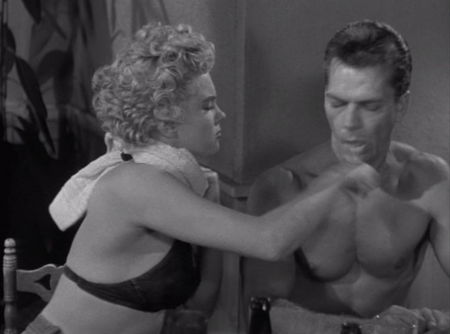 Qu'il s'agisse de Barbara ou de Marilyn (la petite amie de son frère), les deux donzelles ne sont pas du genre à se faire marcher sur les pieds. Sachant rendre les coups quand un homme se fait trop pressant - et une pichenette au menton, et une belle baffe dans ta tronche... -, ces deux créatures apparemment difficiles à dompter - pas plus mal dans ce monde d'hommes avec leur fierté de... mâles - ne cherchent point pour autant à leur échapper. Si la Marilyn, plus jeune et volubile, est entre les mains d'un ptit gars à poigne qui sait ce qu'il veut, la Barbara semble, elle, indéniablement avoir plus de mal à trouver un port d'attache... Il y aura pourtant mariage avec bébé dans la foulée, mais cette louve blonde la nuit tombée est bien agitée, fumant sa clope en solitaire dans les rayons lunaires. Entre les rets de ce pêcheur affectueux et le rêve, l'aventure (de pacotille...? possible) que pourrait offrir ce projectionniste de cinoche (ça s'invente point, forcément), l'âme de la Barbara est bien tourmentée... Ca sent le drame, voire le tragique c't'histoire.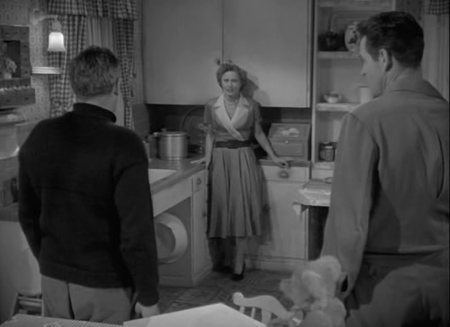 La caméra de Lang ne cesse de naviguer dans les pièces de cet appartement, et ce n'est point fortuit si la Barbara donne l'impression de tourner en rond, comme une lionne dans une cage. Sous le regard de ces deux prédateurs (l'un qui risque de l'hypnotiser et de la conduire à l'inertie, l'autre qui risque de la dévorer toute crue, ou, disons, pour rester calme, avec passion), son petit coeur balance... enfin non pas trop... enfin si un peu quand même... enfin... bon, va bien falloir faire un choix à un moment ou un autre... Rien de bien nouveau sous le soleil au niveau de la trame, on l'a dit, mais Lang, en insérant d'entrée de jeu ces plans sur ces oiseaux affamés qui suivent les chalands (oui, c'est une citation de Cantona; nan je déconne; disons qu'on est tous à la recherche de quelque chose et si je disais d'affection voire d'amour je serais sûrement po loin) et, par la suite, ces prises de vue sur divers éléments naturels (ces lourds nuages en mouvement, cette mer qui vient se fracasser contre les rochers...), nous fait sentir la véritable tempête qui bout sous ce crâne féminin... Se lover dans les bras de cet homme qui vit encore avec son père rital (la famiglia, la tradizione...) ou brûler la vie par les deux bouts avec le Robert (mignonnes petites séquences lorsque Robert et plus tard Barbara allument deux clopes en même temps)? That is the question... Peut-être moins virtuose visuellement (quoique parfaitement maîtrisé) qu'un Lang des grands soirs, mais une oeuvre tendue jusqu'au bout (alors drame ou pas drame ?... ah...) grâce notamment à une solide direction d'acteurs. Toujours alléchant un Lang, on est d'accord.