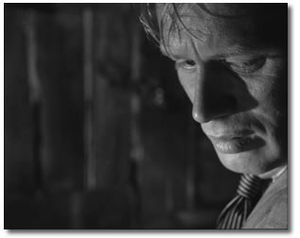 On continue ce mini-cycle de films mis en musique par Franz Waxman (avec Jane Eyre, dont la musique est de Herrman, vous suivez ?), avec ce film noir de très belle tenue signé du discret Jules Dassin. C'est l'histoire d'un "homme qui fuit", comme le résume très bien l'homme en question (Widmark, éclatant de photogénie même si on n'arrête pas de penser que James Dean aurait été parfait là-dedans) : petit escroc du dimanche, très futé pour escroquer le chaland, il passe son temps à cavaler pour échapper à ses victimes, aux flics, aux femmes et tutti quanti. Il n'a malheureusement pas les épaules pour assumer ses ambitions démesurées ; il se met en tête de concurrencer le big boss du combat de lutte en montant sa propre boîte, à force de coups bas et de petites entubes minables, et il s'en mordra les doigts.
Dassin excelle surtout dans les ambiances : son Londres est une ville toute en rayures de lumières sur fond noir, où grouille un monde interlope de loosers, petits truands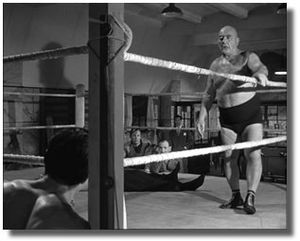 et clodos avides de fric. Pas un pour sauver l'autre, chacun cherchant à tirer son épingle du jeu dans cette jungle pleine de vénalité et de trahisons. Finalement, le brave Harry apparaît presque comme un être pur au milieu de toute cette racaille : certes il pique dans le porte-monnaie de la pauvre Gene Tierney, certes il traite la morale un peu par-dessus la jambe ; mais il n'est guidé que par sa volonté "d'être quelqu'un", de s'en sortir, et ses entourloupes sont finalement bien sympathiques. Widmark campe parfaitement ce gosse dépassé par les évènements, qui s'achemine avec un grand rire joyeux vers son destin fatal. Dassin fait peser sur lui tous les plafonds de ses décors saturés, multipliant les contre-plongées qui l'écrasent, ou les plongées vertigineuses qui l'enferment. La direction d'acteurs n'est pas toujours au taquet, la plupart des personnages tombant dans une caricature un peu too much ; mais après tout, ça sert bien cette ambiance grand-guignolesque, augmentée par la musique tonitruante de Waxman. On est vite dans le noir de chez noir, malgré la légèreté de l'ensemble.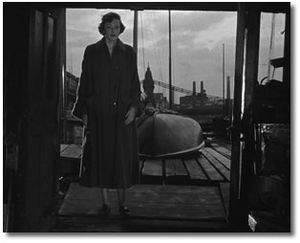 Finalement, le film est très réaliste, à l'image de cette magnifique séquence de combat de lutte, où Dassin s'approche au plus près de la sueur des combattants, où il enregistre chaque grognement porcin des combattants, où il laisse la scène se dérouler dans sa longueur avec moult plans de coupe hyper-détaillés (des mains qui se serrent, des torses qui se choquent, des visages grimaçants). Comme cette scène, Night and the City déploie une grande logique et une grande vérité dans sa trame et dans ses décors : on est vraiment plongés au coeur de l'action, on y croit vraiment. Même si le montage est parfois maladroit (trouvé qu'il coupait souvent trop tôt, sans laisser les répliques résonner, sans laisser l'émotion venir), le film est très bien rythmé, implacable et esthétiquement parfait. Du travail de pro.