Bienvenue en direct d'un cerveau malade. On sait déjà de quelle pâte est faite celui de Lars von Trier, si on est allé faire un tour chez Les Idiots, dans Antichrist ou dans Nymphomaniac. Mais on ne s'attendait certes pas à ce nouveau film, qui pousse un peu plus loin le curseur du dégoût de soi-même, du masochisme et de la noirceur. Von Trier entreprend depuis quelques temps un projet de destruction de lui-même, douloureux, périlleux, qui accouche aujourd'hui d'un film-monstre, à l'humour bien entendu douteux (on ne pouvait espérer du bon goût de la part du brave garçon), un autoportrait à la Bacon qui fait mal par où il passe, et une vraie gifle cinématographique : en un mot, je m'incline une nouvelle fois devant l'inconscience flagrante du bon Danois, en lui reconnaissant de m'avoir fait passer 2h30 pénibles et passionnantes. Et je tente même le parallèle audacieux avec La Maman et la Putain, ou Journal Intime de Moretti : j'ai eu l'impression d'être branché directement sur une personnalité, sur un être, sur une intimité. Que les habitants de celle-ci soient Hitler, un serial-killer et des pulsions sexuelles troubles n'y change rien : voilà un film à la première personne comme on en voit peu.
Pour parler de lui-même, von Trier invente Jack, une sorte de puriste du meurtre, ayant entrepris depuis toujours de construire sa maison, entendez son oeuvre. Si on le voit effectivement inventer puis détruire des bâtisses, toujours à la recherche de la forme et du matériau parfaits, c'est plutôt dans l'art de l'assassinat qu'il cherche l'accomplissement, accomplissement toujours douloureusement inassouvi : à travers 5 "incidents" (entendez des meurtres souvent très gore), Jack cherche la perfection, le geste, la position, les circonstances, le corps idéaux qui assouviront sa soif d'absolu. A la recherche de l'éxécution parfaite ou de la position de cadavre esthétiquement totale, il se perd peu à peu dans un monde qui n'appartient plus à personne, où les sentiments humains sont niés, où les notions de beau et de laid se perdent, une spirale de folie intérieure faite de frustrations toutes judéo-chrétiennes, d'admirations morbides (hop, Hitler vient refaire un tour comme un pied de nez potache aux récentes polémiques, et boum développement sur la beauté des avions de guerre, et bim un cours sur la rigidité cadavérique) et d'obsession du "propre" assez torves. Au départ envahi de TOC qui le font revenir sans arrêt sur une scène de crime pour en effacer toute trace, il s'engage peu à peu dans un tourbillon désordonné qui le mènera à sa perte ; on sait dès le départ que son histoire se terminera en enfer, escorté par un Charon contemporain (Bruno Ganz, en négatif de son ange wendersien), et on assiste simplement à la chute... autrement dit à l'échec avoué de l'oeuvre de von Trier, le film ne cachant pas son caractère autobiographique.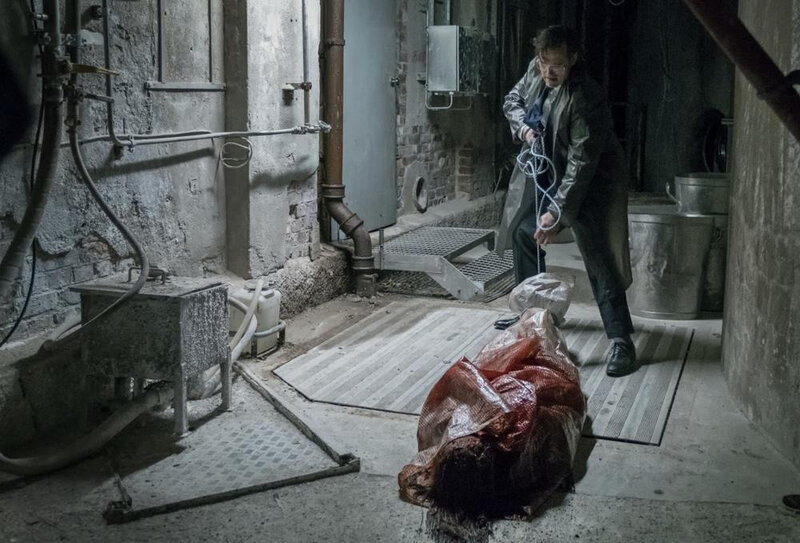 The House that Jack built est une sorte de film-bilan de son auteur, qui refait tout le chemin de son cinéma (il s'auto-cite régulièrement) et de l'état délabré de son mental. On est effrayé par cet univers turpide qui n'essaye jamais de se dissimuler, qui enfonce même souvent le clou de sa laideur et de sa kitscherie : tout l'épilogue, notamment, est un modèle de mauvais goût assumé, tellement poussé qu'il en devient presque beau (une poésie "sale", dirait-on). Le gars se montre tout nu dans ce film très éprouvant et souvent gênant : lui, ce qu'il aime, ce qui le fait réagir en tout cas, c'est la mort, le sang, la laideur. Et il les filme, tout simplement. Il entraîne Matt Dillon (ancien sex-symbol du cinéma) dans son délire d'auto-destruction, et l'accompagne de ceux et celles qui ont jalonné son cinéma depuis longtemps, les reconvoquant pour une dernière ronde morbide absolument répugnante. Pour ceux qui connaissent ses films, on retrouve dans les détails des tonnes de motifs et de thèmes déjà abordés, mais cette fois dévoyés, tordus jusqu'à en faire de simples hochets. Le grand truc du film, c'est le négatif : rendre la lumière noire, révéler l'envers des choses par la pellicule inversée. Ainsi tout ce qui est "beau" dans la vie (l'amour, l'entraide, les enfants...) ressort en négatif dans le film, sous les yeux de ce serial-killer passionné par les formes. Je ne vous dis pas que la vision du film se fait toute seule : on s'ennuie parfois, on est dégoûté par cette vision de l'humanité et de l'existence, on a les yeux qui piquent devant certains délires esthétiques douteux, bref le film ne se laisse pas aimer. Mais si, comme le dit Pasolini, "le cinéma doit être un caillou dans une chaussure", alors on peut dire que von Trier y plante carrément un rocher, et dans la sienne autant que dans la nôtre. Inregardable et génial.