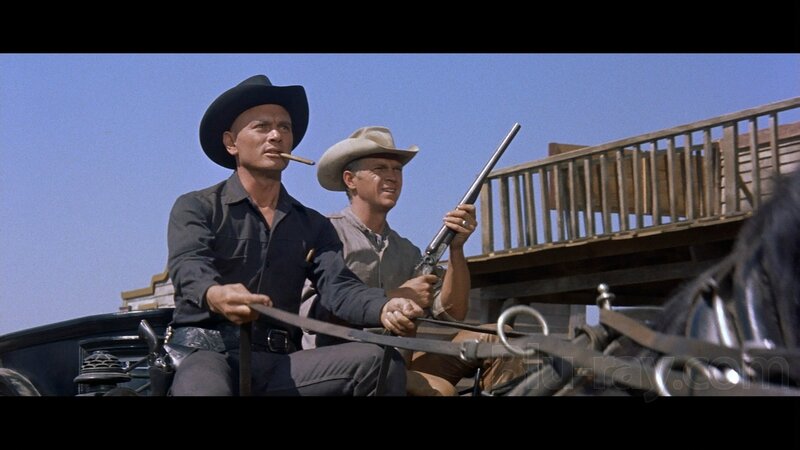 Non mais alors là, c'est un peu le film rêvé, THE divertissement idéal. Une distribution impeccable remplie de stars, un scénario en béton qui multiplie les petites phrases historiques, de l'action, de la finesse psychologique parfois, une musique inoubliable, une photo glamourissime... On ne peut pas demander beaucoup plus au cinéma du samedi soir, ce serait vraiment faire la fine bouche. The Magnificent Seven est un classique, qui arrive pourtant assez tard dans l'histoire du western, et il mérite entièrement son statut. Le regarder c'est retomber immédiatement en enfance : vous avez beau savoir lesquels de nos sept cow-boys vont tomber au combat et lesquels vont survivre, vous tremblez quand même comme au premier jour, comme une de ces histoires qu'on vous a racontées dix mille fois et qui continuent à vous émouvoir.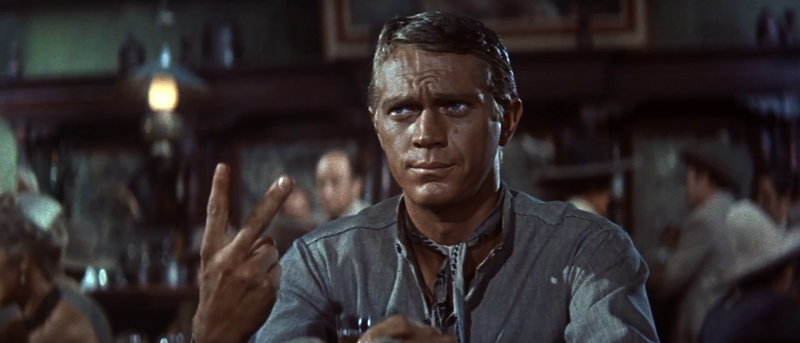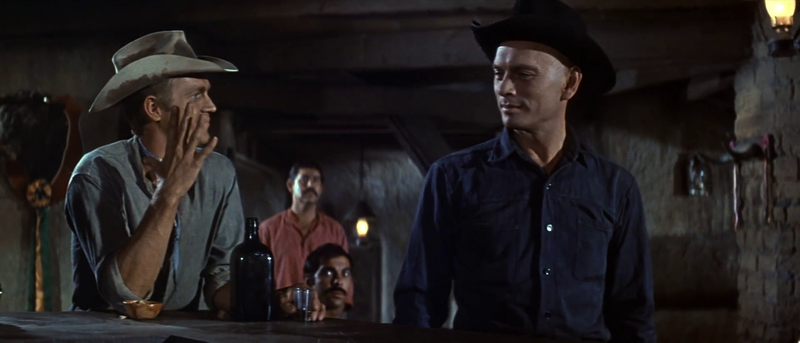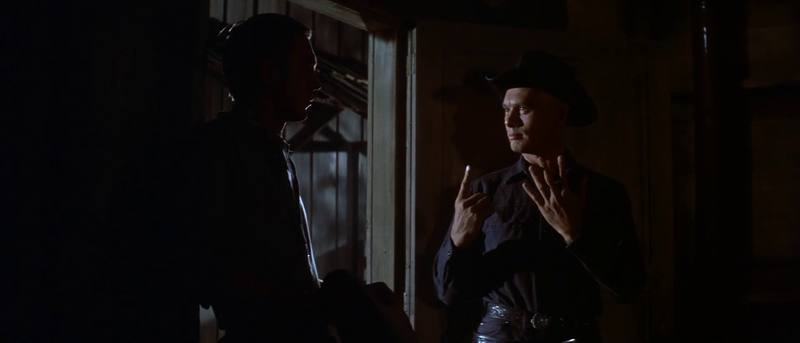 Dès la première seconde du générique, ça fonctionne : les notes tonitruantes de la musique de Bernstein (une des plus belles musiques du cinéma, une orchestration splendidissime) annoncent la couleur : vous voulez du mythique ? du spectaculaire ? vous en aurez. Le fait est que le film sera plein comme un oeuf, parvenant en un peu plus de deux heures à faire se rencontrer sept hommes qui ne se connaissaient pas, à les engager dans une lutte pour défendre un village de paysans mexicains contre une bande d'infâmes brigands, à multiplier les rebondissements, à livrer une épique bataille finale, le tout en déployant aussi des histoires d'amour, d'amitié, de vengeance, d'admiration, de remords, etc. Kurosawa avait mis trois heures, Sturges resserre tout ça et file à 800 à l'heure tout en maîtrisant parfaitement sa trame. Ainsi, chacun des sept héros aura son caractère, pas si caricatural qu'on veut bien le dire, chacun aura son steak à défendre, chaque comédien aura l'occasion de montrer son talent. C'est Steve McQueen qui s'en sort le mieux, il est incroyablement photogénique et subtil dans son jeu, et crée un cow-boy héroïque qui ne craint pas la dérision, l'humour, la faiblesse (il annonce en quelque sorte les personnages de westerns italiens à venir). Sa présence éclate, et malgré la modestie de son jeu il écrase tous ses acolytes dès qu'il entre dans le champ.
La modestie est de toute façon le mot d'ordre dans l'interprétation : on dirait que chaque acteur laisse toute leur place aux autres, dans une très belle direction de groupe qui ne met personne devant les autres. Certes, il y a Yul Brynner en chef austère, il a une grande partie du film à mener ; certes, le rôle du petit jeune qui apprend en multipliant les crâneries et les conneries (très grand Horst Buchholz) semble beaucoup plaire à Sturges. Mais les autres ont tous leurs petites caractéristiques attachantes, du dostoievskien Robert Vaughn au mutique James Coburn, de Charles Bronson qui se retrouve affublé de trois poussins fous de lui à Brad Dexter, gouailleur et cupide. La meilleure partie du film est d'ailleurs la première, où Brynner sillonne le Far-West pour monter une sorte de casting idéal pour sa mission. Chaque rencontre est une saynète qui constitue un court-métrage à elle seule. Même le méchant est parfait : Eli Wallach fabrique un despote sirupeux et dangereux tout en finesse, qui explique toujours avant de frapper pourquoi il frappe. La partie mexicaine du casting est, c'est vrai, un peu plus sacrifiée, braves losers tous habillés pareil complètement fascinés par l'indéniable domination américaine. Le côté "Amérique qui protège les minorités" est un poil agaçant, c'est dans la tradition du western classique, mais ça se voit un peu en ce début des 60's.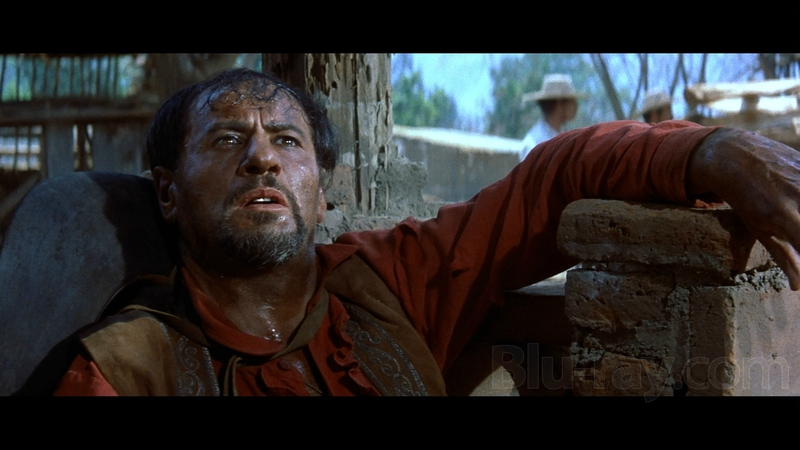 Sturges assure dans les scènes d'action, notamment le grand morceau de bravoure final, toujours extraordinairement lisible malgré la profusion de personnages et de lieux, et qui se permet même, au sein du chaos, de poser quelques détails superbes (rhhaaa le couteau de Coburn planté dans le mur, rhaaaa Vaughn qui tombe à genoux comme un pêcheur). On en prend plein les mirettes, ce qui compense les scènes de pur dialogues, plus pépères il est vrai. Mais si la mise en scène est assez effacée dans ces moments de calme, on apprécie la grande finesse des dialogues, souvent drôles, et l'espèce de fond mélancolique qui s'en dégage. Les cow-boys et leurs codes de violence, finalement, y apparaissent comme des êtres du passé, un peu anachroniques, un peu ringards, pas du tout adaptés à la civilisation progressiste et paisible dans laquelle ils aspirent à vivre. Le combat perdu d'avance qu'ils livrent contre la bande d'Eli Wallach est doublement perdu, car il met en relief leur appartenance à un monde brutal dépassé, leur solitude, l'idiotie de ces luttes pour rien. Chacun rêve de repos, de rédemption, d'amour, et ces fantasmes imprègnent joliment le film, qui prend parfois des airs crépusculaires. Comme une annonce de la fin d'un certain âge d'or du western, en quelque sorte. Malgré la fin annoncé, The Magnificent Seven brûle de tous ses feux, et affirme haut et fort la grandeur du genre. Un chef-d'oeuvre de glamour et de fun.
Go west, here