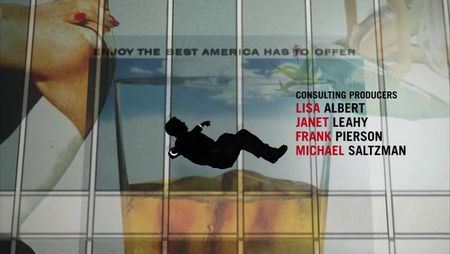 La série la plus déprimée et jouissive du moment ? N'en doutons point. Bon, vous allez me dire que j'ai un train de retard alors que la saison six arrive bientôt à son terminus. Oui, il est clair que n'étant plus shanghaïen, ne pouvant plus glisser dans ma sacoche, entre un kilo de tomates peintes à la main et trois steaks de renard, le dernier coffret dvd vendu au même prix que trois gros oignons blancs en France, j'accuse quelque retard. But I will catch up, I will. Série donc toujours de haute volée où, en plein sixties (il est question notamment de la coupe de football avec la victoire de l'Angleterre ce qui laisserait présumer que l'année exacte est 1966), notre désormais célèbre agence de pub vend du rêve alors même que les employés sont malheureux comme des pierres : problèmes financiers, problèmes de coeur ou de cul, problèmes de créativité, problèmes du surpoids, problèmes de pouvoir et j'en passe... Ils sont beaux - la plupart -, ils bossent, ils sont fiers de leur taff, seulement voilà, il semble bien qu'il n'y ait jamais la petite étincelle pour venir éclairer l'allumette de leur vie (lyrisme). Plaisirs passagers, dans la clope, dans l'alcool, dans une jupe sauvagement retroussée contre un mur, sur bureau voire même parfois sur un lit et puis pschittt, la chape de plomb retombe sur nos petits personnages... Cinquante ans plus tard, cela n'a finalement guère changé, sauf qu'il n'y avait alors pas de chômage.
Pete et ses fantasmes qui tournent court (notre petite tête-à-claques a souvent à peine le temps de savourer un petit succès perso qu'il se prend un méga bourre-pif), Peggy et ses désirs d'être enfin respectée pour ce qu'elle fait, ce qu'elle est (la petite est courageuse, prend le taureau par les cornes seulement même si elle trouve un partenaire, la bougresse n'a jamais semblé aussi rongée par la solitude), Betty Draper et sa petite vie (sans Don) encore plus étriquée et banale qu'avant (la bombasse blondasse se transforme en petit cochon de lait), l'English Lane et son manque de thune qui lui fait toucher le fond, Megan Draper, la nouvelle compagne de Don, qui se voyait déjà en haut de l'affiche et qui tombe dans un cercle vicieux (elle quitte la pub par orgueil et finit... par tourner dans une pub par manque d'orgueil), Don Draper, très assagi niveau vie de bohème (et rencontres sexy et sexuelles de hasard) mais qui ne semble pas vraiment en avoir fini avec ses vieux démons... bref, on retrouve toute notre habituelle galerie de personnages : si elle vit dans un cadre relativement aseptisé, elle semble plus que jamais se ronger les sangs ; la frustration, l'ambition illusoire, ou simplement ce putain de quotidien massacrent moralement chacun. Don devrait s'épanouir au contact de cette nouvelle jeunesse, de cette fraîche et souriante francophone... mais, le bougre semble plus que jamais se renfermer sur lui-même - moins il déconne, moins il semble prendre véritablement son pied et cette absence d'excitation passagère finit par l'attaquer à la racine (cette fameuse molaire qu'on finit par lui enlever... va-t-il redevenir le baiseur inassouvi qu'on a toujours connu ? Suspense pour la saison six, mais les derniers plans de cette saison-ci laissent présager du retour du grand Don (Juan)).
Pas mal de têtes tombent au cours de cette saison cinq et l'on se prépare d'ores et déjà au vent nouveau (dans de nouveaux locaux) qui soufflera dans la saison suivante... Don peut-il professionnellement toujours aller plus haut et moralement toujours tomber plus bas (on ne dira d'ailleurs jamais assez de bien de ce générique magnifiquement mis en images et en musique) ? That is the question. L'on sait, de toute façon, depuis le début que plus Mad Men s'enfonce dans la noirceur, plus l'on est accroc.