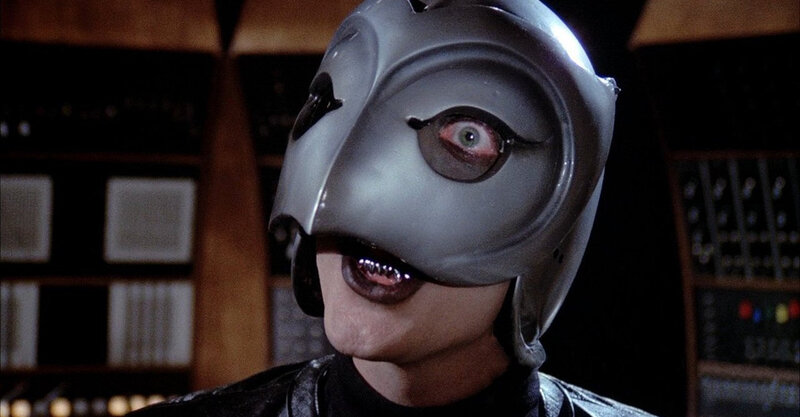 Le cinéma a beau être passé par des tas d'états bien barrés depuis 1975, avoir exploré maintes drogues et forces inspirations psychédélico-surréalistes, il faut bien reconnaître que ce Phantom of the Paradise, en tant que matrice (plus ou moins) des expérimentations qui ont suivi, n'a rien perdu de son aspect sidérant. En tout cas, en 1974, de Palma trouve enfin son style, qui est de n'en pas avoir, et nous sert ce prodigieux OVNI entre film d'horreur, comédie musicale, comédie, thriller, drame romantique et théâtre expérimental. Il y a bien sûr du Faust là-dedans, cité textuellement, mais il y a aussi de la série Z, du Portrait de Dorian Gray, du punk-rock décadent, de la blague de potache, du Docteur Mabuse, de l'opérette, du Cocteau, du Fantôme de l'Opéra, du grand-guignol, du romantisme fleur bleue, de la variétoche, du mauvais goût, et même des petits clins d'oeil aux films de de Palma lui-même (le final ressemble comme deux gouttes d'eau à Dyonisus in 69). En tout cas, il nous offre une vision pessimiste et amère de l'industrie du spectacle, qui bouffe ses artistes, offre de la daube aux cochons de spectateurs et enrichit une élite cachée. Peut-être un autoportrait caché de de Palma lui-même, qui a toute sa vie dû louvoyer avec le fric et les investisseurs, la critique et la censure, le bon goût et la rentabilité.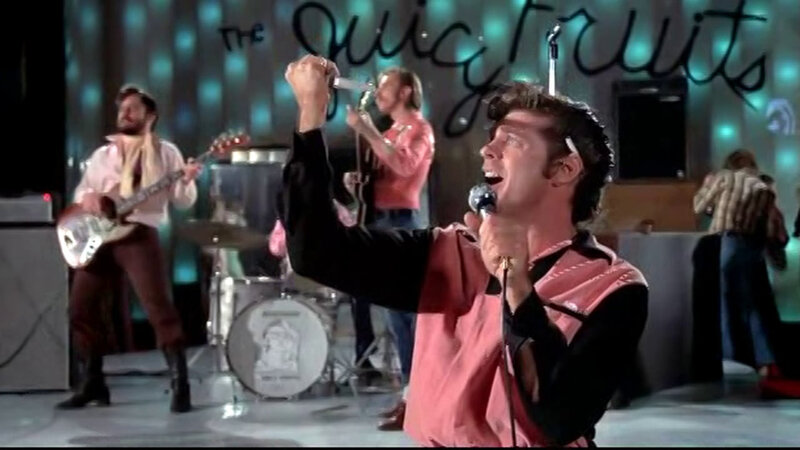 Bon. Winslow Leach est un compositeur échevelé, sorte de Elton John, qui compose des balades sirupeuses les yeux au ciel. Swan, producteur tout puissant sur le marché, écoute par hasard les chansons du gusse, et demeure convaincu : ce sera la musique qui servira pour la soirée d'ouverture de sa salle de spectacle, le Paradise. Mais elle devra en passer par quelques métamorphoses : volée à son créateur, puis confiée à un groupe de glam-rock, triturée à l'excès, la symphonie de Leach ressemble désormais plus à un concert-rock des Who qu'à la déclaration d'amour romantique qu'il avait voulu créer. Furieux, le gars tente d'intervenir, mais il est défiguré suite à un accident, et condamné désormais à errer dans les cintres du Paradise, dissimulé sous un masque d'oiseau, contraint d'écouter sa musique massacrée devant un public béat. Swan va même parvenir à utiliser la folie meurtrière de Leach à son profit, transformant sa muse en junkie et signant avec lui un pacte faustien qui mènera tranquillement tout le monde à sa perte.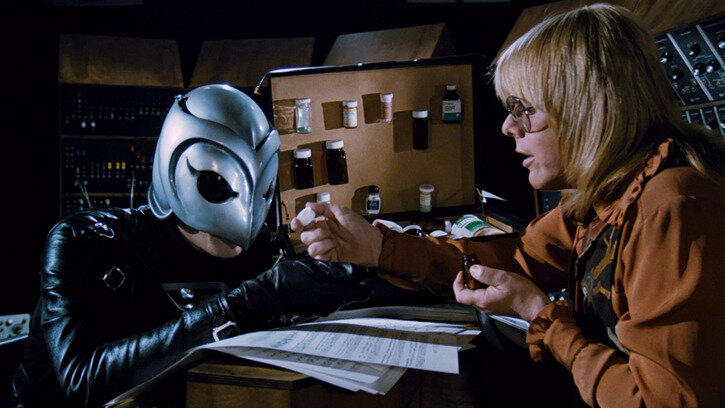 C'est bien simple : de Palma tente tout. Non seulement, les petits trucs qui ont déjà fait sa marque à cette époque (split-screens, plans longs), mais aussi toute un festival de motifs barrés, pour le pire parfois mais pour le meilleur souvent. Il fait se heurter les plans, dans un chaos bruyant et burlesque effarant, osant des zooms acrobatiques aux moments les plus tendus, mélangeant grande littératture et culture pop la plus prolo, mêlant allègrement le ridicule au grandiose, le sordide au romantisme. Sa volonté, visiblement, est de créer un spectacle total, qui peut vous faire rire, pleurer, trembler et taper du pied dans la même seconde. Le fait est qu'il y arrive parfaitement : éminemment spectaculaire, Phantom of the Paradise se contenterait de dérouler son festival pyrotechnique qu'il en serait déjà hyper satisfaisant, pour l'oeil, qui en prend un coup, et pour l'oreille, qui ne sait plus à quel saint se vouer. Mais c'est aussi un brillant pamphlet, complètement ancré dans son époque, contre les productions faciles et la société du spectacle. Confiné pratiquement uniquement dans le seul lieu du Paradise, sorte d'image de la société dans son entier, avec ses castes, ses éclats et ses motifs dissimulés, le film use d'un étonnant trouble entre réalité et fiction. Qui pourrait dire, dans la dernière bobine, si le public qui danse aux rythmes du fumeux Beef (excellente parodie de tous ces groupes excessifs de l'époque) n'est pas réel ? C'est encore une fois tout le talent de de Palma de savoir ainsi mélanger les genres, les discours, les styles. Il en fait ce film-monstre, parfois maladroit comme un punk, parfois brillamment intelligent, se moquant du bon goût comme de l'an 19, sorte d'opéra-rock boursouflé et baroque, con comme un panier et profond comme du Guy Debord.