A force de flirter avec le cool neurasthénique, Jarmusch finit par tomber dans le neurasthénique tout court, et c'est bien dommage, après avoir vu des bombes comme Ghost Dog, Dead Man ou The Limits of Control, de se trouver face à un film aussi mineur et oubliable que The Dead don't die. Pourtant, sur le papier, on se réjouit : Jim convoque toute sa famille, de Iggy Pop à Bill Murray, de Adam Driver à Tom Waits, de Tilda Swinton à RZA, pour s'éclater dans la re-vision d'un genre, le film de zombies. Après le film de samouraïs, celui de vampires ou celui de cow-boys, on s'apprête à se frotter les mains en voyant l'espèce de méta-langage cool jarmuschien se frotter à un genre aussi populaire, aussi pulp, surtout avec des comédiens qui ne sont pas de ce bord-là. Et le voir revenir à la comédie pure, genre qu'il a beaucoup trop teinté de paresse dans son film précédent. On déchante vite : la paresse de Paterson imprègne ce nouvel opus avec peut-être encore plus de force. Pris la main dans le sac d'un je-m'en-foutisme total au niveau de sa trame, Jarmusch se contente cette fois d'amassser les motifs de sa cool-attitude et de sa culture pop brandie en étendard, faisant défiler les stars sous sa caméra, se moquant comme de l'an 12 d'un fond, fabriquant un objet froid et sans peps destiné uniquement à prouver qu'il fait partie du club.
La naissance des zombies prend sa source dans le déréglement climatique : brutalement la Terre vrille sur son axe, et tout part à vau-l'eau. Dans cette petite ville sans caractère (et sans affects) de Centerville, les morts se réveillent et viennent hanter les lieux qu'ils ont convoités de leurs vivant, qui les bars ("Chardonnayyyyyy"), qui les magasins de bricolage ("Tooools"), qui les bornes internet ("Wi-fiiiii"), qui les magasins de fringues ("Fashioooon"). Les morts-vivants se présentent donc sous la forme de consommateurs ++, tradition du genre depuis le Zombie de Romero, mais cette fois leur soif de croissance est sans sens, sans but : ils ne reviennent que pour ânonner leurs désirs les plus immédiats, et s'ils bouffent les vivants, c'est plus par désoeuvrement ou pour leur survie que par réelle nécessité. Seules vont s'en sortir trois catégories d'humains : les enfants (très calés en sciences, très mûrs), les sauvages (Tom Waits en vieil ermite crasseux, qui regarde tout ça du fond de ses bois, et qui aura cette dernière phrase : "Quel monde de merde"), et les fous (Tilda Swinton qui quitte le film de la manière la plus inattendue qui soit, s'en extrayant avec une belle insolence). Tous les autres, ceux qui croient encore à la solidarité, ceux qui font tout reposer sur leur confort, ceux qui s'enferment dans leurs préjugés, ceux qui croient à un avenir meilleur, seront proprement éviscérés par nos zombies-consommateurs. "Il faut agir maintenant, balancer ses dernières forces, même si tout finira mal", prononce Driver avant d'aller affronter presque passivement les monstres, et le symbole est lourd : la planète va partir en couille, le monde court à sa perte et les animaux le quittent déjà, on va tous mourir. Discours un brin naïf et primaire, même si juste, que Jarmusch enrobe sous les enluminures de sa poésie droopyesque.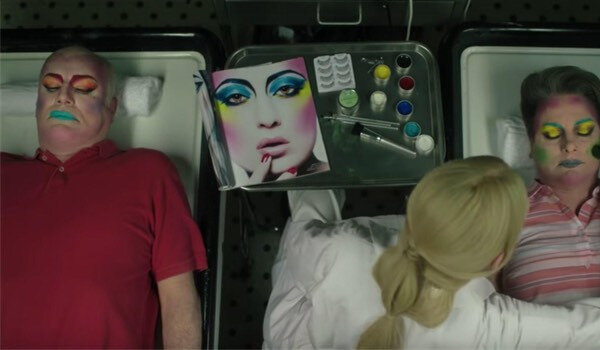 Car si à la rigueur on apprécie le discours de fond, même un peu adolescent, on a plus de mal avec le style. On connaît cette façon qu'a Jarmusch de tout ralentir, de pratiquer un humour nonchalant fait plutôt autour des gags que des gags eux-mêmes, de manier ce presque rien qui peut faire rire parfois. Cette fois, il étire ce style jusqu'à l'inanité : les acteurs, dirigés vers une arythmie totale, ont beau faire ce qu'ils peuvent pour être drôles, ils ne le sont jamais, Bill Murray en tête, qui commence à fatiguer avec son jeu unique de placidité. Chacun semble engagé pour l'image qu'il représente dans la culture pop traditionnelle, Danny Glover en Noir sympa, Tilda Swinton en folle bizarre, Steve Buscemi en prolo à casquette, Selena Gomez en bombasse... S'ils ont l'air d'apprécier l'exercice et de bien s'amuser, le scénario est beaucoup trop lâche pour qu'ils nous intéressent plus que des ombres de personnages : on ne sourit pratiquement jamais devant leurs efforts à paraître cools et décalés. C'est un des gros soucis du film : il n'est pas drôle, juste cynique. On apprécie, en fan des films de zombies, les multiples clins d'oeil au genre, ainsi qu'à tout un état du film d'épouvante depuis ses origines, de Murnau à Carpenter, de Kubrick à Romero ; mais le film ne devient plus qu'un catalogue de références assez vain, qui n'affiche ses goûts que comme des motifs vides de sens. C'est sûrement le projet de Jarmusch là-dedans : vider son film de toute vie pour fustiger notre "monde de merde" qui part vers la vacuité totale. Mais, malgré sa jolie photo, malgré sa musique toujours aussi inspirée, malgré sa mise en scène tout à fait honorable, The Dead don't die, à force de creuser le sillon du décalage à tout prix, finit par ressembler à un bel objet froid. Comme si Jarmusch, avec l'âge, avait perdu foi en la puissance du cinéma, et ne filmait plus que sa fin, avec un cynisme et un ton dandy qui lui vont mal.