Laissez-moi pour cette fois être d'accord avec la majorité et hurler derechef mon bonheur d'avoir déniché avec Us un film de genre intelligent, supérieurement mis en scène et absolument captivant. Il y avait déjà des promesses dans Get Out, mais noyées sous un peu trop de clinquant et de manières. Ici, la mise en scène se rapproche de l'os, et devient une formidable machine à produire de l'angoisse, qui plus est uniquement avec des ingrédients qui me tiennent à coeur. On est immédiatement plongé dans la singularité d'une réalisation qui se soumet aux grands maîtres, de Carpenter à Haneke, mais sait aussi trouver sa voie propre, une voie moderne et viable ; et qui sait en plus créer du divertissement pur, là où certains de ses collègues, y compris les plus célèbres, ont tendance à s'enfermer dans une trop grande cérébralité. Peele semble avoir ingurgité tout ce que le cinéma d'horreur a fait de plus beau au cours des années : il a vu Shining, il a vu In the Mouth of Madness, il a vu Psycho, il a vu Funny Games, il a vu Kaïro. Il vous ressort tout ça sous la forme d'un brillant objet d'une rare élégance, pur plaisir d'esthète quand on s'intéresse aux rouages du déclenchement de l'angoisse au cinéma (et là, je suis votre homme), en y ajoutant sa patte personnelle, suivant son axe déjà en place pour son premier film, un axe émancipation noire / questionnement de l'Amérique d'aujourd'hui / critique d'une société trumpiste qui délaisse ses minorités. Ce discours, même s'il est toujours un peu naïf, un peu binaire, est ici plus subtil que dans Get out, et amené avec beaucoup plus de pincettes.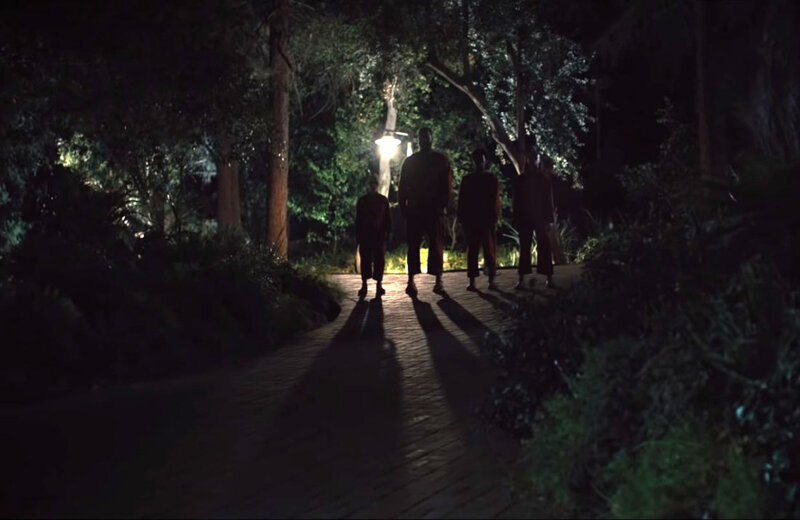 Après une scène d'intro magnifique, où une jeune fille se trouve confrontée à un de ses pires cauchemars au fond d'une cabane de forain, on se retrouve quelques années plus tard en compagnie de la famille Wilson, papa maman, fille et fiston, bien décidés à passer du bon temps dans leur cossue maison de campagne. Mais des intrus apparaissent vite à l'entrée, et vont carrément pénétrer dans leur maison : ce sont les doubles de la famille, mais des doubles légèrement tarés, un peu ratés. L'homme ne s'exprime que par hurlements, la femme a une voix de cancéreuse (un grand moment de peur pour moi : le moment où elle prononce son premier mot), la fille est dotée d'un sourire qui ne la quitte jamais, le fils est un gremlin au visage mal formé qui avance cagoulé. Ils annoncent clairement qu'ils viennent prendre la place des Wilson, et qu'ils vont devoir les massacrer, en prenant si possible tout leur temps. Un jeu du chat et de la souris s'installe alors, teinté de survivor, enchaînement de scènes toutes plus spectaculaires les unes que les autres. Peele a un énorme talent pour faire monter la tension sans s'affoler : ses plans sont longs, ses acteurs souvent immobiles, et il ne lui faut qu'une impression bizarre sur un visage, qu'un cri dans la nuit, pour qu'on ait les foies immédiatement. Le gars a tout compris des leçons de ses aînés de ce point de vue-là : aucune hystérie, mais une façon de faire entrer la terreur dans le quotidien le plus bourgeois, presque calmement, par la seule force de ses images traumatiques ; pas de monstre, peu de jump-scares, une inéluctabilité de la mort qui vous tombe dessus façon fatum. Surtout, autre leçon précieuse, Peele manie un humour absurde parfait, en contrepoint souvent par rapport aux situations, tirant le grotesque jusqu'à des endroits inattendus : un des assaillants, par exemple, est tellement mal fini qu'il boite comme un con, et la torsion de son corps lui donne un air bête parfaitement hilarant ; plus loin, c'est un couple d'aristos crétins qui se fait massacrer au son d'une hifi dernier cri qui réagit à la voix, d'où une compil un peu douteuse ; ailleurs, une des plus grandes scènes du film montre une fillette mourir lentement en riant presque tristement... Le rire s'invite toujours au milieu de la peur, Peele sait que la peur n'est jamais aussi forte que quand elle se teinte d'humour, c'est parfait.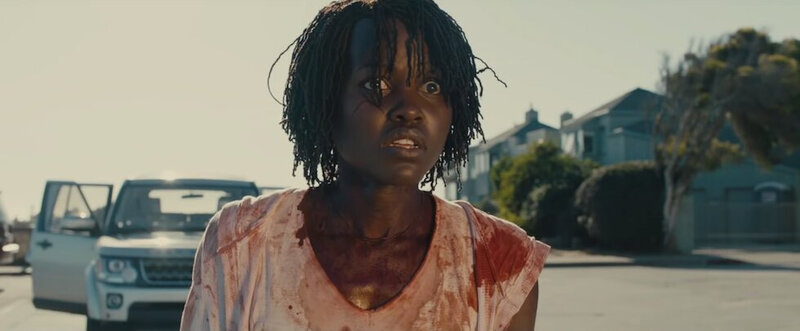 Même si le film est un peu trop long, et se perd dans sa dernière demi-heure dans le film d'action banal, on reste du début à la fin auprès de cette mère en survie (excellente Lupita Nyong'o, mais tout le reste du casting est au niveau), captivé par l'invention d'un cinéaste en parfaite maîtrise formelle. Côté fond, on a aussi à manger, puisque le film raconte ni plus ni moins la prise de pouvoir de l'Amérique du bas (symbolisée ici par un réseau de tunnels où les êtres évoluent en parallèle avec la "vraie vie"). "We are America", énonce de sa voie sépulcrale le double de l'actrice principale ; "Us", clame fièrement le titre du film : le message, même parfois à gros sabots, ne se gène pas pour s'annoncer. Il y a certes une réflexion sur le mal qui nous habite tous, sur la dualité de chaque homme ; mais il y a surtout un côté "anar révolutionnaire" dans cette insurrection incontrôlée des petites gens, dans cette violence qui éclate enfin. Les doubles forment même une chaîne humaine pour manifester leur présence, petit clin d'oeil du côté des écolos, comme si ces monstres qui nous ressemblent avaient enfin décidé de s'occuper des affaires politiques que nous délaissons. Autre fait intéressant : voilà un film interprété par des Noirs et qui ne joue pas sur une spécificité noire, sur le racisme, sur un discours portant sur les races : voilà qui est nouveau. On peut voir quand même les traces de ce racisme atavique des Blancs envers les Noirs dans les scènes subtiles et encore une fois superbement mises en scène de discussion avec l'autre couple à la plage, où la condescendance de la grande bourgeoise blanche envers l'héroïne en dit long sur l'état de l'Amérique d'aujourd'hui. Peele reste toujours dans le divertissement, son grand truc est d'en donner pour son argent au spectateur ; mais il n'en est pas moins intelligent pour traiter ces questions sociales, et son film devient bien symbolique et bien parlant derrière la brillance de son dispositif. En tout cas, ce qui reste le plus en tête, ce sont ces quelques images immédiatement traumatiques, qui restent en tête comme peu de plans ont su le faire dans l'histoire du film d'horreur : le regard soudain horrible de la petite fille-double, la fillette qui rit en mourant, le garçon qui se déplace à toute vitesse comme un animal, le cri animal d'un homme en direction du bord d'un lac... Rien que pour ça, j'applaudis à deux mains Us, miracle de mise en scène, de direction d'acteurs et d'intelligence.