Il est fort ce petit Cuarón, aucun doute là-dessus... Il nous emmène à son rythme sur les traces de son enfance mexicaine en tissant un portrait sans esbroufe ni pathétisme de cette "domestique", Cleo, toujours totalement dévouée à sa famille. Si le cinéaste excelle, esthétiquement, à donner à certaines séquences un indéniable cachet (les légers pannotements au début du film qui nous montrent cette Cleo toujours en action, ce travelling fabuleux dans la mer lors de cette scène cruciale où Cleo se sacrifie, l'utilisation de la profondeur de champ lors de cet épisode qui prend aux tripes lors de l'accouchement de Cleo...), cela ne se fait jamais au sacrifice de son récit. A travers le personnage de Cleo, on suit bien sûr en parallèle, sur un an, tous les petits événements familiaux de cette smala au début des seventies (les absences du père, les chamailleries entre ces quatre enfants, les petites crises de cette mère courage qui reste seule sur le navire – et qui peine résolument parfois à conduire cette immense bagnole aux allures de vaisseau de l'espace). Mais c'est bien elle le personnage principal, personnage relativement mutique (voire sur la fin presque muette), celle dont on suit toutes les diverses micro ou macro mésaventures, ses amours, ses problèmes et finalement son héroïsme.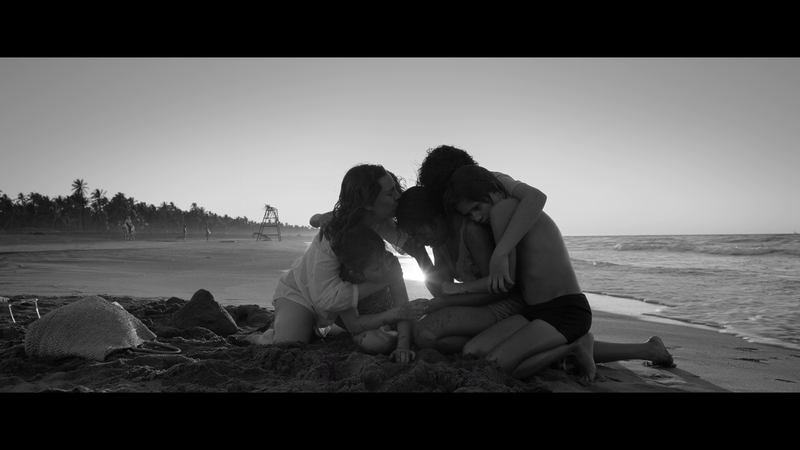 On n'attendait pas forcément Cuarón dans ce registre et il faut bien reconnaître que le bougre excelle dans ce domaine en nous livrant une œuvre qu'on devine hautement autobiographique (le gamin, suite à la vision au cinoche des Naufragés de l'Espace qui se ballade ensuite avec un casque de cosmonaute sur la tête : les prémices de Gravity ? – on attend d'ailleurs que l'Alfonso nous fasse un jour un remake de La grande Vadrouille, film qui semble l'avoir marqué en son temps…). Avec un sens de la reconstitution discret mais qui fait son petit effet, avec cette image en noir et blanc parfaitement maîtrisée, on se retrouve très rapidement plongé dans cette petite chronique qui ne va jamais paraître prétentieuse, ni démonstrative. Il y a certes quelques événements qui font leur effet (la manif qui tourne au drame, l'incendie...) mais c'est finalement toujours par l'intermédiaire du personnage de Cleo que l'on ressent diverses émotions. C'est par son regard, même si son personnage sait se faire particulièrement discret, voire transparent (la mère qui ne la voit pas au départ de la scène où elle se fait draguer par une connaissance), que l'on touche du doigt tout ce qui se passe dans cette maisonnée et c'est par elle qu'on sera toujours le plus touché. Cuarón prend son temps pour nous montrer la petite vie de ce personnage simple, tout en sachant par avance, qu'il va bien finir par nous cueillir. Il suffit de deux trois séquences développées dans toute leur longueur pour que l'on pénètre dans l'esprit de cette Cleo et que l'on mesure tous les bouleversements qui se jouent en elle - dans les instants les plus dramatiques comme dans les moments les plus apaisés. Roma, au final, par petites touches, avec une belle sobriété (même si la mise en scène est particulièrement chiadée), livre un portrait particulièrement saisissant d'une jeune femme effacée, une jeune femme qui, par le biais de ce film, prend tout son relief. Très belle balade mexicaine. (Shang - 16/12/18)
---
Pareillement charmé et étonné par ce film qui débarque d'où on ne l'attendait pas, de la part de Cuarón, the auteur of Gravity quand même. Le compère quitte donc les hautes sphères pour revenir sur terre, dans son Mexique natal, à la recherche de ses souvenirs d'enfance de toute évidence. Ce changement de registre ne signifie pas un changement de ton : dès les premières images, magnifiques, on reconnaît le styliste, le metteur en scène, certes un peu prétentieux (il tient à ce qu'on sache qu'il est bon, qu'il est présent, que c'est lui qui a les rênes, et aucun plan n'est neutre ou anonyme dans ce film), mais doté d'un sens du plan impeccable. Rien que le premier plan, avec ces vagues d'eau qui déferlent sur le carrelage et le reflet de l'avion, suffit à nous convaincre de la chose : tout, dans ce film, va être millimétré et esthétisé au maximum. Et symbolisé, d'ailleurs, cette image de l'avion revenant sans cesse dans le film comme la représentation d'une évasion possible, ou d'un souvenir fugitif. Cuarón retient son scénario de toutes ses forces, ne se laissant jamais aller à "l'événement", préférant filmer les grands moments de quotidien plutôt que les scènes climax. On ne cesse, pendant toute la projection, d'attendre le coup de théâtre, l'événement spectaculaire ; il n'arrivera jamais, et même quand on est au bord du drame, on nous en sort à chaque fois. Non, il ne s'agira pas d'un remake du Septième Continent de Haneke, cette famille ne va pas à sa perte ; non, ce n'est pas une adaptation de Chanson douce de Slimani, même si cette bonne mexicaine aurait bien des raisons parfois de péter les plombs devant la supériorité affichée de ses maîtres ; non on n'aura pas droit au drame qui éclate au bout de 2h11 d'un film qui dure 2h15, même si la porte est ouverte à toutes les interprétations, tant Cuarón excelle à user d'ellipses mystérieuses, de possibilités de fiction non résolues.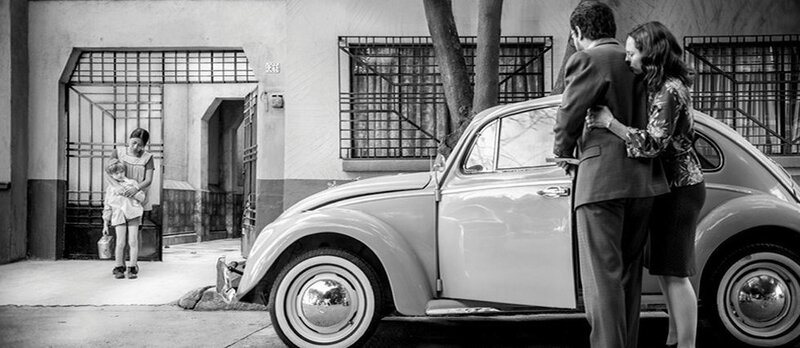 En bref, le film est étrange, prêtant le flanc à tous les fantasmes de fiction, à toutes les lectures. Il est entièrement centré autour de ce personnage mutique de bonne à tout faire, et on sent bien entendu le poids des classes sociales et du mépris sur les épaules de cette Cleo. On sent que le tout pourrait très vite tourner au drame, certaines séquences venant nous confirmer la chose : un garçon fan d'arts martiaux qui se fait soudain très menaçant, un incendie, un règlement de compte dans un magasin, la fameuse scène de quasi-noyade ; voire même quelques coups de colère des patrons de Cleo : les merdes de chien qui jonchent le couloir de la maison sont tout autant vectrices de tension que la situation du pays. Mais tout reste lisse et calme, et le film, d'une mise en scène assez géniale, cultive cette impression de luxe, calme et volupté. La photo est sublime, les cadres sont des tableaux, et les mouvements de caméra, souples, harmonieux, accompagne cette fausse beauté des choses que Cuarón filme comme un danger. La figure de style principale est le panoramique, on ne compte plus les scènes qui l'utilisent, mais le gars sait de temps en temps rompre avec la trop grande rigueur de cette règle en balançant quelques travellings de toute beauté (en plus de celui évoqué par mon collègue, il y en a deux qui sont des merveilles, sur la ville). Le plan large, autre constante rarement brisée, contribue aussi à la mise à distance de tout ça, et à la grande beauté des cadres, remplis de détails, de figurants. En gros, disons-le, le film est magnifique, et on en vient à regretter que ce soit Netflix qui ait produit la chose, la condamnant au petit écran ; on rêve de voir Roma au cinéma. En tout cas, voilà un film bizarre, exigeant et superbe. (Gols - 29/12/18)