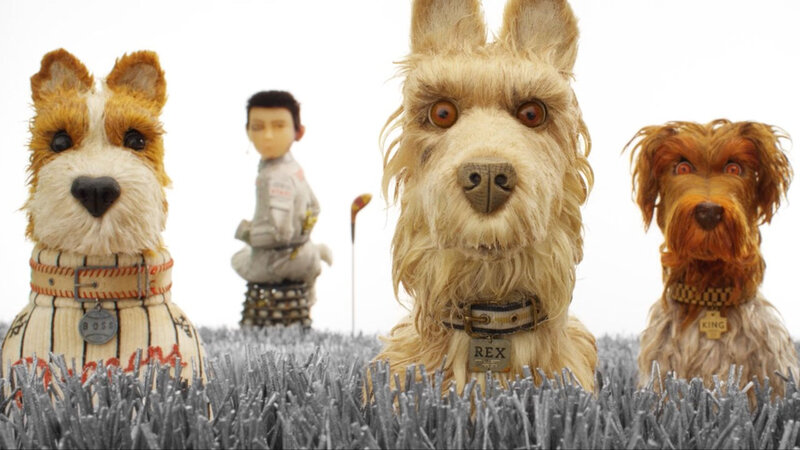 Je sais bien : on se jure de ne plus jamais de sa vie se taper un film de Wes Anderson, tant ce cinéma de petit malin omniscient nous semble à l'opposé de ce qu'est le cinéma... et puis, la pression des fans, le beau temps, l'alignement des astres, allez, on veut bien lui redonner une chance. D'autant qu'on sait que si Anderson est détestable dans ses films classiques, il l'est moins dans ses films d'animation. Après le sympathique Mr. Fox, voici donc les toutous, tout aussi malmenés que leur cousin renard puisque les voici déportés sur une île toute pourrie après qu'ils aient été soupçonnés de propager une grippe mortelle au Japon. Le maire, une sorte de despote entre le seigneur médiéval et le dictateur moderne, entreprend par là un programme de destruction massive de la gente canine. Mais son neveu Atari débarque sur l'île pour retrouver son complice le chien Spots. Il va se retrouver épaulé par une bande de chiens pleins de puces, et notamment par le plus hargneux d'entre eux, Chief, qui peu à peu va organiser une révolte pour retrouver son statut de compagnon idéal de l'homme. Bon, inutile de remarquer qu'il y a là une deuxième grille de lecture possible, et ça serait une fable sur les migrants et sur les damnés de la terre qu'on veut absolument éloigner de notre société hygiéniste et unicolore que ça m'étonnerait qu'à moitié.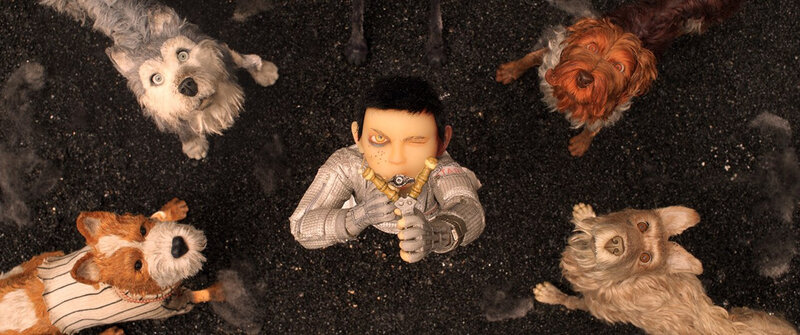 Anderson situe ça dans un univers étrange, à cheval sur une imagerie à la Kurosawa, pleine de châteaux féodaux et d'estampes, et un monde futuriste effrayant, hyper scientifique, où l'humain n'apparaît plus que dans des télés ou des discours officiels. Il en résulte une esthétique d'ensemble vraiment originale, très belle, et le souci des détails du cinéaste fait merveille : tout est parfait, depuis le tout petit détail de tableau jusqu'aux caractères des personnages. Le gars déploie de vastes décors fabriqués dans des techniques artisanales diverses (qui vont du théâtre d'ombre au papier découpé, au bunraku, aux marionnettes, au stop-motion, et qui font penser au cinéma d'animation muet), rivalise d'invention dans l'utilisation des profondeurs de champ et des cadres, et trousse un dessin animé qui, visuellement aussi bien que dans son fond, est très agréable à suivre. Les voix des acteurs (je l'ai vu en français) sont absolument parfaites, depuis Lindon qui use de sa voix la plus grave pour exprimer la dualité de Chief jusqu'à Amalric, très drôle dans son interprétation du "chien à rumeurs" ; et il y a même, aberration sublime, Jean-Pierre Léaud et son dentier trop grand, impérial et n'importe-quoiesque dans son anti-jeu en vieux sage canin. L'histoire n'est pas inouïe de génie, mais est suffisamment intéressante pour occuper les 90 minutes, malgré des passages obligés (la conversion de Chief, son histoire d'amour avec une chienne de concours) dont on se serait bien passé. Mais, je l'avoue sans peine, j'ai bien aimé Isle of Dogs, ce qui est un exploit pour un film de Anderson...
... sauf que, vous pensez bien qu'il ne va pas s'en tirer comme ça : je n'ai pas bien aimé Isle of Dogs, et tant pis si je me contredis. Anderson, comme à son habitude, use et abuse d'une mise en scène d'autiste. Chaque plan semble obéir à des lois mathématiques rigoureuses, parallélisme droite-gauche, point de fuite au centre, équilibre absolument parfait des cadres. On a l'impression qu'on pourrait plier l'écran en quatre partie, chacune se calerait sur l'autre. Pourquoi ce rigorisme janséniste dans la composition ? Loin de marquer des points, ces choix enferment le film dans une froideur, une rigidité qui lui portent préjudice à chaque image. Anderson veut tout contrôler de ses plans, mais il ne parvient qu'à livrer des images où pas un poil ne dépasse, où tout est trop rigoureusement dessiné, où il n'y a aucune liberté. On dirait que le Dustin Hoffman de Rain man est aux commandes, et que si jamais un peu de vie passait dans ses plans, il partirait en convulsions. C'est spectaculaire, je veux bien, cette caméra placée à angle exactement droit avec les décors, cet équilibre de focales, ces séquences parfaitement millimétrées, mais ça s'apparente plus à un travail de graphiste qu'à du cinéma. Le film devient de fait vite étouffant, et, vous l'aurez compris, on ressort du film entre satisfaction et énervement. Quoi qu'il en soit, allez, on est peut-être là face au meilleur Anderson.