Une série adaptée d'un roman de Dan Simmons, produite par Ridley Scott et qui a sur le papier des airs de The Thing de Carpenter, on s'attend à du lourd au niveau tension et action. Eh bien il faudra se mordre les doigts : voilà un long et lent film qui met son point d'honneur à déstabiliser systématiquement le spectateur bourrin de base, et qui préfère soigner jusqu'à la maniaquerie ses ambiances et ses personnages. On aura droit, c'est sûr, à nos jets de sang et à nos pics de tension, mais ils seront distillés au compte-goutte, et il nous faudra apprendre à plonger dans ces ambiances délétères à petits pas plutôt que de compter les charclages.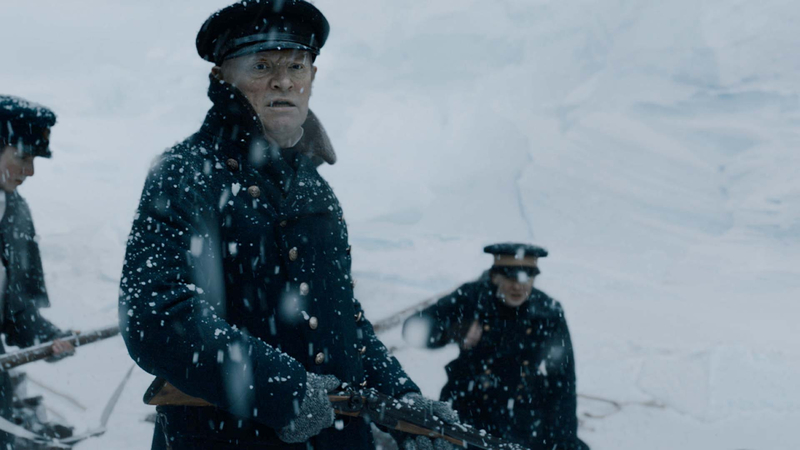 L'atmosphère glacée et morbide de la série aide bien à cette attente dénervée, à cette tension presque sous vide : nous sommes dans le Grand Nord au XIXème siècle, au milieu des glaces, un désert blanc envahi par une nuit de 6 mois. Au milieu de ce rien, deux bateaux tentent de traverser pour atteindre un passage. Mais dès le premier épisode, c'est l'échec : les bateaux sont pris dans les glaces, et il va falloir patienter sûrement des années pour s'en dépêtrer. Cette angoisse est décuplée quand on assassine par erreur un brave Eskimo (sa ressemblance avec un ours blanc, faut dire...), mort qui va déclencher l'ire d'un esprit monstrueux. Dès lors, cette bête va massacrer un par un les marins survivants, réveiller leur monstruosité enfouie, mettre à jour la bestialité qui les habite. Dans un tel contexte, les pieds gelés et le garde-manger descendant tragiquement (d'autant que les conserves sont daubées), le capitaine Crozier parviendra-t-il à maintenir l'ordre au sein de son équipage ? Rien n'est moins sûr, et la trame va s'enfoncer lentement dans des ambiances monstrueuses particulièrement glauques.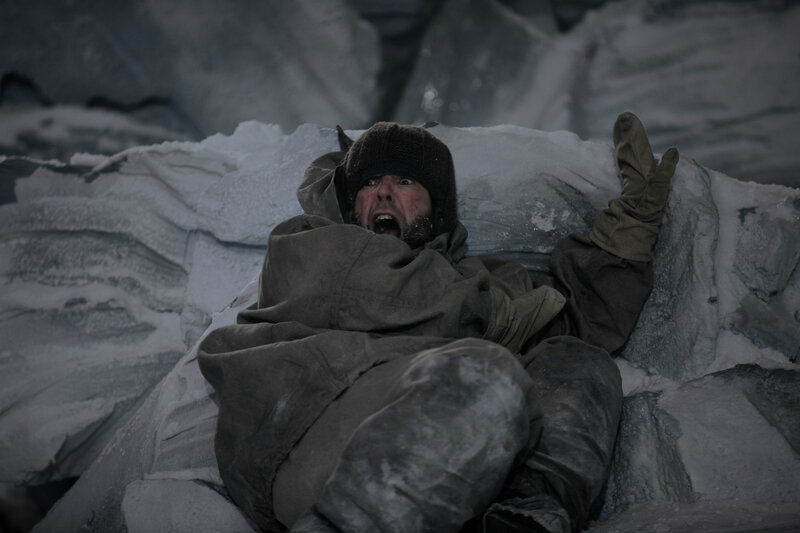 C'est la grande qualité de la série : son rythme, et sa façon de nous immerger complètement dans cette équipe de survivants de l'extrême. Qu'ils soient déchirés par la bête ou qu'ils meurent de froid, qu'ils soient condamnés à traîner une chaloupe sur la glace ou qu'ils soient amputés sans anesthésie, les bougres gardent toujours le cap, serrant les dents et acceptant leur sort avec un courage extraordinaire. Leur longue attente est filmée dans de superbes décors (ça sent l'écran vert souvent, manque de moyens, mais c'est quand même très réussi), qui privilégient la subtilité des lumières et des détails de personnages. Les acteurs, tous impeccables (Jared Harris en tête) font également beaucoup pour la qualité de la chose. C'est vrai que c'est parfois un peu trop lent, que les réalisateurs s'amusent parfois un peu trop avec nos nerfs. Mais il y a dans cette façon de détourner systématiquement les cliffhangers un tendance qui rompt avec les séries habituelles : tous les pics de violence, toutes les attentes du public sont effacés, dans un montage très calme qui évite tout sensationnalisme. Du coup, les personnages peuvent laisser éclore cette monstruosité qui les habite en prenant tout leur temps, sans être emmerdés par des ressorts de trame artificiels destinés à relancer l'attention. The Terror s'apparente plus à un long film qu'à une série, d'ailleurs, le découpage en épisodes se faisant au petit bonheur. Pour ménager quelques respirations dans cette histoire assez étouffante, le film fait des allers-retours un peu moins inspirés en flash-back dans la société mondaine du XIXème siècle, ce qui a au moins le mérite de nous faire retrouver une Greta Scacchi qui a un peu pris depuis les Taviani. Mais l'essentiel est dans la tragédie subie par le capitaine Crozier, le docteur Goodsir et l'enfoiré Blanky, dans les splendides lumières blafardes et dans les petits rouages du scénario de plus en plus horrible de Simmons. Envoûtant.