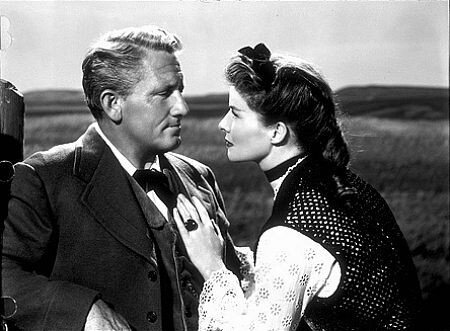 On reconnaît notre gars Kazan à mille lieues, même quand il déguise ses individus pensants en cow-boys et fait mine de s'intéresser à la prairie et aux canassons. The Sea of Grass n'est pas son meilleur film, non, mais il y a comme toujours une pâte psychologique dans le moindre de ses petits évènements, et une manière de densifier les situations, de leur donner une aura, qui n'appartient qu'à lui. Le film est très riche, et pourrait être étudié en fac de psycho. C'est vrai que Kazan oublie du coup d'en faire un spectacle, mais on passe quand même un moment très agréable devant ce faux western, moderne et sérieux.
La première moitié du film repose sur un principe déjà intéressant : c'est l'éternel combat entre les tenants d'une Amérique préservée, ressemblant à un Eden perdu, toujours à l'état de nature, non gagnée par la civilisation, et ceux de la modernité et de l'humanisme, plus concernés par tous ces migrants qui viennent chercher une terre à cultiver et des barrières à dresser. D'un côté donc, Spencer Tracy, vieux briscard intransigeant, dont l'immense propriété se situe plus ou moins légalement sur la prairie immaculée ; de l'autre, le reste de l'humanité, qui tente par tous les moyens de mettre un pied sur le sacro-saint terrain pour le peupler. Tracy a rencontré Katharine Hepburn, perplexe devant sa conception butée de la chose. Liaison tendue et chaotique, qui va se conclure par un adultère furtif : le beau et civilisé Melvyn Douglas rôde dans les coins, et sait séduire Katharine. Il y a dans cette première partie un très beau jeu de regard entre le monde sauvage protégé par Tracy et celui plus "XXème siècle" que les autres lui opposent. Certes, le vieux gars refuse le progrès, mais quand on voit ces très beaux paysages (la mer d'herbes du titre porte très bien son nom) et les dangers apportés par la civilisation, on ne peut que donner raison à son intransigeance ; d'un autre côté, la douceur d'Hepburn, et la mesure de Douglas, semblent tout à fait justes, et on ne donne pas cher de la vison légèrement réac de Tracy. Il semble être englué dans une vision de l'Amérique antique, obtus et fermé à tout progrès, et son statut prend déjà l'eau de partout.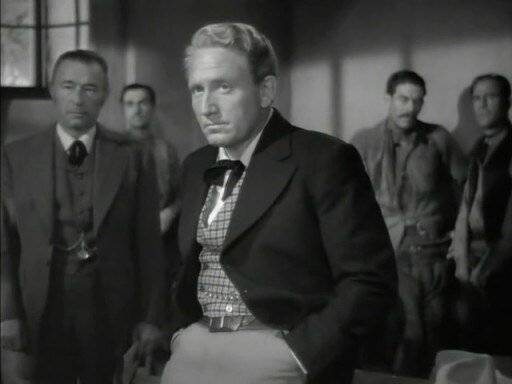 Ensuite on retombe dans une thématique beaucoup plus kazanienne. Un fils illégitime est né de cette tromperie passagère, et le gars (Robert Walker, excellent) est quelque peu tourmenté par cette paternité fluctuante. Éperdument admiratif de son père putatif, haineux envers son père légitime, il est l'archétype de cette valse hésitation identitaire qui donnera East of Eden par exemple. Le film s'enferme un peu dans un ennui poli : le mélodrame devient un peu too much, et Hepburn (un poil figée) et Tracy (son air que j'ai toujours trouvé un peu idiot, pas très fan de cet acteur) ne semblent pas être les "actor's studio" de la situation ; mais Kazan sait pourtant relancer l'attention en laissant un peu parler les flingues, en cadrant toujours aussi bien les paysages et les personnages dans icelui, et en rendant la moindre ligne de dialogue puissante et signifiante. La thèse de psychologie psy à base de complexe d'Oedipe passe comme une lettre à la poste, et malgré le côté un peu bavard du film, on passe un sympathique moment, encore une fois, aux côtés de ce bon vieux prof qu'est Elia Kazan.
Go west, here