Palme oblige, nous voilà en mission de rattrapage pour découvrir l'œuvre passée du gars Östlund. Je ne saurais dire pour l'heure si The Square est démesurément farcesque, le fait est que ce Play est, indéniablement, intelligemment calibré. Le postulat de départ est simple : trois gamins d'une dizaine d'années se retrouvent pris dans les filets d'une petite bande de blacks qui va les mener, le temps d'une journée, par le bout du nez. Pour leur extorquer leurs affaires ? Possible mais l'essentiel n'est pas forcément là. Ce qui semble surtout plaire à cette bande de "gosses de la rue", c'est le fait de pouvoir emmener dans leur délire et leurs histoires ces trois pauvres bambins a priori "de bonne famille". Dès que l'un d'eux tend son portable à l'un des chtits blacks de la bande, il met le doigt dans un engrenage de discutaille, de tchatche, et pénètre dans une sorte de sphère d'influence plus ou moins forcée dont il aura, avec ses deux camarades, toutes les peines du monde à sortir. Une petite plongée en enfer en milieu urbain pour des gamins aux mains d'intelligentes cailleras manipulatrices - qui ont tout leur temps à perdre pour gagner des peccadilles.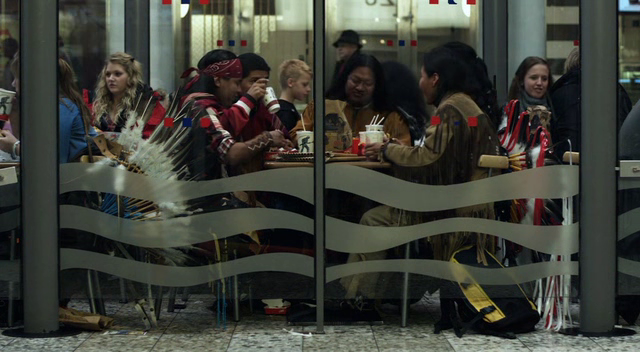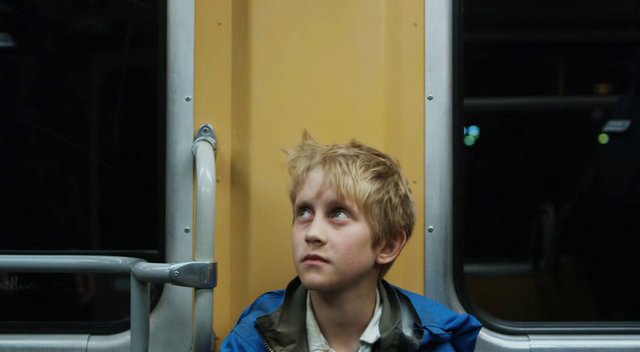 Östlund met en place une mise en scène un peu sèche qui n'est parfois point sans rappeler le gars Haneke : notre homme choisit son cadre (dans un bus, un train, un terrain vague...) et laisse la caméra tourner à sa guise. Parfois les personnages sortent du champ mais on reste malgré tout scotché devant ce cadre où l'on devine aisément ce qui se déroule hors-champ. C'est certes un peu sclérosé comme process mais cela laisse le temps à ces poignées de séquences d'installer les personnages et les situations. Östlund ose parfois quelques ouvertures dans sa trame en offrant des bribes d'histoires parallèles (un groupe de musiciens sud-américains qui malgré leurs plumes folkloriques s'intègre parfaitement dans le paysage urbain local - rien de tel qu'un ptit fast food après avoir pété les couilles des passants avec une flûte de pan ; l'histoire drolatique d'un berceau qui perturbe un voyage en train) mais on reste la plupart du temps avec nos trois pauvres gars pris dans les mailles de ce gang bavard et tout terrain. Les scènes sont filmées dans leur longueur et si le cinéaste n'en évite pas certaines, il parvient ainsi à nous faire ressentir tout le calvaire de ces trois pauvres gosses. Alors même qu'ils pensent s'être enfin extraits de cette bande à part (après avoir vécu des scènes de grande solitude - entre celui qui se chie littéralement dessus et celui qui grimpe en pure perte à un arbre : on compatit...), c'est pour mieux subir la loi de la jungle urbaine des contrôleurs de tram locaux - scène terrible où l'on sent à quel point ce n'est définitivement pas leur journée... Östlund, sans chercher malicieusement à prendre parti, livre une fin qui prête indéniablement à débat : entre des adultes qui se la jouent fermes pour intervenir auprès d'un voleur de portable et bonnes âmes qui cherchent des excuses à cette population migrante et dans le besoin, il laisse la place à un bon vieux débat droite-gauche - si ces deux partis existaient encore. Malin, le gars. Une œuvre qui en tout cas laisse baba devant la direction d'acteurs de ces jeunes qui prennent un évident plaisir à jouer leur petit rôle de finauds embrouilleurs dans ce Play (enfin surtout les gars du gang eheh...). (Shang - 13/06/17)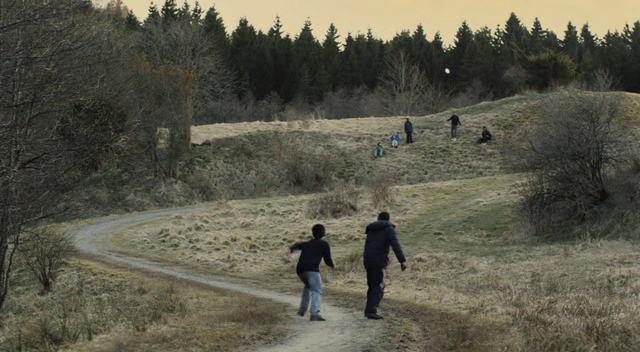 ---
Tout est dit par le camarade Shang : voilà du cinéma rigoureux, implacable et formellement admirable. Mon compère parle d'un léger relent hanekien dans le procédé ; c'est un doux euphémisme, et c'est un peu la limite du film. Pris en flagrant délit de copie du maître autrichien, Östlund a encore un peu de mal à trouver ses propres marques. Tout est sous influence : cadres larges, caméra immobile, gestion du temps des plans, opacité voulue de la trame, moralisme assumé, désintérêt pour les personnages en tant que tels... Play est une forme, encore trop admirative de son modèle, et il faudra sûrement attendre The Square pour que le gars se désolidarise (un tout petit peu) de lui, et trouve son vrai ton. Mis à part cette critique, qui n'en est pas vraiment une tant le film ressemble à un film de Haneke, et est donc intéressant, on est ébahi par cette rigueur. Je me questionne cela dit grandement sur les parenthèses régulières autour de ce berceau qui embarasse l'équipe d'un train. Pas compris pour ma part le rapport avec le reste de la trame. Si on voit bien la place de cette équipe de faux Indiens dans le film (un discours sur cette immigration pauvre qui vit en bordure de la société), on voit mal celle de cette petite situation, même si on reconnaît le berceau en question dans les bras d'un des personnages sur la fin du film. Je suis preneur de lectures...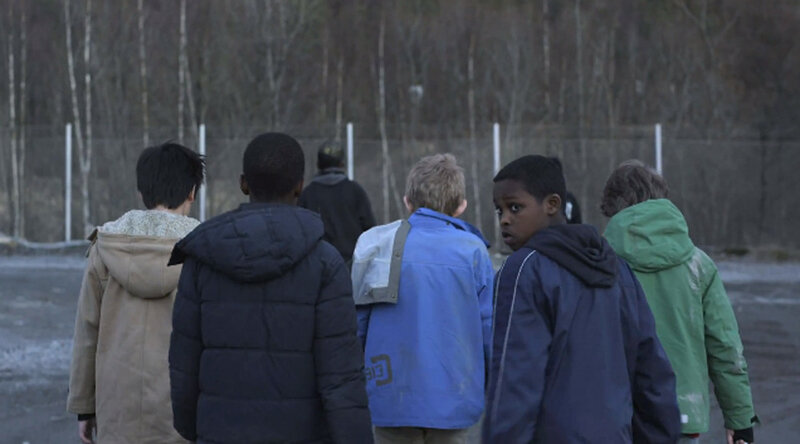 A part ça, Östlund, outre la forme spectaculaire, n'hésite pas à mettre les deux pieds dans le plat du politiquement correct avec cette petite histoire de bourgeois qui se font détrousser par des immigrés. On y verra au choix un discours sur la lutte des classes ou une critique de la politique territoriale (le film passant lentement des grands magasins du centre-ville aux bois des faubourgs), mais en tout cas on grince souvent des dents devant la frontalité de ce qui nous est montré. Quelques très beaux passages, moins dans la démonstration implacable, viennent ajouter un peu d'émotion à la froideur ambiante : les deux mômes qui se retrouvent seuls, loin de leurs bandes, après que des aînés les aient tabassés ; ou la fameuse séquence désolante relatée par Shang sur ces mômes qui se font détrousser une dernière fois, cette fois par les contrôleurs du tram. Ces petites pointes d'émotion témoignent d'un cinéaste pas si glacial que ça, qui sait adjoindre un peu d'humanité à la théorie (principal reproche qu'on peut faire à son cinéma : c'est froid, cérébral, et du coup légèrement supérieur). En tout cas, voilà un film spectaculaire et prenant, tendu et intelligent, frontal et gênant, comme on aimerait en voir plus souvent. (Gols - 23/03/18)