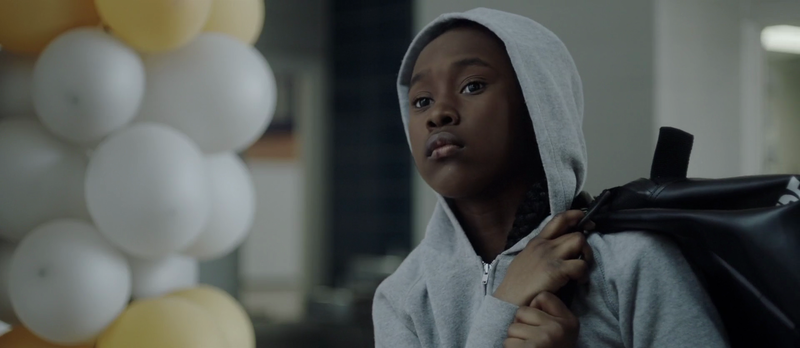 De l'énergie, du peps, de la luminosité, du mouvement, de la jeunesse, de la modernité (le drill est plus récent que la valse), bref tout ce qui fait défaut à certains films hollywoodiens récents engoncés dans des codes qui commencent à dater. On suit avec émerveillement ce récit qui repose sur un scénar léger comme une plume, totalement halluciné par la prestation de l'hallucinante Royalty Hightower (certains sont high, d'autres lourds comme un stone, la joie de l'onomastique). Royalty, une dizaine d'année et un corps de moineau, prend donc des cours de boxe avec son frère ; elle se donne à fond dans ce sport relativement solitaire avant de se laisser entraîner par une ribambelle de donzelles dans des curieuses séances de danse "extatique" (le drill, donc)... La chtite est un peu gauche au départ mais se donne les moyens pour se mettre à niveau ; la journée de la compète approche à grands pas mais un curieux "mal" semble s'emparer des danseuses qui rentrent toutes tour à tour dans une sorte de transe épiliptique. Etrange.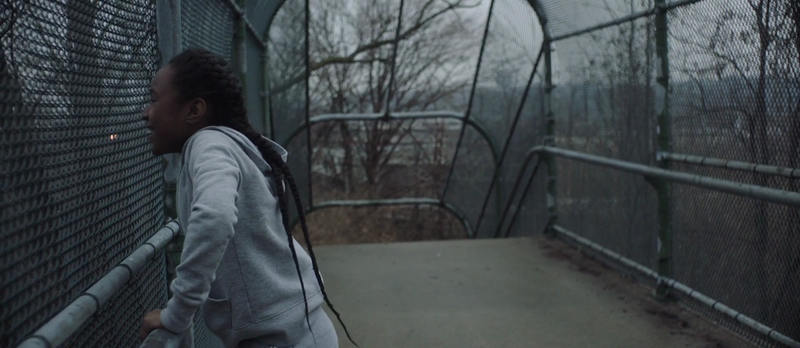 On l'a dit, voilà un film au budget limité qui donne une bien belle petite baffe d'énergie à tout ce l'on a vu récemment. The Fits, pour tenter de trouver un équivalent, serait un peu une sorte de Naissance des Pieuvres dans le milieu de la danse black américaine contemporaine (il est d'ailleurs rigolo de voir qu'au début du film, la chtite Tony se voit surnommée "Tomboy") : pendant un peu plus d'une heure, il est essentiellement question de mouvements, de corps qui bougent, suent, se trémoussent, le film restant sur un rythme soutenu du début à la fin. Dans les séances de boxe ou les premières répétitions de danse, on sent que Royalty a du punch mais le film prend une toute autre ampleur lors d'un plan séquence fabuleux où la jeune héroïne mêle, sur un pont en fer, ces deux pratiques. La tension et la beauté qui se dégagent de la scène envoient paître à deux milliards d'années n'importe quel numéro de claquettes vu ces derniers temps. Holmer capte sur le vif une dynamique, une envie, une fougue qui font plaisir à voir - Holmer vient du documentaire et force est de reconnaître, soit dit en passant, qu'elle a l'art de faire oublier sa caméra. On est véritablement saisi par une telle énergie.
Le film ensuite semble bifurquer un brin en évoquant cette étrange "maladie" qui semble se transmettre de danseuse en danseuse... On est point dupe et on a forcément tendance à y voir au départ (ce sont d'ailleurs les danseuses ados les plus agées (disons les teens) qui sont touchées en premier) une allusion évidente à cette sexualité qui bourgeonne... Mais je serais immédiatement tenté de dire pas que, voire pas forcément, car ce que Holmer parvient surtout à capter à travers ces crises, ces "fits", c'est purement et simplement la transformation, l'évolution d'un corps en constante mutation, comme si toute l'énergie qu'il contenait avait tendance à faire exploser son enveloppe... Et puis, notons-le, il y a aussi cette curieuse tendance qui pousse les plus jeunes à vouloir espérer ces crises, comme si finalement elles étaient déjà toutes en attente de cette transformation, de ce bourgeonnement qu'elles ressentent au plus profond d'elles-mêmes - aucun garçon n'est touché de son côté... L'une des dernières séquences montre littéralement Royalty en état de grâce et l'on sent une nouvelle fois toute la force d'évocation des images de Holmer qui n'a jamais eu la tentation de se reposer sur de longs dialogues (son héroïne observe plus qu'elle ne parle) ou des symboles trop lourds. The Fits apparaît au final comme une oeuvre gonflée à l'hélium (sans jamais sacrifier les aspects signifiants) qui possède des instants de vraies fulgurances cinématographiques (montage serré, cadre capable de capter les personnages dans des postures souvent surprenantes, musique originale et planante...). Rah, ça rince, comme un verre de pamplemousse glacé - chacun ses références.