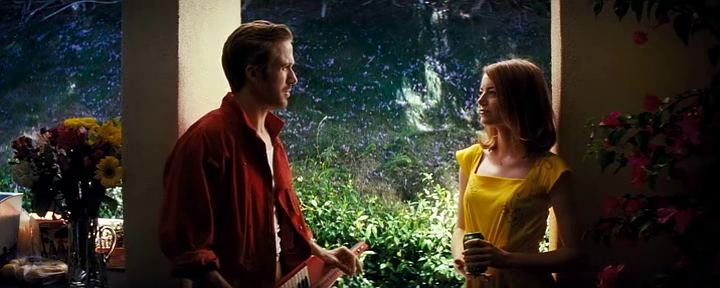 Ah La La Land, on l'attendait ce retour de la comédie musicale hollywoodienne, clame-t-il alors même qu'il n'est pas spécialement fan du genre... Ah on l'attendait... Et on l'attend encore, remarquez. Oui, bon, moult sont ceux qui ont aimé ce film léger comme une bulle de savon, indigent comme un avis de Gilles Verdez. C'est assez étrange même s'il faut reconnaître que ces derniers temps les films américains qui donnent envie, ne serait-ce que sur le papier, sont devenus peau de chagrin... Certes, voilà un film gai, bien emballé à défaut d'être emballant qui multiplie d'entrée de jeu les scènes chantées avec caméra virevoltante (après, bizarrement, ça se calme, même les chansons se font plus rares, jusqu'à ce sommet kitchissime sur une musique larmoyo-pianesque qui accompagne notre couple dans une petite danse très sage sur fond de voie lactée - là j'ai fait la moue) et qui se veut romantique à mort (Ryan "beau" Gosling et Emma Stone qui roulent ensemble, you see ! Mais (attention spoiler, je vous aurais prévenus) n'amassent pas vraiment mousse...). Même si l'on sent chez le gars Chazelle une certaine énergie dans la mise en scène et une certaine bonne volonté dans le glamour, avouons que le scénar reste ras-des-pâquerettes : putain, les gars, je tiens un pitch d'enfer - imaginez une serveuse à L.A. qui foire toutes ses auditions et un pianiste de jazz obligé de jouer du AHA pour gagner sa vie : ils se croisent, y'a du béguin, et chacun veut aider l'autre à réaliser son rêve, tu vois : lui, monter une boîte de jazz murakamienne (je balance comme eux des noms pour faire genre) et elle, devenir la nouvelle Florence Foresti en pas drôle - disons Florence Foresti, tiens. Ils s'aiment, elle est trop dèg parce qu'il s'accroche pas à ses rêves, se quittent et puis ah merde c'est fini... Eh oui, pas de happy end, mes bons, c'est le petit côté plaisant de la chose : ils sont jeunes, sont beaux (je n'ai personnellement aucun feeling envers Emma Stone avec ses grands yeux agrandis genre Manga et ses faux airs de saumon - je trouve en plus qu'elle joue comme une tanche mais cela est peut-être simplement affaire de goût...), veulent se donner toutes les chances pour y arriver, mais voilà, un petit coup de mou dans le couple (hein pas facile la vie à deux, même au cinoche !), un petit coup de doute et tout tombe à terre. On danse beaucoup moins, bande de macarons, et ça fait moins les fiers pour pousser la chansonnette !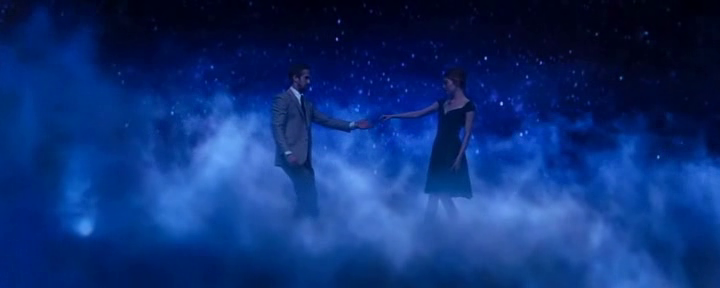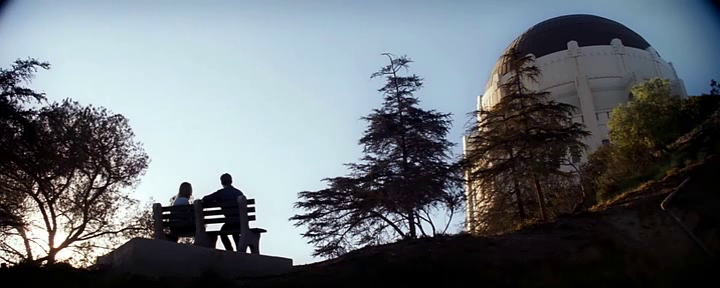 Bon, le problème, c'est que même en sabrant ce résumé en deux temps - trois mouvements, j'ai un peu l'impression d'avoir dit l'essentiel... Des séquences charmantes ?... Mouarf, même quand nos deux héros pas encore amants enfilent sur les hauteurs de L.A. des claquettes pour se livrer à une petite saynète croquignolette, le tout manque d'alchimie et de charme. On aurait aimé vibrer, se mettre à danser en caleçon ou chanter à tue-tête ces morceaux d'easy-singing, mais on ne se lâche jamais vraiment... C'est peut-être, répétai-je, uniquement sur la toute fin, quand Emma se refait le film qu'aurait pu être leur vie ensemble - s'ils ont indéniablement réussi professionnellement, ils ont foiré cette évidence sentimentale -, quand elle prend ce petit air de chien battu en quittant son Seb à jamais, que l'on vibre trois secondes... Je crois, malgré l'effort louable du gars Damien (dont l'énergie ne suffit pas à faire prendre la mayonnaise) que l'on est destiné à se retaper les bons vieux classiques si on veut encore s'accrocher au genre. Bla Bla Blank... (Shang - 25/01/17)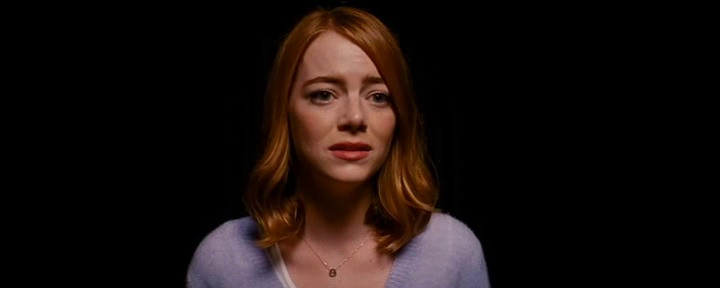 ---
Je crois que mon camarade, comme il le reconnait lui-même, ne comprend rien aux comédies musicales. La La Land est une merveille, un film qui vous replonge dès la première minute dans un monde parallèle, un moment de régression qui, dès le premier pas de danse, vous fait retrouver vos 6 ans et demi. Je me suis trouvé en pleurs du début à la fin, et je n'avais pas vu depuis des années, depuis Tout le Monde dit I love you, disons, cet état de grâce que Chazelle atteint, par la seule croyance dans la magie du cinéma, par cette seule conviction que la comédie musicale, le temps de la projection, correspond à une "suspension de l'incroyance". Il y a dans ce film une naïveté qui éclate dès la sublime première scène, un fantasme d'harmonie qui n'existe qu'au cinéma. Un embouteillage, des gens qui écoutent tous leur musique dans leur petite cabine, et tout à coup, une femme qui sort, se met à chanter. Aussitôt, tout le monde s'accorde à son pas, comme le Fred Astaire des grands moments, et le monde est plus beau. Ce ballet, en plan-séquence, vous laisse la bouche ouverte, d'autant que l'utilisation du plan large, pas facile de nos jours où il rend le centre de l'image légèrement flou, est utilisé en maître. La perspective de l'autoroute est joliment faussée, la musique éclectique, et tout ça renforce l'impression que le monde, chaotique, devient tout à coup uni, magique, harmonieux, par la seule vertu de la joie de danser. Quelle beauté.
Ensuite, on va de bonheurs en bonheurs. Que ce soit dans les ballets d'ensemble ou dans les duos, dans la simple chansonnette sussurée ou dans les gros bazars, Chazelle, dans ses milliers de clins d'oeil et dans la foi qu'il accorde à son film (enfin un film d'"amateur", qui n'est pas fait par un faiseur d'Hollywood, très loin du nazouille Whiplash) réussit tout. La deuxième danse est un modèle de mise en scène, où les petits objets du quotidien sont transcendés pour arriver à un climax étonnant (une danse sous l'eau) ; le duo sur les hauteurs d'Hollywood est bouleversant, par ces petits gestes hésitants, ces pas qui veulent imiter les grands et qui ne sont montrés qu'à hauteur d'homme, avec des acteurs qui ne sont pas danseurs et qui sont filmés dans leur maladresse, dans leurs gêne ; la chanson poussée par Emma Stone sur la fin est un moment hyper-délicat, très sobre, où la caméra ne fait qu'effleurer ce visage qui chante, qui a peur, qui laisse ses dernières forces dans le chant ; le duo à l'Observatoire est d'une légèreté à faire honte à toutes les scènes de Broadway, on y retrouve pendant quelques instants la suspension propre à Fred Astaire, ce banissement de l'impossible propre au rêve (la fille qui décolle doucement du sol)... Il y a comme ça mille moments purement cinématographiques, qui sont des moments directs d'émotion, sans prisme de l'intellect, directement en phase avec la magie du cinéma (art conçu pour les enfants, mais commenté par les adultes, comme le dit judicieusement Desplechin, dans un doc formidable, merci Mitch).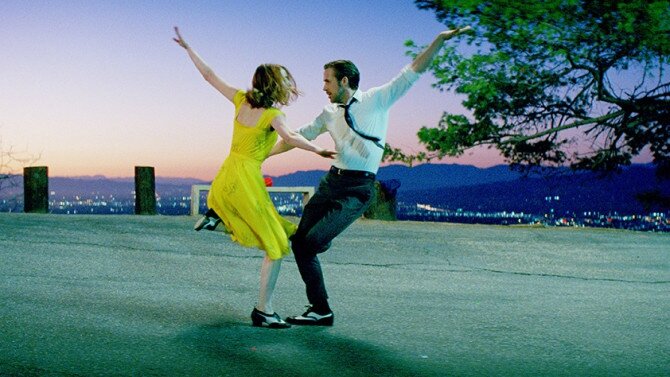 C'est Demy qui est psalmodié façon mantra dans ce film qui lui ressemble beaucoup, qu'il aurait pu réaliser aujourd'hui : même tendance à "dés-enchanter le monde", avec cette histoire de rêves brisés et de vies ratées ; même amour pour les monochromes et les robes uni-color ; même façon de faire danser les amateurs. La dernière scène, clin d'oeil évident aux Parapluies de Cherbourg, sait terminer le film dans la modestie et la sobriété qu'il lui fallait, surtout après ce moment de virtuosité, hérité de Singin'in the rain pour le coup, où tout le film repasse à l'envers, par des tableaux graphiques hyper-théâtraux. La musique géniale (putain, "easy-singing", dit mon Shang, je vais le taper, je vous jure), orchestrée à la perfection (on dirait du Elfman mâtiné de Bernstein, avec ce côté bluette bien d'aujourd'hui), vous rentre dans la tête immédiatement "(City of Stars", argh sors de mon cerveau) et sait merveilleusement utiliser ce thème central pour le développer dans plein de directions : il y a du jazz façon Bob Fosse, du thème classique façon grand Hollywood, du jazz be-bop, et même du rock bourrin (Chazelle aurait-il vu aussi Parking de Demy ?).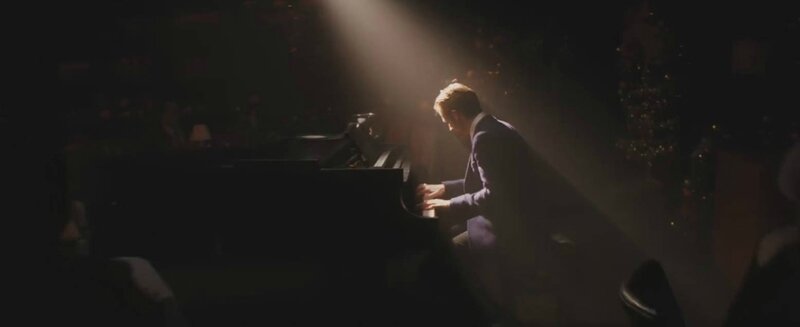 Alors je vous vois venir : et entre les chansons, il se passe quoi ? Eh ben rien, mais je dirais qu'on s'en fout, tant tout le film est organisé autour de ces passages dansés, qui révèlent doucement ce que les personnages n'arrivent pas à se dire dans les parties dialoguées effectivement trop longues. C'est ça le vrai sens de la comédie musicale : parvenir par les chansons, par la danse, à révéler des êtres, à expliquer ce qu'est l'amour, la peur, le désespoir, la joie, et ça, aucune ligne de dialogue ne le fera aussi bien que ces passages-là. Gosling et Stone sont parfaits dans leur côté "next door", on sent que cette histoire pourrait arriver à n'importe qui, ils nous ressemblent, et même si cette tramette est conventionnelle et datée, je dirais que même ça participe au charme surranné du film, et surtout au fait que le scénario n'a strictement aucune importance dans le film. Ce qui compte, c'est ces pas qui tout à coup s'accordent, ces deux êtres qui tout à coup se disent des choses avec leurs corps, cette fille qui quitte la terre ferme pour rejoindre les étoiles, ces lumières qui s'éteignent lentement pour mettre en valeur telle ou telle émotion. La La Land vous réconcilie avec le cinéma (je vous interdis formellement de le regarder sur un petit écran) parce qu'il sait retrouver la magie de l'enfance, vous fait oublier pendant deux heures qu'à côté de cette vie magique et en apesanteur se déroule la vraie vie (que Chazelle n'oublie pas, qui conclue tous ses morceaux musicaux par des bruits triviaux, klaxons, sonneries de portable). Pour moi, le plus grand enchantement depuis bien longtemps. (Gols - 31/01/17)