The Apostle est un solide film classique, que n'aurait certainement pas renié Eastwood. Sauf que le bon Clint aurait su doser ses effets, et mettre un peu de nuance et d'ambiguité dans ce scénario fiévreux, maladroit et en colère. Duvall, s'il excelle en tant qu'acteur, s'il se montre honnête dans sa mise en scène, s'avère un piètre scénariste, et on ne peut que regretter que le script n'ait pas été poli par plusieurs mains. Ceci dit, il y a dans The Apostle une sincérité touchante, et Duvall s'y montre plutôt habile pour parler d'un fait peu filmé : le charisme de ces "fous-de-Dieu" dans l'Amérique rurale profonde. Il choisit pour ce faire un personnage intrigant, qu'il incarne avec la conviction qu'on lui connaît. Sonny est un prédicateur convaincu, un de ceux qui font de leur prêche un spectacle mélant chants liturgiques, cris, répétitions, transes, et faux coups de grâce. Mais sa vie privée part en miettes : son ex-femme a trouvé un amant. Après avoir joyeusement pêté la gueule à celui-ci (bim, coma), le gars est obligé de s'enfuir. Il s'enfonce dans une Amérique de plus en plus profonde (et de plus en plus noire), et fonde dans une minuscule communauté une Eglise, comme on fonde une épicerie.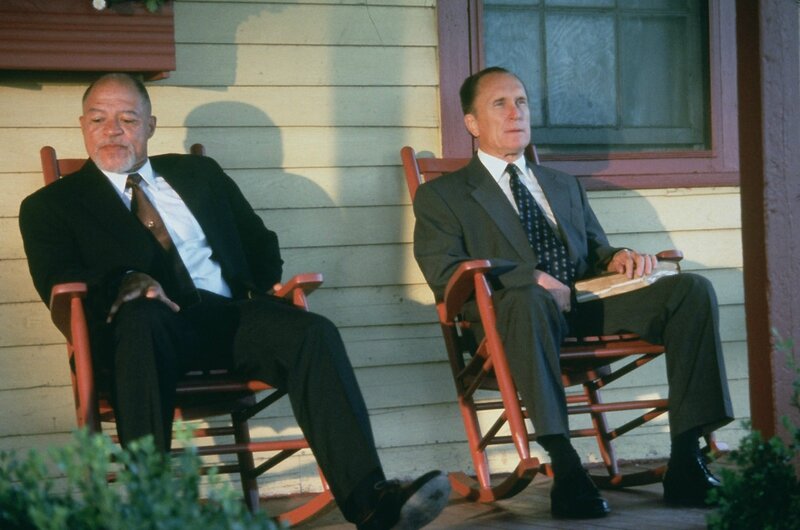 C'est à partir de ce moment-là, soit une heure après le début, que le film devient vraiment intéressant. J'aurais été Duvall, j'aurais enlevé toute la première partie, et j'aurais balancé quelques subtils flashs-back pour évoquer le passé de Sonny. Mais Duvall, sûrement trop désireux de montrer l'étendue de son jeu, y compris dans la violence, a tout laissé, c'est dommage. Bref, le personnage devient une véritable énigme, et l'acteur sait lui donner toute son épaisseur : brute épaisse (il pète à nouveau la gueule à un perturbateur) ? Imposteur (ses prêches sont souvent ridiculement spectaculaires) ? Ou saint (la meilleure scène : une conversion in situ d'un mécréant venu en découdre) ? Enfin un peu d'ambiguité dans ce film, qui se conclura d'ailleurs sans apporter de vraies réponses. On peut voir dans le final une variation sur les derniers jours du Christ (oui, le film va jusqu'à cette ambition-là) ; mais on y voit surtout une réflexion sur l'acteur : quand on est convaincu d'une chose, cette chose devient concrète. Sonny est sûrement un imposteur, sûrement un malin, mais il croit, et comme dit Brassens : "Faites semblant de croire et bientôt vous croirez". Aidé par quelques rombières ou quelques simples d'esprit qui scandent avec lui ses prières à la con, Sonny parvient à déplacer des montagnes et à créer une vraie communauté soudée, voire à faire des miracles.
Le film est aussi très intéressant dans ce portrait de la campagne profonde, celle où foi et superstition sont souvent très proches. Duvall aime de toute évidence les paradoxes du Sud des USA, et les filme avec gourmandise, chargeant sa musique de blues parfaitement authentiques et inventant des personnages (des seconds rôles souvent un peu trop rapides, cela dit) hauts en couleur. On aime ces longues scènes au montage raffiné, qui laisse toute sa place à l'acteur, qui joue à l'ancienne, avec une patiente construction millimétrée. Il est bien dommage que le gars se perde dans cette première partie inutile, et qu'il ait tant de mal à se sortir du "tout narratif" qu'il met ainsi en place. Il remet en selle Farrah Fawcett, certes, mais le personnage de celle-ci est tellement schématique qu'on s'en serait bien passé. Bref, le gars tire la couverture à lui, et on lui en veut un peu. Une heure ratée, 1h20 réussie, on s'en tire quand même bien au final.