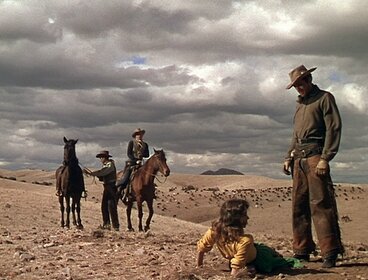 Un film culte sur Shangols, ça change des brumeux objets expérimentaux. Il y en a à se mettre sous la dent dans ce mélodrame flamboyantissime, et c'est vrai qu'en 2h20 on a le temps de voir passer du sentiment bafoué et de la gonzesse trahie. Vidor n'y va pas avec le dos de la cuillère, et sert un pseudo-western de toute beauté, aux couleurs flamboyantes et aux sentiments forts. Pseudo-western, disais-je, puisque le genre ne sert qu'à déployer une trame de mélodrame classique, et qu'on ne verra là-dedans que très peu d'éléments purement westernien. Il y a bien du dressage de chevaux, il y a des vieux briscards qui se heurtent contre l'arrivée du train sur leurs terres, il y a quelques vieux relents de racisme anti-Indien, mais ça ne trompe personne : on est là dans le film psychologique à la Nicholas Ray, dans le déchirement entre deux valeurs, l'aventure et la bourgeoisie, le mauvais garçon et le bon père de famille, le grand n'importe quoi et l'apaisement.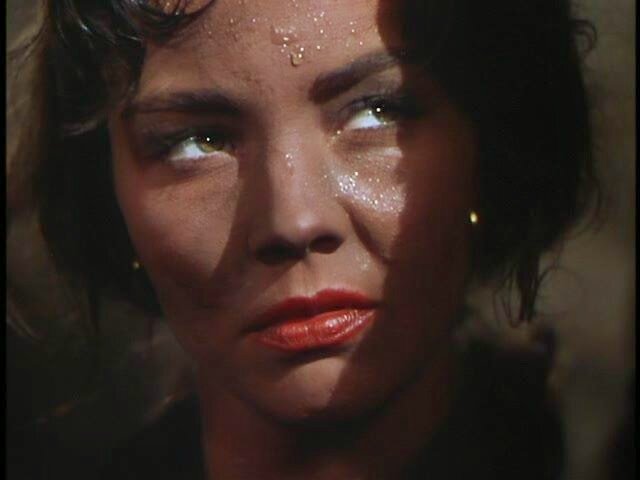 Pearl (Jennifer Jones) vient de perdre toute sa famille dans une scène d'ouverture très expressionniste. Elle est recueillie par Belle (Lilian Gish) et son mari (Lionel Barrymore), et surtout par les deux fils du couple : à ma droite, Jesse, le bon fils, calme, mesuré, mais transparent (Joseph Cotten) ; à ma gauche, Lewt, mauvais garçon, homme à femmes, macho, mais qui a les faveurs du père qui l'a toujours préféré (Gregory Peck). Les deux garçons abordent la belle de deux façons très différente : l'un est galant et doux, l'autre la viole carrément sur place, et malgré son caractère impétueux, contre sa volonté, en fait son objet. Chacune de ses apparitions dans la chambre de Pearl est chargée d'hormones, de sexualité, et la belle, peu à peu, sombre dans cette domination virile, laissant tomber Jesse, pardonnant même le meurtre de son mari par Lewt, le suivant sur la pente de la délinquance et de l'enfer. Les rapports psychologiques sont très joliment illustrés, Gregory Peck jouant magnifiquement ce mélange de douceur et de virilité, de caprice enfantin et de sensualité. Dans des fonds pourpres, bleu cobalt et jaune primaire, ce trio infernal se tourne autour, se prend la tête et se fourvoie avec une belle franchise, et on suit ça avec passion.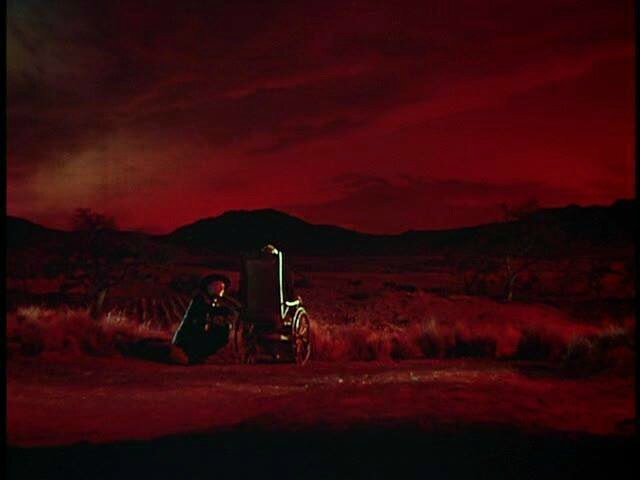 Certes, c'est un peu long, certes, Jennifer Jones en fait trois tonnes, certes, les personnages sont un peu engoncés dans leurs traits de caractère assez sommaires ; mais il y a des scènes qui impriment l'oeil. Comme celle où le vieux, assis face à un ciel rouge, se lamente sur le temps qui passe ; ou celle de la mort de Lilan Gish, où le vieux couple qui ne s'est jamais compris fait le bilan d'une vie ratée ; ou celle, finale, mythique, qui résoud tout : une vraie prouesse graphique, au montage diabolique, où nos deux tourtereaux envoûtés l'un par l'autre se tirent dessus tout en se hurlant des mots d'amour. Rien que pour cette scène-là, il faut voir Duel in the Sun, pour voir combien tout peut tendre vers ce moment-clé, tout un film peut se ramasser sur quelques minutes. A part ça, c'est vrai qu'il y a pas mal de déchets, notamment dans la partie Joseph Cotten, pourtant excellent dans le retrait et la sobriété. Jennifer Jones, maquillée comme l'as de pique, adopte un jeu qu'on peut qualifier d'expressionniste, mais qui est souvent clownesque, elle ne joue pas dans le même film que les autres. Les choses prennent tout leur temps pour advenir, on s'ennuie plus souvent qu'à son tour. Et les réalisateurs ont visiblement très envie de faire leur Gone with the Wind à eux, multipliant les plans larges pour dépenser tout le budget décor : on aurait apprécié plus de sobriété dans l'ensemble, de ramasser cette histoire sur la trame amoureuse tortueuse, et d'oublier toute trame secondaire. Pour autant, un film qui, par ces quelques scènes prodigieuses, mérite le détour.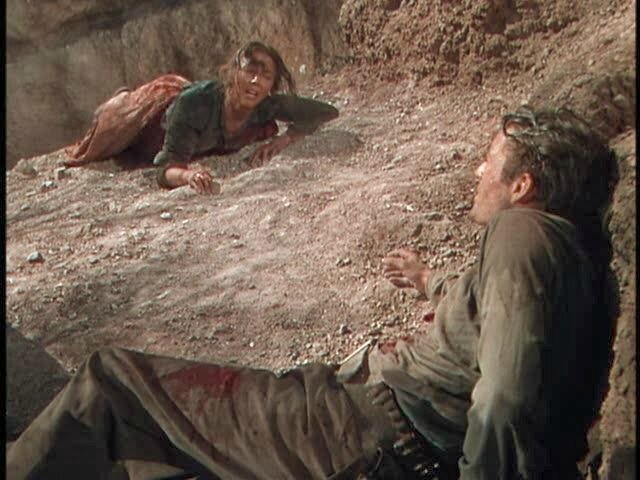 Go west, here