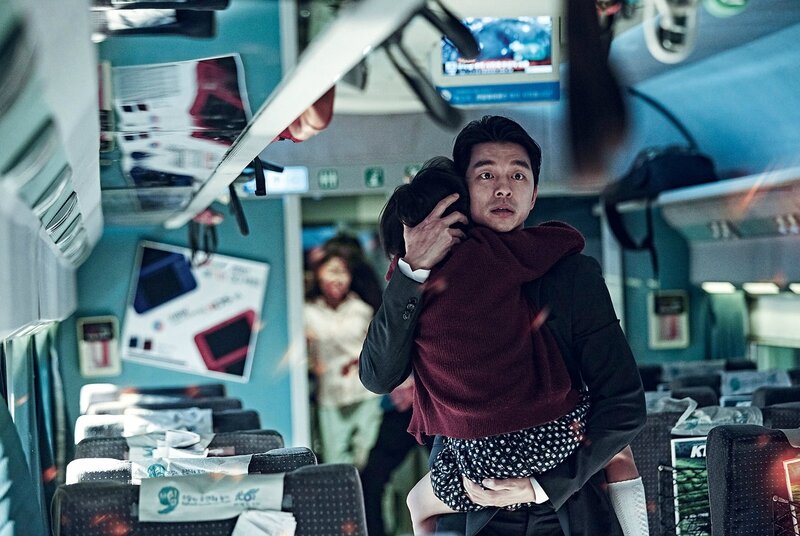 Arriver à fabriquer un film de zombies original semble chose impossible après les 40000 productions sur le thème. Yeon Sang-ho ne se prend pas la tête avec ça : il vous trousse allègrement un film qui semble être une compilation des scènes les plus marquantes des autres, les met bout à bout avec un sens du montage assez désolant, fait semblant de parler vaguement de l'état de la Corée du Sud contemporaine, histoire de rentrer dans la catégorie "horreur politique" qui marche bien aujourd'hui, et voilà. Tout ça est fait sans aucune connaissance des choses, et accouche d'un machin deux fois trop long, très frileux, assez con et carrément kitsch dans ses pires moments.
So-woo est trader (booouh d'indignation du spectateur). Il est donc mauvais père. Il se décide à ramener son adorable enfant (une gamine tête à claque) par le train à sa môman, parce qu'elle sait s'en occuper alors que lui est trader. Malheureusement, juste au moment où le train démarre, une épidémie de zombisme s'étend sur la Terre (on apprendra plus tard que c'est à cause d'une malversation bancaire, la crise écconomique a remplacé Hiroshima dans l'imaginaire post-apocalyptique du cinéma asiatique), et une morte-vivante peu amène parvient à monter dans un wagon. Dès lors, il va falloir organiser sa survie, qui va être ardue. D'autant que les ennemis principaux cessent vite d'être ceux qu'on croit, et que les zombies éructants, finalement assez crétins (tu leur éteinds la lumière, ils sont paumés, ce qui pourtant n'incite jamais les survivants à attendre la nuit pour se fuiter) ne sont rien à côté des humains, égoïstes, veules et misérables. Surtout les riches et les traders, qui ne bossent que pour leur gueule. Heureusement il y a une femme enceinte (ooooh énamouré du public) et la tête à claques du début, qui vont représenter l'avenir de la Corée ; et heureusement, le trader se rendra compte de son égoïsme et sacrifiera sa vie et ses principes libéraux pour sauver son enfant (sublime scène de propagande pro-nataliste sur la fin, on dirait une pub pour la scientologie).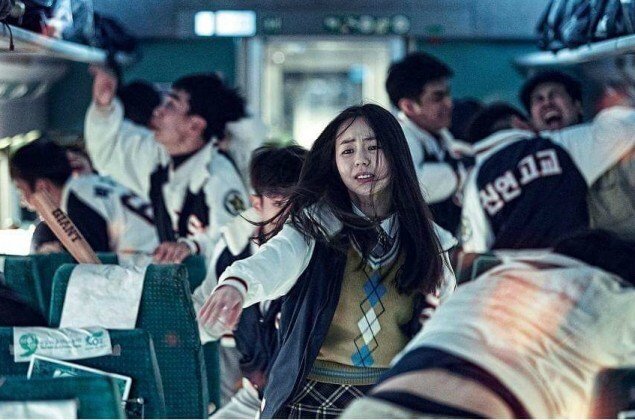 La vision politique de Yeon laisse rêveur par son simplisme et son manichéisme. Il faut visiblement y voir une lecture hyper pointue des rapports de classe du pays, traduits par des gens qui s'enferment dans des wagons pour éviter l'invasion des "étrangers" et qui peu à peu refusent aussi de laisser entrer ceux qui n'ont fait que cotoyer les étrangers. Bon. Moi ça m'a fait ricaner, et je pense que Yeon aussi. Il est beaucoup trop sérieux comme un pape pour se livrer à une attaque politique, et d'ailleurs toutes les fois où on entrevoit la possibilité de faire dans le film anarcho-punk (la fin, qui aurait pu être un remake plus sanglant encore du final de Night of the living dead), il passe à côté. Non, lui vise plutôt la grande mise en scène. Du coup, il reproduit en tirant la langue plein de bonnes idées prises ailleurs, dans de bons (Jurassic Park, Snowpiercer) ou de mauvais (World War Z) films de survie. Mais comme il a peur de perdre son public familial, comme son esthétique et son esprit sont beaucoup trop lisses pour ce genre de production, il n'en copie que l'ombre et ne va jamais au bout de ses idées. Du coup, on voit ce qu'on pourrait faire de grand avec pas mal des scènes qu'il propose ; mais lui ne le voit pas, et rate pratiquement toutes ses séquences. Comme ses acteurs sont en-dessous de tout, comme le film se prend risiblement au sérieux, on finit par s'ennuyer sévère, et par ne plus remarquer que les incohérences du scénario et de la mise en scène. Et ça, quand on commence à rigoler aux faux raccords, c'est mauvais signe. Un train manqué. (Gols 23/08/16)
---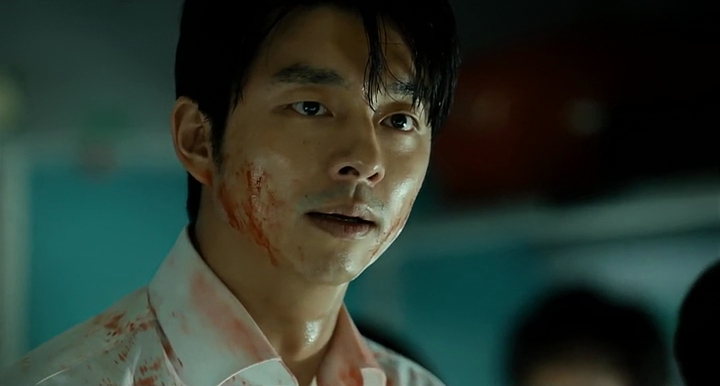 Beaucoup plus emballé que Gols devant cette petite chose coréenne menée sur un train d'enfer. S'il est clair que Yeon a parfois la main un peu lourde au niveau des personnages (ce chef d'entreprise sans foi ni loi, prêt à sacrifier tout le monde pour sauver sa peau : facile), si la "continuité narrative" (plus que les faux-raccords, à mes yeux) est un peu tirée par les cheveux (les deux séquences où le train quitte la gare mais donne l'impression de faire du surplace pour attendre certains passagers...), l'ensemble se suit très plaisamment et livre un final qui fait son petit effet. Qu'il s'agisse des scènes avec zombies déchainés (et con comme des guidons : ils foncent tout droit sur leur proie mais se révèlent incapable d'ouvrir une porte ; bien aimé la séquence (où l'on peut y voir le symbole qu'on veut) lorsqu'ils se précipitent tous comme des tanches en direction d'un téléphone portable avec sa sonnerie de daube) ou des séquences en huis-clos dans les wagons où la tension devient vite irrespirable, Yeon prouve qu'il sait tout autant gérer les temps forts que les temps plus creux ; si on peut (comme tout bon film de zombies qui se respecte) tenter de plaquer sans trop se prendre la tête la lecture parabolique qui nous arrange (tension sociale en Corée, problème de séparation d'un pays, incapacité à vouloir accueillir les "réfugiés"...), ces différentes lectures, à défaut d'être creusées à fond, ont au moins le mérite d'exister et n'ont de cesse de donner un petit fond politique voire de la consistance à ce grand spectacle zombiesque.
Le point, enfin, qui me semble le plus réussi (j'imagine déjà le rire de Gols en lisant ce qui va suivre, rire ponctué d'un "putain mais non, c'est niais"), c'est la façon dont Yeon nous montre ce con de père (trader donc forcément pourri de l'intérieur) à travers les yeux de sa fille. Notre saloperie de trader cherche la rédemption dans le regard qu'icelle pose sur lui. Sa connerie, son égoïsme, son individualiste, il les assume pleinement mais il va tenter, en prenant toujours sa fille à témoins, de montrer qu'il peut encore "évoluer" - ce personnage, caricature de lui-même au départ (un trader de base, simplement aveugle) va gagner progressivement en humanité, par petites touches, jusqu'à ce final aussi impressionnant (cette grappe humaine s'agrippant au train) que touchant (ouais, je suis bon pour la scientologie, je suis devenu trop larmoyant - c'est possible aussi). Bref j'ai passé pour ma part un excellent moment (on a du mal, décidément, après Mad Max l'an dernier, au sein de notre petite équipe de deux, à s'entendre sur les films "d'actions") et recommande chaudement cette oeuvre coréenne qui tient solidement sur ses rails de bout en bout - la petite main zombiesque qui vibre sur la toute fin (avant l'entrée dans le tunnel) montrant à quel point Yeon n'est pas si dénué d'humour que cela. (Shang 24/09/16)