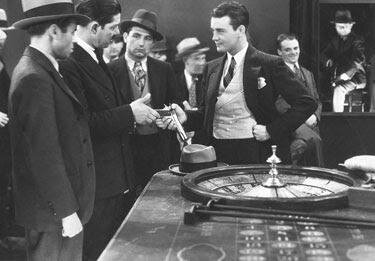 Un modeste petit film, certes, mais qui plante sans le savoir quelques sérieux repères dans les films de gangsters à venir dans les années 30-40. On retrouve dans The Doorway to Hell l'esthétique et les thématiques qui prédomineront jusque chez Scorsese : les réunions de parrains, les règlements de compte en pleine rue, le rachat impossible, les trahisons des hommes de main, les femmes fatales qui s'avèrent êtres des biatchs, etc. Certes Lew Ayres et sa gueule d'amour font moins peur que De Niro et Joe Pesci, mais tout de même : bien agréable de voir un genre naître sous nos yeux.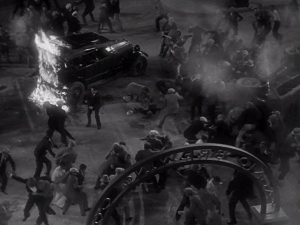 L'histoire classique : un petit gars arrive dans le milieu de la pègre, trouve sa place à grands coups de jarnac, puis décide de se retirer des affaires mais se retrouve face à son destin et aux flingues de son passé funeste. C'est donc le petit Lew Ayres qui joue le mafieux, et on lui attribue comme bras droit le jeune James Cagney. On se demande un peu pourquoi c'est pas l'inverse, ça aurait été plus efficace, mais on apprécie tout de même le jeu nuancé de Ayres. La réunion qu'il organise pour convaincre les autres parrains de sa suprématie est une excellente scène qui lui donne l'occasion de montrer l'étendue de son jeu : il est suave, sympathique, amusant, mais faudrait voir aussi à pas trop l'emmerder. Quand un des chefs de gang se rebelle, son visage se ferme en une fraction de seconde, et on sent que l'autorité est là. Mayo dispose autour de lui de bonnes vieilles tronches comme on les aime, gangsters pleutres ou inquiétants qui forment un réseau crédible et intéressant. Ce ne sont d'ailleurs pas tellement les affaires illicites de ces voyous raffinés qui intéressent Mayo, mais plutôt le portrait de cet homme qui voudrait bien être honnête et qui n'y arrive pas. Très vite, à grands coups d'ellipses (un peu maladroitement expliquées par des gros titres de journaux, héritage dommageable du muet), on passe à la deuxième partie du film : celle où notre héros se retire avec sa jeune épouse dans une somptueuse villa et devient pur comme l'agneau. La donzelle, très vite, s'ennuie et fricote avec le bras droit (Cagney). Le dieu Dollar a encore frappé. Le passé rattrapera Louie, malgré sa volonté de rester pur, et on aura droit à une dernière scène sèche comme un coup de trique, héroïque en diable, totalement désabusée, qui ressemble à ce que fera plus tard Raoul Walsh dans ses grands moments.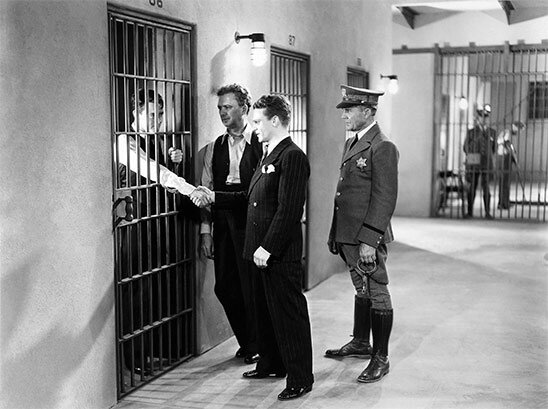 Le film avance par très courtes séquences, très bien rythmées. A chaque fois, deux-trois lignes de dialogue (souvent brillants), trois plans et on passe à autre chose. Mayo est très discret, filme ce qu'il y a à filmer sans vrai style, mais est toujours au bon endroit, sait toujours attraper la petite mimique amusante ou le moment de tension, et dirige très bien ses acteurs : la fatalité qui s'empare des traits du juvénile héros, sur la fin, est très belle ; et Cagney est déjà excellent dans ce petit rôle gouailleur. Voilà, après c'est sûr que le film ne restera pas dans les mémoires, mais il aura tout de même lancé un genre durable et bien précieux.